LGBTQI Youth Homeless Shelter Expands with Thrift Store, Housing Plans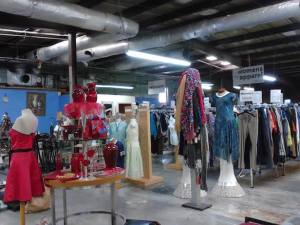 (APN) ATLANTA — The Lost-n-Found Youth homeless shelter founded by local activists and drag queens has expanded in recent months with a new thrift store and drop-in center, and is currently planning to expand their housing component.
Lost n Found was founded in 2011, with street outreach to "homeless lesbian, gay, bisexual, and transgender youths to age 26," as well as the renting of a small house for their shelter component, as Atlanta Progressive News previously reported in 2013:
Lost-n-Found Thrift and Consignment Store at 2585 Chantilly Drive off Cheshire Bridge Road, and runs parallel to I-85, includes a youth drop-in center and a leather shop.    
It is a large space filled with thousands of donated items that help fund the transitional home and the youth drop in-center.
Thrift store connoisseurs will love shopping at Lost-n-Found for used treasures.  It a 13,000 square foot building with items such as apparel, accessories, dishes, small appliances, furniture, books, and luggage, to beautiful, stylish,shoes that would make a Kardashian or a drag queen smile.
The prices are very reasonable –  dresses are seven dollars, suits ten, jeans seven, shirts five, shoes seven, and bracelets three for the general public, while homeless teens shop free.
"If a homeless youth comes to the drop in center, we give them a voucher which is good for two full outfits, from head to toe.  If they come back again and need more, we give them another voucher," Brad Thornton,Thrift Store, Assistant Manager told APN.  The vouchers help keep track of inventory and ensures one kid does not get more than their share of clothes.
The store is open for shopping and donations Monday through Saturday 10am to 7pm, and Sunday noon to 6pm.  It opened for business on November 15, 2013.  
"We are funded through local donations and we have two or three monthly fundraisers," Thornton said.
"We plan to do more advertising to get a broader customer base and stay open seven day a week," Thornton said.
The Youth Drop-In Center is open Monday and Wednesday, Noon to 5pm; Friday, Noon to 8pm, with Friday dinner served at 6pm.  Different individuals and church groups provided the dinner on Friday night.  
The Youth Center provides free laundry and shower facilities; lunch and dinner; computer access; and referrals to medical, mental health and emergency housing agencies.  
Some modifications were made for the drop-in center with a shower and washing machines added before their opening on December 02, 2013.
"The most important thing we do is provide a safe, nurturing, and non-judgmental environment for the kids," Sue Nelson, Youth Center Manager told APN.
"We are seeing an increase of about seven kids a day.  We have a lot of tran girls lately, but every day is different.  Some of the street kids are not able to get out of the street life with survival sex.  Others are involved with drugs and we hope they will look into sobriety.   Some of the kids go into our transitional house or we find other programs for them," Nelson said.   
Some of the other housing programs that homeless youths are referred to are Chris Kids, Covenant House Georgia, Stand Up For Kids, and the Salvation Army.  
Barking Leather rents a small space in the front of the thrift store.  
"Our specialty is custom work.  We have everything from off the rack to consignment.  People brings us their old leather that does not fit any more and we sell it and split the profit fifty-fifty.  It's a good way to get rid of old leather that is not being used and some one else will use," Troy Pup, owner, told APN.  Sir Ray is the other owner of Barking Leather
Lost n Found has a six bed transitional house in East Point, Georgia, that opened in the fall of 2011.  Six homeless youths can live there in a safe environment for 60 to 90 days while taking classes and looking for work.  Once they find work, they are helped with finding an apartment and balancing their checkbooks.
Meanwhile, the organization is currently moving forward on plans to open an expanded housing component, and is in the process of renovating an old home-turned-office building in Atlanta's Midtown neighborhood at 768 Juniper Street.  The four level Victorian home in Midtown was generously donated by St. Mark's Church.  When work is complete, sometime in 2015, it will house 18 to 24 beds, plus offices, and a drop in-center.
Activists Rick Westbrook of the Atlanta Chapter of the Sisters of Perpetual Indulgence, Art Izzard of the Queer Justice League, and Paul Swicord of Manifest4u founded Lost-n-Found, after each of them experienced the difficulty of attempting to place LGBTQI homeless youth into local shelters and youth aid programs, as reported earlier by APN.
Lost-n-Found also has a street outreach program that goes out two to three times a month to find homeless youth.  Volunteers take twenty to thirty book bags filled with toiletries, food, a blanket, and cards on where to get food, shelter, and other resources.
Lost-n-Found's transitional home program has helped over 320 homeless teenagers get permanent homes while the street outreach and drop in center has literally helped thousands of other street kids with food, clothes, shelter, and resource information.
There are many reasons LGBTQI youth are homeless, including being forced to flee homophobic families, conservative communities, or religious and cultural beliefs that demonize people who are homosexual; others flee from drugs, poverty, physical, emotional and/or sexual abuse, as reported earlier by APN.
Every night over 750 LGBTQI youth are homeless in Atlanta.  Within 48 hours of becoming homeless, 33 percent of these youth will steal or trade sex for survival.  Every four hours, a homeless LGBTQI youth commits suicide in the United States.
The Lost-n Found organization operates a 24/7 hotline (678-856-7825).  More information is available at www.lost-n-found.org
(END/2014)