Election Board Hearing Explains Kemp's Probe of New Georgia Project
Article by Anna Simonton, Special to The Atlanta Progressive News.  Photograph by Anna Kelley.
(APN) ATLANTA  — Amidst a storm of controversy surrounding Georgia Secretary of State Brian Kemp's fraud investigation targeting New Georgia Project, the Georgia Election Board held the first public hearing on the matter September 17, 2014.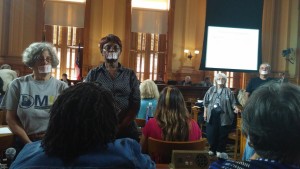 The meeting marked the first time Kemp's office has revealed details regarding the scope of its investigation into New Georgia Project, an organization founded by House Minority Leader Stacey Abrams (D-Atlanta) that focuses on registering minority voters.
Prior to the hearing, the Georgia chapter of the National Association for the Advancement of Colored People (NAACP), New Georgia Project, and other community organizations held a press conference inside the Capitol building.
Francys Johnson, Georgia NAACP President, called the investigation an attempt to "silence our voices and thwart efforts to register and engage minority voters."
"The Secretary of State has not responded to our letter or request to meet," Johnson said. "Instead he schedules a sham hearing to get authority for subpoenas he has already issued."
As Atlanta Progressive News previously reported, the subpoena Kemp's office issued to New Georgia Project requires a vast amount of information from the group.
http://www.atlantaprogressivenews.com/interspire/news/2014/09/16/secretary-of-state-subpoenas-voter-registration-group-new-georgia-project.html
The documents were originally due on September 16, 2014.  The Election Board hearing was convened in part to consider extending that deadline to September 26, 2014.
"I am increasingly concerned that these serious actions are an abuse of power," Abrams said of the hearing.
During the hearing, Chief Investigator Chris Harvey outlined the agency's preliminary findings.
The room was packed with members of the public and social justice organizations.
A few minutes into Harvey's presentation, seven people rose from their seats and turned their backs on the board.  Plastered across their mouths were white stickers with the word VOTE emblazoned in red.  Three more people would eventually join them, totaling ten people who stood in protest for most of the ninety-minute meeting.
Harvey's findings included 25 instances in which investigators have confirmed that the signature on a voter registration application was forged.  There are 26 more suspected forgeries.
Additionally, investigators have confirmed three forged signatures on canvassing waivers, which allow canvassers to keep and copy voter information, Harvey said.
Investigators began looking into these incidents after the Secretary of State started receiving complaints from county election officials beginning on May 05, 2014, Harvey said.
Now thirteen counties have alerted Kemp's office to what they've labeled "suspicious" applications, and have accused New Georgia Project canvassers of other practices Harvey says may violate SEB rules.
Elaborating on the latter, Harvey gave an insubstantial example of a woman who was "confronted at her door" by a New Georgia Project canvasser.  The woman reported to county officials that she was able to glimpse her neighbor's personal information on a sheet the canvasser held.  Harvey hyperbolically labeled this non-incident a potential breach of privacy.
Board member David Worley questioned Harvey extensively, and challenged the legitimacy of the investigation.  He pointed out that out of the 85,000 voters New Georgia Project has registered, the Secretary of State's office has found less than 60 potential cases of voter fraud.
"Have you done the math?" Worley asked, causing observers to erupt in applause.
In regards to the forged signatures, Worley asked whether it is clear who the forgers are.  He wanted to know if they could be people who registered their elderly parents to vote and signed for them.  Harvey affirmed that it is possible and that investigators have yet to determine who forged the signatures.
Worley also criticized Kemp for creating a media frenzy around the investigation.
"This could have been done in a less newsworthy and confrontational manner," he said.  "I don't think it's helpful to brand an organization and call into question its worth right before the election.  It may have the effect of discouraging people to vote."
Kemp has a track record of voter suppression.  He ruthlessly persecuted organizers in Quitman, Georgia, who ran a successful voter registration drive that led to several Black candidates being elected to the school board in 2010.  He also brought charges against those school board members, leading to their suspension.
http://www.atlantaprogressivenews.com/interspire/news/2012/01/24/black-leaders-mobilize-to-help-the-quitman-ten.html
The NAACP sued Kemp in 2011 to ensure he complied with the National Voter Registration Act.  And in 2012 he attempted to purge voters living in a high rise senior living facility, claiming the building didn't exist.
At the hearing, Kemp responded to Worley's concerns by stating, "We followed the information we got and it's going to take us where it's going to lead us."
The hearing ended with the Board voting to extend the subpoena deadline to September 26, 2014.  Worley questioned whether the vote was necessary, seeing as how the Board had no role in issuing the original subpoena in the first place.
"Franky, I don't think there's really any point to this meeting other than having the opportunity to slap around the New Georgia Project a little bit," he said.
In a press release, Kemp's office it was not holding up any voter registration applications from processing.
"The Office of the Secretary of State does not process any voter registration applications.  Applications are processed at the county level… Any voter registration application that is received by the Office of the Secretary of State is sent to the local county election office within 24 hours.  Currently, there is absolutely no backlog of applications waiting to be sent to the counties.  Any backlog would need to be addressed by county election officials.  The deadline for voter registration is October 6th in order to participate in the November 4th General Election," Kemp's office said.
"The claim that The New Georgia Project has submitted 85,000 voter registration applications has no bearing on this investigation.  Each instance of forgery can result in multiple felonies and the Office of the Secretary of State has a constitutional obligation to pursue every illegal act to the full extent of the law," Kemp's office said.
"Since March 30th of this year, Georgians with a Georgia driver's license have been able to register to vote 24 hours a day, 7 days a week online or using the "GA Votes" mobile app on their smartphone.  At no time in the history has it been easier to register to vote in Georgia than it is right now," Kemp's office said.
(END/2014)