Secretary of State Subpoenas Voter Registration Group, New Georgia Project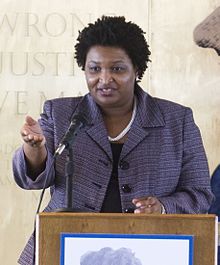 (APN) ATLANTA — On September 09, 2014, Georgia Secretary of State Brian Kemp, a Republican, subpoenaed the New Georgia Project (NGP) and Third Sector Development, who have registered approximately 85,000 Georgians, consisting mostly of Blacks, Latinos, and other minorities.
Kemp's office claims that he issued the subpoena because of complaints of voter fraud, but others claim it is designed to stop NGP and others from registering any more people.  
Without the protection of section 5 of the Voting Rights Act, Jim Crow is again raising his ugly head in Georgia.  Georgia's restrictive voter ID laws and reducing the early voting period from 45 days to 21 days apparently has not disenfranchised enough people for the current power elite to keep Georgia a red state.    
APN reached out to Kemp's office to find out the specific charges.  
"There are not specific charges.  We are in the process of collecting data from this organization and we don't know the totality of it.  Thirteen counties called the Secretary of State with allegations of fraud," Jared Thomas, spokesman for Kemp, told Atlanta Progressive News
State House Minority Leader Stacey Abrams (D-Atlanta) founded the New Georgia Project.
When asked about the subpoena and allegations, Rep. Abrams said, "We do not know what the allegations are because they have not been expressed to us.  The subpoena that was issued was overly broad, it requested essentially every piece of paper in our possession and it is not directly tied to any specific allegation."
The subpoena asks for literally every piece of information the New Georgia Project and Third Sector Development, Inc. has ever produced.  
It states "YOU ARE HEREBY COMMANDED AND DIRECTED that, laying all other business aside, you provide the records, writings, documents or other materials described in Exhibit 'A' for examination and copying to A.B. Calhoun, Investigator for the Georgia Secretary of State… by 5pm on September 16, 2014," today.
Things heated up on Thursday, September 11, when several civil right organizations, including the the Georgia chapter of the National Association for the Advancement of Colored People, delivered a letter to Kemp's office, accusing him of trying to prevent minorities from voting.
"Kemp is already alleging fraud in the most inflammatory terms.  This kind of language… without any specifics, is irresponsible and reckless… It's difficult not to think that the effort here is to quash voter registration campaigns, so that certain kinds of people do not register to vote.  It certainly would have a chilling effect on any kind of grass roots effort to register voters." Rev. Raphael Warnock, spokesman for the New Georgia Project and Senior Pastor of Ebenezer Baptist Church, told APN.    
For other groups in the State registering people, who do not have the resources and expertise like the New Georgia Project, the subpoena and veiled allegations of fraud could conceivably be frightening and may discourage others from even attempting to register people to vote.  
"This is a massive project with 85,000 applications collected.  There is no way to do this without there being some invalid forms.  In part, because the law says that if someone starts to fill out a form and they walk away, we have to turn it in," Rep. Abrams said.   
"Fraud assumes that we did something intending to deceive, and we have been transparent and open.  We've communicated consistently with the Secretary of State's office.  We've even flagged the forms we thought there might be a problem with.  However, any additional issue they may recognize, that's their job.  Our job is to collect forms, their job is to verify the validity of those forms.  We have no choice but to turn over every form regardless of the form's validity and that's exactly what we've done.  We are being accused of complying with the law," Rep. Abrams explained to APN.
"As Rep. Abrams said, you will have some forms that are problematic and if people–who do this  work–are gong to be subjected to this kind of public attack on their reputation… then the message is, you can not have a massive voter registration campaign.  That ought to make everyone worried regardless of one's political orientation," Rev. Warnock told APN.
This is not the first time the Secretary of State's office has called for an investigation into voter fraud.  Republicans cited the purported issue of voter fraud in their justification for the Voter ID laws that passed in the mid-2000's, so they have been keen to create the impression that voter fraud is a real problem that exists.
In 2010, in Quitman, Georgia they launched a massive Georgia Bureau of Investigations probe into voter fraud when Black citizens organized, registered people to vote, and won an election; several citizens were then arrested for voter fraud.    
In that case, GBI agents, along with Secretary of State police investigators, wearing guns, interrogated over 400 citizens in Quitman on how they voted, subjecting them to a two page questionnaire.  
http://www.atlantaprogressivenews.com/interspire/news/2012/01/24/black-leaders-mobilize-to-help-the-quitman-ten.html
Four years later, two mistrials, an on going third trial, has yet to produce evidence of fraud by the Quitman 10.  
[APN's one-the-scenes coverage of the latest Quitman trial is planned for publication later this week.]
As evident of the racism still existing in Georgia, APN recently reported that State Sen. Fran Millar (R-Dunwoody) showed his true colors with statements to the Atlanta-Journal Constitution and on Facebook concerning Sunday early voting in DeKalb County.
http://atlantaprogressivenews.com/interspire/blogs/state-sen-millar-opposes-sunday-voting-black-voter-turnout-says-he-prefers-%E2%80%9Ceducated%E2%80%9D-voters.html
"Now we are to have Sunday voting at South DeKalb Mall just prior to the election.  Per Jim Galloway of the AJC, this location is dominated by African Americans shoppers and it is near several large African American megachurches… Is it possible church buses will be used to transport people directly to the mall since the poll will open when the mall opens."
He continued, "I would prefer more educated voters than a greater increase in the number of voters."
Millar also promised to introduce legislation to outlaw Sunday voting during the 2014-15 legislative session.
Interim DeKalb CEO, Lee May, issued a press statement in response to Millar's remarks.
"We made a conscious decision to create greater accessibility to the voting polls. This decision was based on the premise that during General Elections, voter turnout hovers around 70%, however, during off year elections such as this year it stays near the 40% mark," May said in a statement.
"We have added one additional voting day, Sunday October 26th, at three early polling locations.  We also changed one of the early voting locations to a mall, The Gallery at South DeKalb Mall.  Because of the location of this mall some partisans will say that this is a partisan move, but we made the request to all the major malls in DeKalb, including Perimeter Mall, at the heart of Senator Millar's constituency base.  In all cases except for The Gallery at South DeKalb Mall, there were issues or restrictions that prevented them from approving our request," May said.
"I absolutely stand by our decision, which is not a Democratic or Republican-leaning strategy.  It is simply an attempt to engage and embrace more citizens in- the electoral process, which is the foundation of our democracy," May said.
Fulton and Lowndes Counties have also added Sunday early voting.
(END/2014)