State Sen. Millar Opposes Sunday Voting, Black Voter Turnout; Says He Prefers "Educated" Voters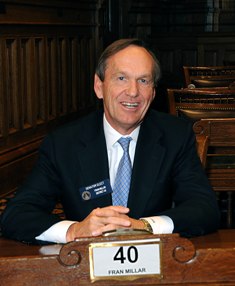 (APN) ATLANTA — In an appalling turn of events that reveals exactly why the Voting Rights Act is still needed, State Sen. Fran Millar (R-Dunwoody) showed his true colors, as it were, in a recent interview with the Atlanta Journal Constitution's Political Insider blog regarding his opposition to early voting on Sunday.
Recently, DeKalb County expanded its early voting options to include early voting on Sunday.  Admittedly, the move is geared towards expanding the vote among Black voters and is part of the "Souls to the Polls" movement to get people to vote after church on Sunday.
But Sen. Millar does not care for Black voters.  He expressed his displeasure to the AJC:
Now we are to have Sunday voting at South DeKalb Mall just prior to the election.  Per Jim Galloway of the AJC, this location is dominated by African American shoppers and it is near several large African American mega churches such as New Birth Missionary Baptist…
Is it possible church buses will be used to transport people directly to the mall since the poll will open when the mall opens? If this happens, so much for the accepted principle of separation of church and state.
Interim CEO May says this election decision is an administrative matter and he can unilaterally make this decision. I don't think this is necessarily true and we are investigating if there is any way to stop this action.
This may be another reason to eliminate the CEO position.
I have spoken with Representative Jacobs and we will try to eliminate this election law loophole in January.  
Millar expanded upon his thoughts on Facebook: "I do agree with Galloway and I never claimed to be nonpartisan.  I would prefer more educated voters than a greater increase in the number of voters."
Millar's comments drew criticism from Democrats across Georgia.
"I am excited that DeKalb County is taking the lead in strengthening voting rights by adding a Sunday early voting day.  With voting rights under attack across the nation and here in Georgia, it is refreshing to see DeKalb County countering this trend and making it easier and more convenient for residents to exercise their right to vote," State Sen. Steve Henson (D-Tucker), Democratic caucus leader., said in a statement.
"While I cannot even begin to express my disappointment in Sen. Millar's comments, I must say that I am not surprised.  Sen. Millar has had a history supporting legislation that is highly partisan, racially divisive and has the effect of negatively impacting minority voter participation, such as his bill to make the DeKalb CEO non-partisan and his past support to reduce the number of days for early voting.  Voter suppression must be stopped," Henson said.

"It is unconscionable that, in this day and age, an elected official is so blatantly calling for suppression of minority voting rights.  Millar's promise to introduce legislation to outlaw Sunday voting, just like the 2006 Voter ID law and a long list of other changes, is one more step in Republican Party's attempt to suppress voter participation as much as possible.  Voter discrimination simply cannot be tolerated in this day and age," State Sen. Vincent Fort (D-Atlanta), whip of the Senate Democratic Caucus, said.
Any legislation that Senator Millar and other Republicans plan to introduce in the next legislative session that is designed to reduce voting participation because of race and partisan politics will certainly face a legal challenge.
"Sen. Millar seems to think that he is above the Voting Rights Act.  Despite the disappointing Supreme Court decision in Shelby County, Section 2 of the VRA still applies, and it clearly prohibits voting changes intended to disenfranchise voters based on race. If Sen. Millar passes legislation targeted at minority voting rights, residents in DeKalb County will sue under Section 2 and we will win," State Sen. Gloria Butler (D-Stone Mountain) said.
(END/2014)