Atlanta Police Arrest Fast Food Workers Fighting for a Living Wage
By Anna Simonton, Special to The Atlanta Progressive News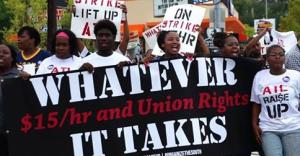 (APN) ATLANTA — Ten fast food workers were arrested on Thursday, September 04, 2014, after blocking one lane of traffic on Ponce de Leon Avenue, near Boulevard, in an act of civil disobedience.  
The action was intended to pressure their employers to pay a living wage and allow workers to unionize without retaliation.
The rally, organized by ATL Raise Up, began at 11:30am
outside of a Wendy's restaurant on Boulevard in Atlanta's Midtown neighborhood.
https://www.facebook.com/ATLRaiseUp
Several hundred fast food workers, health care workers, and supporters marched from there to a McDonald's on Ponce de Leon Ave.  They waved signs and shouted chants like, "Hey hey, ho ho, poverty wages have got to go!" and "Can't survive on $7.25!"
At the McDonald's, ten young men and women sat down in the westbound lane closest to the sidewalk and continued chanting.  The crowd gathered around them in support.
A worker who had travelled from Opelika, Alabama with his toddler daughter spoke through a bullhorn, telling the crowd why he'd made the trip.
"These corporations like McDonald's and Burger King refuse to pay us a living wage," Eddie Forman said.  "It may take two or three years before we get a fifteen cent raise.  We know that's not right.  We don't get benefits.  If we get hurt on the job, we're just hurt, there's nothing that can
happen.  We have to get roommates, we have to stay with people and be in situations we don't like because we're trying to survive. And that's not fair. So we're asking right now, we're demanding from these corporations that they give us $15 an hour and our union rights."
As the rally continued, participants connected their struggle to the Civil Rights Movement by singing songs from that era.  Joe Beasley, a Civil Rights Movement veteran, was in the crowd.
When police arrived on the scene, the workers occupying the lane––all young, Black activists–raised their arms and chanted, "Hands up, don't shoot!," drawing a connection with the burgeoning movement sparked by the murder of Michael Brown, a Black teengaer gunned down by a police officer in Ferguson, Missouri.
Police threatened to arrest anyone remaining in the street.  After several warnings, they arrested the ten workers who refused to move.  Those arrested were Joshua Collins, Crevious Crivlet, Dominique Wyatt, Amber Turner, Rema Mathews, Antwon Brown, Daphne Foster, Kim Jordan, Armondo Dukes, and Matthew Thomas.
They were taken to the Fulton County Jail and released later in the afternoon.
The rally and civil disobedience is part of a nationwide day of action for service industry living wage campaigns.  Similar actions have resulted in dozens of arrests in over 100 cities.
(END/2014)