Georgia Medical Cannabis Study Committee Holds First Hearing
(APN) ATLANTA — The first of five hearings of the Georgia Medical Cannabis Joint Study Committee was held at the Georgia State Capitol, on August 27, 2014.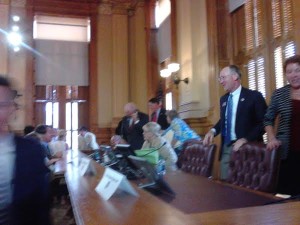 Three expert witnesses were invited to speak: Paige Figi and Matt Cook from Colorado; and James Bell, Executive Director of Georgia Campaign for Access, Reform and Education (CARE), from Atlanta.  Figi advocates legalization for full medical cannabis, while Bell supports full legalization of cannabis; and Cook is an expert on legislation who assists states in writing legislation.
At these hearings, committee members are gathering information on medical cannabis from public testimony and expert witnesses to determine if it is appropriate to enact legislation that will allow for the prescription of medical cannabis for epilepsy and other medical conditions.
"We are going to learn from the hearings if there are other diagnoses that are worth looking at and evaluating to see if medical cannabis does provide a solution.  In a terminal illness situation, I think it is something to look at," State Rep. Allen Peake (R-Macon) told APN.
Figi is the mother of Charlotte Figi who was the first pediatric patient in Colorado to try Cannabidiol (CBD) Oil for seizures.  Figi testified that two and one half years ago Charlotte was suffering from Dravet syndrome, an intractable, untreatable form of epilepsy.  At age five, she had fifty seizures a day or 1,200 a month.  The family tried every conceivable medical option and eventually brought her home to die.  In desperation, they started researching cannabinoids.
After the first test trial of CBD, Charlotte went from 1,200 seizures down to one or two a month.  She received three doses of the CBD oil a day.  Today, she is off all  pharmaceutical drugs, oxygen, and feeding tubes; and she can walk and talk.
The CBD strain, which eventually became know as Charlotte's Web, was developed in 2011 by the Stanley brothers by crossbreeding a strain of marijuana with industrial hemp.  It was low in tetrahydrocannabinol (THC, a psychoactive ingredient that gets one high) and high in cannabidiol (CBD, a medicinal component) and was originally called "Hippie's Disappointment."
A federal bill recently dropped in U.S. Congress, HR 5226, called "Charlotte's Web Medical Hemp Act of 2014."  It states that "therapeutic hemp and cannabidiol are excluded from the definition of marihuana  and shall not be treated as controlled substances under this Act."   
It was introduced by U.S. Rep. Scott Perry (R-PA) and has ten bipartisan co-sponsors, including two from Georgia: U.S. Rep. Paul Broun (R-GA) and David Scott (D-GA).  There are several other bills in U.S. Congress dealing with medical cannabis and issues related to decriminalization and legalization.
"We need to support this bill to allow for more research," Figi said.
"You have patients from Georgia who are medical refugees in Colorado," Figi told the Committee.  Colorado has legalized marijuana for recreational use and for medical usage in treating epilepsy and many other medical conditions.  
Bell gave heartbreaking testimony on medical problems of other Georgians that could be helped if medical cannabis were available and legal in Georgia.  
"We want legislation that allows whole plant therapeutics, not a limited CBD oil clinical trials for a few patients.  We want help for the glaucoma patient, and the cancer patients, HIV/AIDS, Parkinson's disease, Multiple Sclerosis, epilepsy, wasting syndrome, Crohn's disease, Post-traumatic Stress Disorder, and other medical conditions that can be treated with cannabis," Bell told Committee Members.
People with medical conditions are taking pharmaceutical drugs, but some of those drugs are doing more harm than good, especially with opiate pain pills that are very addictive and can cause liver and kidney damage.  People want natural and safe alternative to dangerous pharmaceutical drugs.
Bell testified support for cannabis law reform is strong in Georgia.  In January 2014, a poll indicated more than 60 percent of Georgians support decriminalization of marijuana.
"We know millions of people use it daily with virtually no adverse effects.  We know 23 states allow medical use.  We know that no one has died from a toxic reaction," Bell told the Committee.
Cook, a regulatory expert for alcohol and medical marijuana, is the founder of Cook Consulting, and has a background in public policy and enforcement.  
Some of the suggestions Cook recommended to the committee is that there's a need for reasonable regulations.  "From a regulatory standpoint, it's just another widget to regulate, like the alcohol industry," Cook said.   
"I have assisted or written legislation in several states," Cook told APN.
He recommended to the Committee that Georgia needs to cultivate, regulate, and distribute the medical cannabis in-state with limited licenses.
He testified the industry needs accountability for the product and it needs to be tracked from seed to sale.  All the demographics have seen a significant increase in overall support for marijuana.  The industry has been around for a hundred years and is a multi-billion dollar industry.
"If you know where it's at and know who is growing, you can regulate.  If you don't regulate it's going to end up on the black market… but if you over-regulate and over-tax this industry, you will push people to the black market," Cook warned.
The Prescription of Medical Cannabis for Serious Medical Conditions Joint Study Committee was created by SR 981 during the 2014 Legislative Session.  Committee Members include: State Sen. Renee Unterman, Co-Chair, (R-Buford);  Rep. Peake, Co-Chair;  Sen. Dean Burke (R–Bainbridge); Sen. Butch Miller (R– Gainesville); Sen. Curt Thompson (D–Tucker); Rep. Rich Golick (R–Smyrna); Rep. Micah Gravley (R–Douglasville); and Rep. Margaret Kaiser (D–Atlanta).   Also on the committee are two non-legislative members: Matthews Gwynn, M.D., Neurology, and Chuck Spahos, Executive Director, Prosecuting Attorneys' Council of Georgia.
Committee members plan to hold other meetings at Mercer University, September 10; Georgia Gwinnett State College, October 01; Georgia Regents University, October 22; and again at Georgia State Capitol on November 12, 2014, for public testimony.
(END/2014)