Interview with Connie Stokes, Candidate for Lt. Governor
(APN) ATLANTA — Former State Sen. Connie Stokes (D-Decatur), who also served as a former DeKalb County Commissioner, is running as the Democratic nominee for Lt. Governor.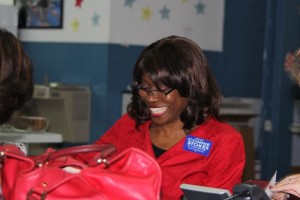 Stokes served as a Democratic State Senator for ten years, from 1994 to 2004.  She was chosen by her colleagues to chair the Budget Committee and has served on the Appropriations Committee and Health Committee.
Stokes has an amazing personal success story: she lifted herself out of poverty, after being abandoned as a child by her mother, who was an alcohol.
"I worked so hard to do that.  Looking back it seemed like it was impossible," Stokes told Atlanta Progressive News.
"That's why I do what I do.  I just think, if people know what I can do, based on what I've gone through, going around and talking to people in Georgia, you realize that I understand their struggle," Stokes said.
"Because I want everyone in the State of Georgia to have the opportunity to be able to work hard, support their family, and do something with their life if that's what they choose to do – we have to have the environment for that, and that's what I'm fighting for," she said.
In 2004, after Republicans took over the Georgia Legislature, Stokes ran in the Democratic Primary for then-U.S. Rep. Denise Majette's seat.  Majette had unseated U.S. Rep. Cynthia McKinney in 2002, and Majette was now running for U.S. Senate.  McKinney ended up winning the nomination and returned to U.S. Congress for two more years.
Later in 2004, Majette ran for DeKalb County Commission, where she served from 2004 to 2010.
APN interviewed Stokes in 2010 when she challenged U.S. Rep. Hank Johnson (D-GA):
http://www.atlantaprogressivenews.com/interspire/news/2010/04/15/apn-chat-with-connie-stokes-congressional-candidate-4th-district.html
Stokes announced in 2013 that she would run for Governor, but then ran instead for Lt. Governor after State Sen. Jason Carter (D-Decatur) announced his run for Governor.
She received the Gender Justice Award by the Georgia Commission on Family Violence, for her Protective Orders legislation.  This allows for any police officer in the state to see that a woman has a protective order, not just in the county where the order originated but statewide.
Stokes also received the Legislator of the Year Award from the National Association for Mental Illness, after she advocated on behalf of Georgians with mental illnesses that are not so easily identified, ensuring they receive their medication and can live full lives.
Stokes responded to APN's questions as follows:
WHAT IS YOUR POSITION ON NUCLEAR POWER?
I'm not an advocate on nuclear power.  I'm all about jobs for Georgians.  You can't talk about jobs in nuclear power without talking about the impact it will have on the environment.  There are so many jobs in energy, but I'm not carrying the banner for nuclear power.
WHAT IS YOUR PLAN, IF ANY, TO INCREASE SOLAR AND WIND ENERGY IN GEORGIA?
I really don't have a plan to increase solar and wind energy in Georgia.  But the opportunity of jobs in the public sector in both areas is growing rapidly.  I'm an advocate for getting people jobs.  Not just the low end jobs.  Traveling all over the state, that is what people want.  Whether it's in solar and wind or nuclear, folks want jobs and they want to be able to take care of their family.
Would you support genetically modified foods (GMO) labeling in Georgia?
WOULD YOU SUPPORT GENETICALLY MODIFIED FOODS (GMO) LABELING IN GEORGIA?
The public's right to know what they are consuming is first priority.
DO YOU SUPPORT A VOTER VERIFIED PAPER AUDIT TRAIL IN ELECTRONIC VOTING?
I do.  I really do.  I think that the right to vote is crucial… I fully support it.
DO YOU SUPPORT MEDICAL MARIJUANA IN GEORGIA, INCLUDING THE IMPLEMENTATION OF GEORGIA'S EXISTING MEDICAL MARIJUANA RESEARCH LAW?
Yes.  I supported the bill that failed.  Having been a Senator, you need to know which version of the bill you're talking about.  It changes but still carries the same number.  There were many amendments to the last medical marijuana bill.  As Lt. Governor [and thus as President of the State Senate] I want to make sure to protect the process.
HOW DO YOU BELIEVE THE BUDGET SHOULD BE BALANCED?  DO YOU SUPPORT CUTS OR INCREASED REVENUE?
I will balance the budget first based on education.  We can't balance the budget on the backs of teachers and students.  The state budget is over fifty percent education.  They need money and that's the place they get money from.  For example, we can't cut the number the days in school where all around the country and world, they are increasing days.  How can our students compete?  They are going to be leading the State.
The second piece important to my budget is ethics.  When a voter votes for someone, they need to know that the elected official is honest and will respect the sunshine laws.
If I say that health care is important, then the budget will be consistent with what I say.  We cannot furlough teachers and expect our students to get a good education.
WOULD YOU CLOSE SOME CORPORATE LOOPHOLES?
Yes.  Let me tell you how I would do it.  This issue is very important.  A lot of it comes under tax reforms.  What I'm talking about is corporate incentives.  So many corporations come to Georgia, one hundred jobs here…75 jobs there.  There's no accountability, to make sure these corporations create these jobs.  There are issues there.  They don't always create those jobs.
You can't cut all those incentives.  I served on the film commission.  We would joke that we would be the Hollywood of the South.  We are doing hundreds of new movies here a year with the potential of so much more.  Colleges are adding those degrees now.  All of this is because of good incentives that benefit that people of Georgia.  There are bad incentives that aren't good for the people of Georgia.  It's been decades since we've had an overhaul on these issues.  They have to create jobs for Georgians first.
WHAT IS YOUR PLAN FOR IMPROVING PUBLIC EDUCATION IN GEORGIA?
My plan for improving public education as the Lt. Governor is to be an advocate and a strong voice on a platform that will speak to Georgia.  Smaller class sizes especially in the primary grades.  32 eight year-olds is too many in one room for a teacher to be effective.  You can't talk about education without talking about the budget.  Process, legislation, even constitutional amendments stating that education is number one.
Other candidates say they run on education, but year after year there is nothing that is done.  I'm an advocate for education.  No matter where you go to school, the people of Georgia will be able to get a job, support their family, and pay their mortgage or their rent.
WHAT IS YOUR POSITION ON CHARTER SCHOOLS?
I think charter schools have a place and are a part of education for our students.  We don't want to throw out all the public schools and make them all charter schools.  In some communities they work and some they don't.  We need to really look at that.  I do not support charter schools in lieu of public schools.  There is most definitely a place for charter schools.  It's something that will continue to evolve and that's a good thing.
WHAT IS YOUR PLAN TO INCREASE JOBS AND GROW THE ECONOMY IN GEORGIA?
My number one plan is to expand Medicaid.  That's what I'm going to work on.  How can we say no to creating 70,000 jobs?  I don't care what you read, there will be thousands and thousands of jobs, and over 60,000 will have health care.  It's way to create jobs and a way to save lives… forty billion into the economy.  When you have that kind of money coming in, it's going to create jobs, not just health care jobs, but small business jobs and contracting opportunities. Temp jobs, all kinds of jobs.
I can't understand why the Republicans decided to be political have people die.  People will die if they can't get to a hospital that has closed.  Providing jobs save lives.  Getting to a hospital in a reasonable amount of time saves lives.  But creating jobs saves lives.  Everywhere I've gone in this State, they want jobs and they want jobs right now.  All kinds of businesses are closing, creating a great impact on rural Georgia, the primary place that those folks work.  That will boost the economy first.  Offer healthcare to those who don't have it.
Second is tax reform.  Holding corporations accountable to create jobs.  You can't take the money and not create the jobs.
People in rural Georgia don't want to use social programs to help their family.  They want to do it on their own.
Families have struggled by not having an education.  I feel their pain, not being able to find a job. I was a teen mom and understand the struggle.  If they have an opportunity to work, they wake up and don't think about social programs.  They wake up and want to support themselves.

(END/2014)