Speaker Decries Israeli Violence as Hostile Takeover, as Protests Escalate (UPDATE 1)
With additional reporting by Matthew Charles Cardinale
(APN) DECATUR — On July 09, 2014, Dr. Jeff Halper, an Israeli in the U.S., spoke at Oakhurst Baptist Church on issues involving the Israeli-Palestinian conflict including home demolitions, divestment, the current attracts on Gaza, and how, he believes, the two state solution is no longer viable.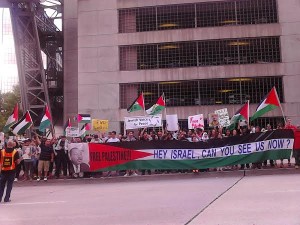 Meanwhile, Atlantans have continued to protest the Israeli occupation and military violence against the Palestinian people that have only escalated in recent days.
A protest is being held today, Friday, July 18, at 1100 Spring Street, in front of the Israeli consulate in Atlanta's Midtown neighborhood.  Protests have also been held on July 05 and 12, both beginning at at Woodruff Park, then proceeding on to CNN Center.  
Organizations involved in the protests include Movement to End Israeli Apartheid-Georgia (MEIA-G), and Jewish Voice for Peace.
Halper is the head of the Israeli Committee Against House Demolitions (ICAHD).  He has rebuilt over 187 homes in the past thirteen years with the help of other Israeli Jews, U.S. Jews, and internationals who want peace and justice between Israel and Palestine.  
The Halper program was co-sponsored by Kairos Mission Group at Oakhurst Baptist Church, Jewish Voice for Peace, Congregation Bet Haverim, and Joining Hands for Justice in Israel and Palestine.
Israel has demolished over 30,000 Palestinian homes in the occupied territory since 1967.  
Palestinians rarely get a permit to build or rebuild their homes, but over one half million Israeli settlers receive permits to build on Palestinian land.  This is how the occupation and oppression is hidden under bureaucratic paperwork and policies that discriminate against Palestinians.
"When you ask Israel why they are destroying the homes, they will say these are the homes of terrorists.  The homes are being demolished so Israel can take the land.  Israel did not build two hundred settlements for security; it a proactive claim for the land," Dr. Halper explained.
It does not matter if Palestinians have proof they own the land going back two or three hundred year; it is not recognized.  Rebuilding homes is ICAHD's act of resistance to the occupation.
Another form of resistance is divestment.  The Presbyterian Church (U.S.A.) has divested 21 million dollars from three multinational corporations that sell products to Israel which help promote violence in Palestinian territories.  
Those three companies are Caterpillar, Hewlett-Packard, and Motorola Solutions.  Caterpillar's bulldozers are used to destroy Palestinian homes.  Hewlett-Packard provides technology to help enforce the naval blockade of Gaza.  Motorola Solutions provides military and surveillance systems in illegal Israeli settlements.
"Now we are in the midst of another war today on Gaza.  Israel has been hitting Gaza with eleven strikes per hour," Dr. Halper said.
The bombing of Gaza, along with the ground attack that Israel launched yesterday, July 17, has killed an estimated total of 280 civilians, including at least forty children, in just over one week.
Only one Israeli has been reported killed by the Hamas government, although more than 2,000 rockets have been fired into Israeli territory.
Atlanta activist Turab Rizayi said the rocket attacks from Hamas are in no way comparable to the Israeli bombs.
They are "akin to water balloons," Rizayi told Atlanta Progressive News.  "They have no air force, no navy, no army, this is the only thing they can do, and it does nothing.  We're talking about homemade rockets made in backyards.  Gaza is enclosed in wall on all four sides, except part that borders the sea."
"They have no other way they can defend themselves.  There is really nothing the Palestinians can do without the international community," he said.
The aerial attacks on Gaza are retaliation, upon the entire Gaza population, for the reported killing of three Israeli boys.
"Israel opened a military operation that has nothing to do with the kidnapping and murder of three Israeli boys.  This was an excuse for a whole reign of terror in the West Bank with over 2,500 homes ransacked and another military operation in Gaza," Dr. Halper said.
Gaza is 35 miles long, and one to four miles wide.  It is called 'the largest open air prison in the world' because of the Israeli blockade.   
"This is the third all-out attack on this little strip of land in the last five years.  Israel's army and air force is superior to European armies and it is the fourth largest nuclear power in the world and it has sophisticated weaponry from the United States," Dr. Halper said.
"Israel could not do what it wants to do… without the political, financial, and military support it gets from the United States.  As long as it has bipartisan support in Congress… it does not care, nobody can touch Israel… Israel wins by convincing everyone that it's the victim,"  Dr. Halper explained.  
Dr. Halper also gave his views on why he says a two state solution will not work.  Twenty or twenty-five years ago, a two-state solution was viable because it was based on a detachable coherent territory where a Palestinian state could emerge.
Today the entire West Bank has been fragmented into little islands with a matrix of Israeli control over the entire area.  
The Palestinian population is pushed into smaller and smaller areas every year similar to Native American reservations in the U.S. and bantustans in South Africa.  There's no longer any place for a coherent, functional, viable sovereign Palestinian state.
The current military operation sends a message to the Palestinians that it's over; no more negotiations; this is Israel's county.  
"The Palestinians have three options – to shut up and know your place and live in little islands inside Israel; or your can leave; or you can die.  This is the message with the attacks on Gaza and the West Bank," Dr. Halper said.
"Israel has created one state that is warehousing the Palestinians," Dr. Halper said.  That is why the international community, including Jews in the U.S. and Israeli Jews, must insist that the one state is democratic with equal rights for everybody living in that state.   
However, if the occupation and apartheid laws prevail in Israel… "that sends a chilling message that international law and human rights is just lip service," Dr. Halper said.
(END/2014)
CLARIFICATION: This article has been updated to reflect that the "program" that was co-sponsored by several organizations was the Halper educational program, not the rally.  We already had listed the participating organizations in the rally in a separate paragraph.  We received a request from Charlie Chasen, President of Congregation Bet Haverim, to revisit the article.  Chasen claimed that APN listed the Congregation as a sponsor of the "Protest," but that was never the case.  However, because we switched back and forth from talking about one event to another, we have decided that for the sake of easy comprehension on the part of our readers, we would add the word "Halper" before the word "program," to clarify that the "program" referenced is the "Halper" program.