Clayton Commission Approves Half-Penny MARTA Referendum, MARTA Requires Full Penny to Join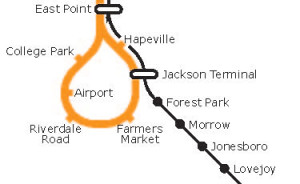 (APN) JONESBORO — The Clayton County Board of Commissions met Tuesday night, July 01, 2014, to vote on whether to allow a referendum that would allow Clayton voters to vote on levying either a half penny or a penny sales tax in Clayton County, to expand MARTA bus, rail, or high capacity transit throughout the County.   
At issue was whether Commissioners would approve a half-penny or full penny referendum.
The meeting started off odd because no MARTA referenda were on the Board's agenda, and then got surprisingly exciting with twists and turns, to end with disappointment.   Some 250 to 300 people turned out just to hear that vote.  
Commissioner Shana Rooks (Vice Chair/District 3) motioned to put the MARTA vote on the agenda at a full penny.  Rooks and Jeff Turner (Chairman/county-wide) voted yes for the full penny.  
However, Sonna Singleton (District 1), Gail Hambrick (District 2), and Michael Edmondson (District 4) voted no.
Edmondson then motioned to put the MARTA vote on the agenda at a half penny.  The motion carried with the same 3-2 split, although in reverse.
Thus, the Commissioners decided the amount of tax the citizens would get to vote on before the meeting began and before they heard any public comments.  Nineteen people signed up to speak, but only got to speak.  
"I support a one penny proposal with MARTA to bring transportation to Clayton County.  Every ten million invested in public transportation supports thirty million in sales for local businesses due to
increases in foot traffic and decrease in congestion on roadways.  Hesitance on the Commission's part in the name of fiscal austerity is a short-sighted view," Charlie Flemming, President of Georgia chapter of the American Federation of Labor-Congress of Industrial Organizations, testified.  
Flemming asked everyone in the room who supported the MARTA proposal to stand up, and about ninety percent of the room did so.  He gave many reasons in support of public transportation: workers have access to a larger job market, less absenteeism on the job because workers have a reliable way to get to work, and economic development that follows the transportation routes.
"We don't want a bus here and there; we want quality, affordable, and a first-class transit system.  You can write a contract that says we are going to levy a full penny but the part that is not used immediately for rail and studies of rail expansion will stay in escrow and grow," former State Rep. Roberta Abdul-Salaam (D-Riverdale) said.
The one penny sales tax would generate about 49 million dollars a year, while the half penny tax would only generate about 25 million.    
Abdul-Salaam pointed out that the people traveling through Hartsfield/Jackson airport would provide 65 percent of the revenue, not Clayton County citizens.
"Why would we cut ourselves out of this opportunity?  The only reason you would do that, is if you want it to fail," Abdul-Salaam said.
A draft of the feasibility study conducted for the County included two charts concerning poll data.  The question was asked – "If there were transit service in Clayton County today, would you use it?"  15.5 percent said no, and 25.6 percent reported not sure, while 58.9 responded yes.  
When asked, "Would you support Clayton County funding transit service?," 19.9 percent said no and 80.1 percent said yes.  
The need for public transportation in Clayton County is obvious and the people, according to the feasibility study, want it.
The one penny proposal would finance rail or a high capacity transit option and the half penny proposal would finance for buses only.
"Clayton's membership in MARTA with a one cent tax… would bring with it a well-developed network of transit options throughout the Metropolitan Atlanta regions.  At the full penny level, we will be able to extend several existing MARTA routes… and have new Clayton routes begin service just months after the referendum.," Robert Ashe, Chairman of the MARTA Board of Directors, said.
"We have worked out language in a contract that will ensure that Clayton's funds are not used for any other system expansions… It is beyond anything in contracts with our existing members [Atlanta, Fulton County, and DeKalb County].  I am committed to seeing it approved by my Board, in order to address your concerns about potential revenue diversion should the Commission proceed with the full penny.  I cannot offer the same assurance about a half penny.  I don't believe majority support for such an approach exists on my Board or among our current member jurisdictions," Ashe said.
Part of the confusion about MARTA accepting Clayton as a partner with a half cent tax may have came from a letter by Keith Parker, General Manager and CEO of MARTA, to Commissioner Edmondson.  Parker's letter was in response to a Norfolk Southern letter to MARTA.  Both letters were read in full at the Meeting.
Norfolk Southern's letter contradicts the amount of money and time line to develop a commuter rail line that had been reported in an WABE online article.  
"Instituting commuter rail service over Norfolk Southern's route would not be cheap, fast, or easy… Norfolk Southern has not agreed to introduction of any passenger service, has not studied or agreed to study the issue," Norfolk Southern states, according to a copy obtained by APN.
"The Authority has developed a service plan that continues its commitment to provide an extensive bus system to Clayton County, but will require the levy of only a one half cent tax," Parker wrote.
"MARTA still believes that a high capacity transit service, either the proposed rail line or a dedicated bus rapid transit service, is a possibility for Clayton County," Parker continued.
The Commissioners voted to accept the half penny sales tax, with Edmondson, Singleton, and Hambrick voting yes; and Rooks and Turner voting no.  
The vote was greeted with some shouts for "Recall!" from the packed room.
On July 02, 2014, the following day, the MARTA Board voted unanimously to reject the half-penny contract offered by the Clayton County Commissioners.  
The Commissioners will have an opportunity, at a Special Call Meeting this Saturday, July 05, at 9am, to consider MARTA's proposal of one cent.    
If the Commissioners stick to the one half penny tax, that would be the end of the opportunity for Clayton County to join MARTA, unless there is further legislative action by the Georgia Legislature.
Citizens for Progressive Transit and STAND-UP are two organizations that are urging their members to contact Commissioners in advance of Saturday's meeting.
(END/2014)