Hunger Strike at Stewart Detention Ends in Pepper Spray, Lock Down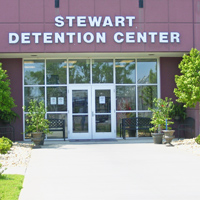 (APN) ATLANTA — Hundreds of Inmates at Stewart Detention Center in Lumpkin, Georgia staged a hunger strike because of deplorable conditions at the Center.   It began last week when inmates refused to eat spoiled food with maggots in the beans and instead threw the food away.
"They were locked up and pepper sprayed because of the hunger strike, that's why it only lasted one day," a family member told Atlanta Progressive News.
APN granted anonymity to the family member, who wants to remain anonymous so her husband will not be retailed against, for her talking to the press.
ICE said the food at Stewart meets federal standards and is monitored by a registered dietitian; meanwhile, state health inspectors gave Stewart's dining facility a 96 percent score in April 2014, the Atlanta Journal and Constitution reported.
Reports from inmates and family members tell a different story.  Numerous reports have surfaced about unsanitary conditions in the kitchen, which is infested with roaches; and maggots, which have been found in the food.  Food that is several days old and unfit to eat is served to inmates.
Instead of cleaning up the kitchen and throwing away the spoiled food, the Detention Center put the entire facility on a 24 hour lock down.  According to reports, immigrants in Unit 6, where the hunger strike started, were locked down longer.
Also, the air conditioning is cut off at night and inmates are forced to sleep in the sweltering south Georgia summer heat.  Many of the showers have no hot water while others don't work at all.  
"My husband has to beg for toilet paper.  They are screamed at and treated like animals.  They don't want to give them hygiene products, so they can keep clean," a family member told APN.
Stewart is owned and operated by Corrections Corporation of Americans (CCA,) a for-profit private prison, and manages everything but health care at Stewart.  The health care is managed by Immigration and Customs Enforcement (ICE) a division of the U.S. Department of Homeland Security.
According to CCA reports obtained by National Public Radio, the corporation believes that immigration detention is its next big growth market, as reported by APN in 2011.
"Obviously there is a profit motive there to cut down on the cost of operating the facility and maximize the profits for the corporation.  Immigrants work in the kitchen and perform chores and labor at the facility.  Instead of paying minimum wage, the corporation pays them one to three dollars a day… often not providing safe working conditions, which in the past has lead to injuries for immigrants in the kitchen," Azadeh Shahshahani, National Security/Immigrants' Rights Project Director, American Civil Liberties Union/Georgia, told APN.
CCA's revenue rose more than 60 percent over the last decade, and its stock price climbed to more than 30 dollars from less than three dollars a share.  
Last year, the company made 301 million dollars in net income, according to earning reports, as reported in the New York Times newspaper.
The medical care is not any better.  With only one doctor for 1,750 men.  The medical department is understaffed and it often takes days or weeks for medical requests to be answered, if at all.  The closest hospital is in Columbus, Georgia, almost one hour away.
One detained immigrant explained, in an ACLU report, that he has nerve damage from an auto accident that occurred prior to his detention.  He was receiving prescription medication for the nerve pain, but at Stewart, he is given only Ibuprofen that does not work well for nerve pain.
Stewart has been the site of protests for seven years, as reported several times by APN.  Hundreds of people make the pilgrimage to the remote southwest Georgia facility each year to protest the inhumane conditions.  It has been named by Detention Watch Network and other national organizations as one of the ten worst facilities in the country.
http://www.detentionwatchnetwork.org/ExposeAndClose
"When the guards are searching, they destroy their personal belongings.  If they have a little radio, they throw it to the side and sometimes it breaks.  If they have a bag of chips, they will crush it and destroy their food," a family member said.
In 2010, APN reported that Georgia Detention Watch cited conditions at Stewart including poor or no healthcare, no full-time doctor, deplorable food, lack of legal resources, physical and verbal abuse, and few bi-lingual staff.  Looks like four years later not much has changed, except now they finally have a doctor.   
The ACLU of Georgia, after a three-year investigation based on interviews with 68 immigrants in detention facilities in Georgia, family members, immigration attorneys and review of documents obtained from the government, has released a new report, "Prisoners of Profit: Immigrants and Detention in Georgia."  The report concludes that Stewart has consistently failed to provide basic medical care, hygienic conditions, or adequate, edible food for those in detention.
http://www.acluga.org/files/2713/3788/2900/Prisoners_of_Profit.pdf
"After twenty months away from home, you lose faith, you feel worthless, this place breaks you, it is made to break your soul.  The constant screaming and verbal abuse the guards inflict on the detainees is just made to break your soul and handicap you," Pedro Guzman, former inmate at Stewart, said in the ACLU report.  
The reports recommends that ICE should stop detaining immigrants at this facility, given the extent of the violations and the remote location of Stewart Detention Center.
Unfortunately, abuse, poor food, and next-to no health care appears to be rampant throughout the penal system in Georgia.  
Through interviews with released inmates, family members, and advocates, including at several meetings on mass incarceration in Georgia, APN has learned about widespread conditions of inadequate health care, unidentifiable food, and abuse in county jails, state prisons, as well as private, for-profit corporate prisons.
(END/2014)