Proposed new EPA Clean Power Plan Rule Could Impact Georgia's Mix
(APN) ATLANTA — The Environmental Protection Agency's (EPA) Clean Power Plan Draft Rule released earlier this month, on June 02, 2014, could have major implications in Georgia's energy portfolio.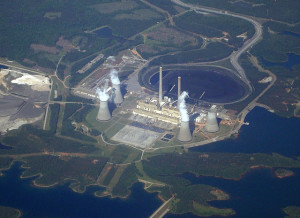 Environmental and public interest groups across the state are gearing up for an Atlanta hearing on the rule July 29, one of only four to take place across the U.S.
The rule, which will reduce carbon emissions to 30 percent by 2030, compared to 2005 levels, aims to combat climate change and improve public health.
Georgia Power has already begun the process of shutting down fifteen aging coal and oil-fired units at four plants, as Atlanta Progressive News reported in January 2013.  The majority of the shut-downs are slated to take place in 2015, but Plant McDonough in Smyrna has been converted from coal to natural gas and coal-fired power plant Branch near Milledgeville has shut down.  Also on the chopping block are units at Plant Kraft near Savannah, Plant Yates in Coweta County, and Plant McManus on the Georgia Coast.
Georgia Power says they are still working with parent company Southern Co. to review the rule. They have yet to announce how they will meet the new guidelines and whether additional coal plant closings will be necessary.
If Plant Vogtle nuclear reactors 3 and 4 go online as scheduled in 2017 and 2018 they will provide approximately 1,117 megawatts each, which will count as carbon free power according to the EPA rule.
When asked whether the company anticipated this ruling when it decided to close the plants in 2013, a spokesperson did not confirm or deny it.
"In 2013 we did make an announcement in our IRP we would retire or convert 15 of our coal fire or oil units in our fleet.  When we look at our environmental compliance strategy, it does consider current and potential environmental regulations," Brian Green, a Georgia Power spokesperson, told APN.
"Climate disruption is our generation's biggest threat," Seth Gunning, Conservation Organizer with the Sierra Club Beyond Coal Campaign told APN.  "If the State of Georgia chooses to comply with the standard by investing in clean energy and efficiency, it could mean that Georgia electricity bills go down by about 8 percent and it could mean that we fuel the next generation of jobs in the state with clean energy jobs."
The Clean Power Plan also encourages subsidies for nuclear plants to support about six percent of each state's energy production from nuclear plants.  Georgia is the leader of nuclear expansion in the U.S. as most of Georgia's ratepayers are paying to build two new nuclear reactors at Plant Vogtle near Waynesboro.  Some local groups, however, are raising concerns about the risks of nuclear in addition to the risks of coal.
"Nuclear power is a high-risk and uneconomical energy source that Americans should not be forced to subsidize.  Instead, we strongly recommend the EPA to replace the nuclear subsidies, which are small in number but huge in consequence, with subsidies for clean, safe, lower-risk and renewable energy sources.  This would turn around local economies and local health factors," Becky Rafter, executive director of Atlanta-based Georgia Women's Action for New Directions (WAND), told APN.
"Communities living near nuclear power plants in Georgia suffer higher rates of cancer and economic desolation.  From where we sit, more nuke plants only lead to worse health stats and more joblessness.  Not the path we need to go down in this magnificent nation.  Certainly not in Georgia," Rafter said.
Georgia Power has not said whether they will seek subsidies for their nuclear fleet.  The company maintains that the coal plant shut downs were due in part by the high cost of operations, but still asserts that the Clean Power Plan will lead to rate increases.
"We think it will do more than limit carbon emissions, we think it will force Americans to pay higher electricity prices and could hurt the diversity of our energy supply.  Aggressive mandates in the proposal will limit the ability to run our fleet in the most efficient and cost effective manner," John Kraft, another Georgia Power spokesman, told APN.
For many Georgia communities, the public health benefits of reducing pollution will outweigh any potential rate hikes.
Asthma rates have doubled in the U.S. in the past thirty years.  In Georgia, 8.2 percent of adults suffer from asthma, according to the Centers for Disease Control and Prevention.
"Coal plants are an environmental justice issue because coal plants are disproportionately located in minority and low income neighborhoods.  Studies have shown that these communities represent the path of least resistance, lacking strong political voices and deep pockets to make sure that their viewpoints are valued," MaKara Rumley, Environmental Justice Attorney at Greenlaw, told APN.
"This rule will reduce the polluted air that they are breathing on a daily basis.  It is my hope that the high levels of respiratory illnesses and asthma related episodes will reduce as well," Rumley said.
Regina Nelson-Fambro lives in Riverdale, about sixty miles from Plant Sherer, the number one carbon polluter in the country.  When her niece moved from rural Indiana to Riverdale to live with Nelson-Fambro's family, she quickly developed asthma, which not only affected her health, but quality of life.
"We went to several doctors to get her a sports physical, but nobody would sign it because of the breathing," she told APN.  "Before she was very fit and very active.  How could she go from doing all those sports to not being able to walk from the house to the car without being able to use her inhaler?  She couldn't' do track and field or volleyball, she had horrible rebellion issues because sports were her identity."
Once on the path to a college scholarship, according to Nelson-Fambro, her niece's struggles left her working as a check cashing clerk after high school rather than attending college.
Dr. Yolanda Whyte, an Atlanta-based pediatrician and member of Physicians for Social Responsibility and the National Medical Association Environmental Health Task Force, says child asthma cases are high in Atlanta and that she's treated many small children with severe respiratory issues.  She notes these cases often affect the entire family.
"I became suspicious of air pollution during my pediatric residency at Hughes Spalding [Children's Healthcare of Atlanta].  On-call, we knew we would get hit with asthma admissions when it rained.  I became aware of the different sources of air pollution of which coal was one of them," Whyte told APN.
"Young babies would wheeze for months without any resolution, even on multiple medications.  I filled out lots of paperwork for school excuses and work through the Family Medical Leave Act.  Despite all this, there were some parents who lost their jobs because of the frequent need to attend to their child's illness," Whyte said.
Both Nelson-Fambro and Whyte plan to testify at the EPA's Atlanta hearing on the Clean Power Plan.
Groups like the Sierra Club, Greenlaw, Georgia WAND, and many others across the region are organizing members to turn out in force to the hearing.
"This will be the first of four hearings held nationally to solicit public input on the Clean Power Plan.  We want to make sure that the EPA and our local and federal elected officials know that there is abroad, enthusiastic, and growing number of people who want to see swift and decisive action on climate," Gunning said.
"The Atlanta hearing is the only hearing in the South.  It's crucially important that anybody concerned with the future of the planet show up and make sure that their voice is heard and counted.  We hope and expect there is going to be lots of enthusiasm at the hearing," he said.
The EPA has plans to accommodate a historically large number of public witnesses.
"We're looking at a number of ways to accommodate a large number of speakers. One the options is to run two simultaneous sessions. We are committed to hearing from as many folks as would like to comment on our proposal. We do encourage folks to pre-register in order to have the best options available," Dawn Harris-Young, Public Affairs Specialist for EPA, told APN.
The hearing will take place at the Sam Nunn Atlanta Federal Center, Main Tower Bridge Conference Area C, 61 Forsyth Street, SW, Atlanta from 9:00 am to 8:00 pm.  The public can register to speak on the EPA's website:
http://www2.epa.gov/carbon-pollution-standards/forms/public-hearings-clean-power-plan-proposed-rule#register

(END/2014)