Clayton County May Set Binding Vote on Joining MARTA (UPDATE 1)
UPDATE 1: This article has been corrected to reflect that the referendum must occur this year and cannot occur in 2015 or 2016 under current state law.
(APN) ATLANTA — With the passage of House Bill 1009 in the State legislature this year–giving counties until 2016 to decide if they want to levy a sales and use tax and join a metropolitan transit agency, such as the Metropolitan Atlanta Rapid Transit Authority (MARTA)–the Clayton County Commission has the opportunity to schedule a binding referendum on whether to join MARTA.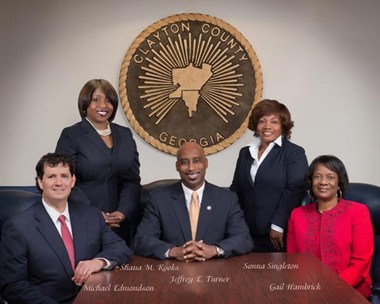 Commissioners appear to be leaning towards scheduling a referendum this November 2014, Atlanta Progressive News has learned, although there is less consensus over whether to levy a half-penny or full penny sales tax to cover transportation costs.
Currently, only DeKalb and Fulton Counties pay into MARTA, through a penny sales tax levied in each county.
Clayton County is the only county without access to public transportation in the Metro Atlanta area, which greatly hinders Clayton residents' ability to commute for work.  
As previously reported by Atlanta Progressive News, the Clayton Commission made a controversial decision to respond to falling revenues by closing C-TRAN, its erstwhile transportation system, in 2010.
http://www.atlantaprogressivenews.com/interspire/news/2010/03/22/clayton-public-transit-may-cease-service-next-week.html
In November 2010, the Clayton Commission approved a non-binding referendum on whether to join MARTA.  County residents overwhelmingly supported the idea, with 67 percent of the county's voters voting yes at the time.
http://www.atlantaprogressivenews.com/interspire/news/2011/01/16/clayton-county-votes-in-favor-of-joining-marta-what-next.html
This past March, State Rep. Mike Glanton (D-Jonesboro) took the first steps towards pursuing a referendum that would reverse the 2010 decision that removed all forms of public transportation within Clayton County.  The Clayton County legislative delegation was able to garner support for HB 1009, which will allow Clayton County and other counties located near a metropolitan transit authority, to levy up to a one cent sales tax to join the transit authority.

With the penny tax raising as much as 49 million dollars per year, MARTA would expand its services through buses, rail lines, or possibly both – a decision that would be determined by time and the wishes of Clayton County residents.
The response to this proposal has been overwhelmingly positive.  
HB 1009 passed the State House 163 to 2, and the State Senate 43 to 2.  The bill was co-sponsored in the House by State Reps. Glanton (D-Jonesboro), Mike Jacobs (R-Brookhaven), Stacey Abrams (D-Atlanta), Darryl Jordan (D-Riverdale), Valencia Stovall (D-Ellenwood), and Jay Roberts (R-Ocilla); and in the Senate by State Sen. Steve Gooch (R-Dahlonega).
The Legislature had set a sales and use tax cap, limiting how many pennies any county could levy in sales and use tax.  Previously, the Legislature had allowed counties to go above that limit in order to levy a penny for a metropolitan area system of transportation; however, the waiver expired in 2012 without action by any Metro Atlanta county.  HB 1009 re-grants the authority through 2016.
Now, it is simply a matter of the Clayton Commission taking action in a timely manner.  Commissioners have until July 02, 2014, to solidify and push legislation for a binding referendum through, in order for it to appear on the November 2014 ballot. 
According to advocates, HB 1009, in fact, requires that the referendum happen this November 2014, even though the bill appears at first glance to give counties until 2016. 
"HB 1009 only allows a vote until November 01, 2016.  But the 2016 election is on November 08, 2016, seven days too late," Lee Biola of Citizens for Progressive Transit, wrote in an email to Atlanta Progressive News.
"The MARTA Act requires MARTA referendums to be on the same day the General Assembly is elected, which is in November in even numbered years.  When combined with the MARTA Act, HB 1009 only allows a vote THIS YEAR on November 4, 2014.  Current law does not allow Clayton to join in 2016," Biola states.
If the Commission fails to schedule a binding referendum this year, some Commissioners may lobby the Legislature to amend the MARTA Act, a tall order that poses a bit of a gamble.

All of Clayton's commissioners want to see transportation restored in their county. Chairman Jeffrey Turner, and Commissioners Sonna Singleton (District 1), Gail Hambrick (District 2), Shana Rooks (District 3), and Michael Edmondson (District 4) are in agreement that Clayton deserves this equal accessibility to transportation, with Chairman Turner serving as the head and lead spokesperson of the efforts.
Deciding on the methods for achieving this, however, is what is ticking against the July 02 deadline.
"What we really need to look at is what the Clayton County residents want.  It's important to remember that the bill does not just include MARTA – so we have to ask if they want MARTA, buses, a rail line?" Commissioner Singleton told Atlanta Progressive News.
"It's imperative that we address what they think is most needed for their county and not allow Clayton to become a cash cow for MARTA.  All of this is dependent on the penny tax, and how that penny will be spent," Singleton said.
The amount of the tax serves as the main point of contention for Singleton, who is hoping to have questions on the money's purpose answered by a mass transit feasibility study currently being conducted.  The study will focus on the cost effectiveness of Clayton joining MARTA, starting their own mass transportation system, or simply opting out altogether.
Singleton believes the difference will come down to using the one cent tax or cutting it back to half of a penny, which will in turn determine whether Clayton will be able to fund expansions of MARTA's current rail lines or, conversely, whether Clayton's transit investments will be limited to more localized forms of transportation such as bus services only.
If given a full penny in which to operate, the realistic outcome would be a transition from nothing, to buses, and then to full rail lines.
"This is a now or never moment.  Even though the referendum would amend the part of the MARTA Act that requires decisions on mass transportation to be conducted only during general elections, I think the time is now," Commissioner Edmondson told APN.
[This statement by Commission Edmondson does not appear to be corect.  The referendum would not amend the MARTA Act, nor could any county referendum amend a state law.  However, if the legislature were to amend the MARTA Act, then the Commission could hold the referendum in a non-statewide election year such as 2015.]

All of the commissioners, including Chairman Turner, believe that this November ballot will be crucial.
"If the referendum fails to be placed on the November ballot, it could be brought back or we could go ahead with establishing our own transportation system.  The transit system will not be dead, and I will still fight for it regardless of the outcome," Turner told APN.
"But it is very important to include the citizens on what they think is best for the county as soon as possible.  The transit will have to be the best fit for Clayton County.  If that means MARTA, then I'm on board.  If that means another type of transportation, then I'm on board with that.  Of course, if the proposal is passed this July, we will be gearing towards MARTA," he said.
These concrete plans still have to be hashed out.  The feasibility study, as well as answers to HB 1009's penny tax questions, are to be discussed by the Commissioners during their second round of meetings being held this week.
Some advocates for the referendum are excited about its potential to help reduce negative environmental effects caused by increased pollution from cars.
"Simply put, public transportation gets people out of their cars.  The fewer cars there are on the road, the less air pollution there is.  Atlanta has had a major problem with pollution and this could help solve it," Brionté McCorkle of Georgia's Chapter of The Sierra Club said in a written statement prepared for APN.
"In Clayton, expanding public transit will be particularly helpful since a large portion of the county commutes to Atlanta for jobs.  Those commuters could choose to take public transit – especially rail transit – if it were available, thus taking cars off the road and improving air quality within the county," McCorkle said.
"In addition to improved air quality, public transit contributes to an overall improved quality of life in Clayton.  Public transit encourages denser development along transit corridors, which discourages sprawl, while attracting businesses and residents.  This means that people will be able to get more places, faster without being burdened by long commutes and congestion," she said.

This past year, the American Lung Association ranked Atlanta eighteenth among U.S. cities with the highest level of air pollution in the country.  By joining up with MARTA, Clayton County could stand a real chance in helping reduce this problem.

(END/2014)
CORRECTION: The original version of this article implied that the Clayton County Commission could hold the referendum any time up until, or including, 2016.  However, the referendum would have to occur this year in 2014, for reasons explained above in the revised version of this article.
In addition, the original version of this article mistakenly said that the Commission had introduced legislation in March 2014 to set a binding referendum for joining MARTA.  However, that was the State legislation that was introduced on or around that time.