Interviews with Candidates for Secretary of State, Gerald Beckum and Doreen Carter
With additional reporting by Matthew Charles Cardinale.
(APN) ATLANTA — In our continuing coverage of Georgia's 2014 Primary Election, we interviewed Mayor Gerald Beckum and Doreen Carter, candidates for the Democratic nomination for Secretary of State of Georgia.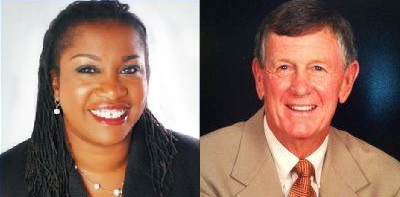 Beckum has served as Mayor of Oglethorpe, Georgia, for thirty-two years.
Carter served one term as City Councilmember of Lithonia, Georgia, since 2007; and in 2012, she ran for State House District 92.
In years past, including 2006 and 2010, APN has provided rich coverage of the Secretary of State's races, including interviews with several candidates, due to the importance of the issues involved, especially electronic voting.
As previously reported by APN, there is no meaningful way to know that the purported election results expressed by the electronic voting machines accurately reflect how the individual voters voted.  The votes simply go into the equivalent of a black box, they are not recorded as individual votes, and at the end a total is produced.  Recounts are not meaningful as they simply reproduce the previous totals; there is no meaningful way to do a recount.
In years past, candidates such as Democrats like former State Sen. Gail Buckner (D-Jonesboro), Angela Moore, now-State Rep. Scott Holcomb (D-Atlanta); and Libertarian David Chastain, ran lengthy campaigns and demonstrated significant knowledge of the issues involved.  Buckner took her campaign so seriously that she took a college course on Georgia history, noting that the Secretary of State, among other things, is the State's official historian.
This year, the Democratic Party had difficulty fielding candidates for this race.  No one had announced their intention to run until qualifying week.  According to a source, Beckum had previously planned on running for Labor Commissioner, while Carter did not qualify or announce until the last day of qualifying, only two months before the election.
It is as if they both woke up one day and said, well, no one else is running for Secretary of State, so I guess I will.  The lack of interest in the race was so pitiful that even Torry Lewis, who ran against Atlanta Councilwoman Cleta Winslow (District 4) in 2013, said he had been approached by the Party about running, even though he clearly has no logical connection to the position.
In APN's interviews with Beckum and Carter, they demonstrated an appalling lack of knowledge of the issues, both claiming that they believe the electronic voting machines were trustable.  Beckum stands out as wanting a voter verifiable paper audit trail, which could allow for meaningful recounts, but he does not seem to know why they are necessary.
Both seemed not to fully understand Georgia's 2005 voter ID law, which reduced the number of forms of ID that a voter could use to vote; however, when asked about re-allowing the use of college IDs, they both said that was fine.  But they could not come up with that on their own; only when prompted.
Neither understood open source software.  
Neither had a firm position on ballot access for independent and political body candidates, saying that it should be studied.  The problem is, it was already studied by a commission created by Secretary of State Brian Kemp; recommendations have been made by the commission to reduce the requirements, but neither seemed to be familiar with those recommendations, which the Legislature has also failed to adopt.
Carter's answers to most questions were that she would have to find out more and weigh the sides, which might be fine if she were running for Secretary of a PTA or a Rotary Club, not the Secretary of the State of Georgia.  Carter told APN that the questions were too difficult and that "I can't win with these questions."
Meanwhile, Beckum said he believes that it is acceptable that felons lose the right to vote, and that losing the right to vote is an appropriate punishment.
Beckum said he supported cuts to early voting in small cities and counties, while Carter said she does not like to take a position without knowing all the facts.
The candidates' responses are as follows:
CAN THE CURRENT GEORGIA E-VOTING MACHINES BE TRUSTED TO COUNT EVERY VOTE ACCURATELY ON ELECTION DAY?
BECKUM: I can remember back when we did not have electronic voting and all of us can remember the Florida debacle.   I personally believe the electronic voting system, as we have used it in rural Georgia, is far more accurate than anything we had in the past.   It may need updating but I believe it has a reliability of 95 percent up to maybe 100 percent.
CARTER: I'm going to trust the integrity of the election and the technology and the people behind it.  It's as good as the people are behind it.
DO YOU SUPPORT KEEPING THE CURRENT SYSTEM, ADDING A VOTER VERIFIABLE PAPER AUDIT TRAIL (VVPAT) TO THE CURRENT SYSTEM, SWITCHING TO OPTICAL SCAN, OR SOME OTHER OPTION GOING FORWARD?  WHY?
BECKUM: There has been a lot of discussion back and forth on this.  Personally, I like to have a paper trail along with the electronic voting.  However, I'm not an expert in that area and I would trust experts to give us some guidance.  The best system would be to have a verifiable paper trail and when the people in Georgia left their precinct, they would have a piece of paper in their hand showing how they voted.   
CARTER: In some of the smaller towns, we are hearing a lot of concern with the integrity of the systems being used.  I would want to be able to do some testing and see what other states are using and what actually works.  I know that budget always comes into play… but I think we could find money to ensure which system is going to give us the most accurate results here in Georgia.  Being in an elected office, I know there are things internally that you find out that you don't know when you are running for office.  I would want to actually have a team in place to test the system and varied options to see which one is going to give us the best results that we need here in Georgia.  I don't want to say this one is better than another.  We need to test it in various areas and see which one actually works.  It may be a little costly but I will be willing to make the appropriate adjustment to ask for the appropriate funding to be able to ensure that our voting is as accurate as can be with the various options we have.  We need to have some way to tie who voted to what they voted.
DO YOU SUPPORT OPEN SOURCE SOFTWARE CODE?
BECKUM: We would need to look at all these questions and call in experts and get the pros and cons and try to get the best system possible.
CARTER: There's some technology where they use open source and the companies have been able to resolve various bugs to be able to do that.  However, my concern is that the Secretary. of State has outsourced pretty much the whole IT department.  I don't totally discount open source because I'm an advocate for cultivating technology.  However, I do think we should have the proper oversight and the right talent.  We have the talent in-house that are able to create the technology outcome that the State of Georgia needs.
DO YOU AGREE WITH GEORGIA'S NEW VOTER ID LAWS?
BECKUM: I personally don't have any problem with voter ID.  However after being out on the campaign trail, I understand better why some people do.  I have talked with a lot of people and I understand that for some people voter ID is a hassle.  I am against anything that is going to inhibit people's right to vote.  Particularly with older people, maybe they did not get a birth certificate when they were a child.  People who have lived in this state for 50, 60 or 70 years, I don't think we need to make them prove they are legal citizens of the United States.
CARTER: I believe we have to protect the integrity of the election.  However, I also believe every legal citizen should be able to vote.  I would not necessarily have an issue with having state issued ID if we didn't have the extensive instructions to obtain the ID.  My personal experience in renewing my drivers license – I had to take my passport, my Social Security card, a mortgage statement, and a bill along with my current driver's license to renew my driver's license.  Which is the ID I will need to vote, I take issue with that.  
SHOULD GEORGIA ACCEPT MORE FORMS OF ID, SUCH AS COLLEGE ID, IN LIGHT OF THE WISCONSIN RULING?
BECKUM: I am in favor of college student ID's, driver ID's, almost anything available to make it as easy to vote as possible.  I'm less concerned with voter fraud by the people than I am with political fraud by politicians.
CARTER:  At the end of the day, it's the integrity of the vote that we want to be able to protect .  So I do believe that we should be able to use student ID and various forms of ID that are legitimate or loosen the regulations to obtain a state issued ID.  It looks like they are tying the people's hands.
DO YOU AGREE WITH GEORGIA'S CURRENT BALLOT ACCESS LAWS FOR INDEPENDENT AND POLITICAL BODY CANDIDATES – SHOULD THE PETITION REQUIREMENTS BE LOWERED?  (50,344 OR ONE PERCENT REGISTERED VOTERS' SIGNATURES FOR STATEWIDE POSITIONS, FIVE PERCENT REGISTERED VOTERS' SIGNATURES FOR NON-STATEWIDE POSITIONS)
BECKUM: Georgia is at a point where we've got a strong Democratic party coming back and a Republican party, but we have a lot of voters who are not loyal to either party.  I meet lots of people who want to be independent.  Maybe we are too harsh and require too much of independent candidates.  We need to take a look at those rules and see what we can do for voters who want to vote for independents.
CARTER: If it's lower it would allow for competition.  Where it is now, if someone wanted to be an independent they most likely can't do it because of the current regulations.  I am open to the conversation to determine if that is something the people of Georgia desire.
WHAT WOULD YOU DO, IF ANYTHING, TO INCREASE VOTER REGISTRATION?
BECKUM:  This has come up a lots on the campaign trail.  I would try to come up with an educational program working with the state school superintendent.  I want to stress the importance of voting to people and how important it is to be involved in the process.  We've talked about the old seat belt law.  My generation would sometimes buckle up and sometimes not use them.  When our children came along, they went through an educational system that said "Buckle Up."  Now that generation buckles up.  We need to come up with an innovative voting program through the school system and the Secretary of State's office that will emphasize how important it is to vote.  We need to educate our young voters from the time they start to school until they graduate, then they will automatically go vote.
CARTER:  I would expand things that I do locally.  At my church, when we have new members join the church we ask them to register to vote.  We have voter registration drives where we encourage people who now live in Georgia to register here.  We try to educate them that it is important to vote where you live now.  At the high schools, we are getting the seniors to register and vote.  I will work with the Parent Teacher Association (PTA) and local churches to implement this statewide.  
DO YOU SUPPORT LEGISLATION THAT WOULD ALLOW FELONS CURRENTLY SERVING SENTENCES TO VOTE?
BECKUM: No, not felons currently incarcerated… I am a strong law and order person.  When people mess up they need to pay a penalty.
CARTER: If we think about people who have committed felonies and they are incarcerated for rehabilitation… Maybe we should explore the opportunity of allowing felons to vote but I would want to know what Georgians think about having incarcerated felons vote.  I would be open to consider the idea.
WOULD YOU SUPPORT AN INDEPENDENT REDISTRICTING COMMISSION?  IF NOT, WHY NOT?
BECKUM: When the Democrats were in power years ago we were accused of having the good old boy system.  Now that Republicans have been in power for twelve years, they have taken the good old boy system and carried it way beyond anything the Democrats could imagine.  Yes, I would support an independent redistricting commission that could look at our districts.  So much of our districts now take a little bit of a county and stick it with other things.  I would like to see us go back to not dividing up cities, particularity small cities, and counties.
CARTER: If we could really find some people who would be willing to be independent and lay their partisanship on the line, because we do see that which ever party is in power the lines are being drawn to their favor.  I believe the people of Georgia are tired of this…  I believe there is an opportunity probably for a collaborative effort of the parties and independents.  
DO YOU SUPPORT LONGER EARLY VOTING PERIODS?
BECKUM: I'm on both sides of that question.  I'm in favor of early voting, but if you take a small town like Oglethorpe, and we have four weeks of early voting, all of our citizens can vote in the first week.  Longer periods in smaller towns runs up the cost of elections.  What it does is cause small cities and counties to have extra cost involved.  I would support six weeks in large cities because of all the people that's got to vote.
CARTER: I like to research stuff first and not talk off the cuff.  I think three weeks or 21 days should be the minimal and when there is an opportunity we should consider expanding it… I would be open to hearing the pros and cons to expanding early voting.  
DO YOU SUPPORT SAME-DAY REGISTRATION?
BECKUM: I generally support people being allowed to register to vote 365 days a year.  However, I think the problem would be opening up the possibility for some kind of corruption by registering and voting on election day.  I would want to think long and hard and come up with a system that would keep that from happening.  Otherwise, just short of election day,  I don't have a problem with registering people anytime and anyplace.  
CARTER: I like that idea; however, how do we protect the integrity of the vote?  If the technology was there and we could validate that these people are not registered any place else.  If we were able to do that statewide, I would be open to that.  
(END/2014)