US Rep. Hank Johnson, NSA Apologist, Faces Challenger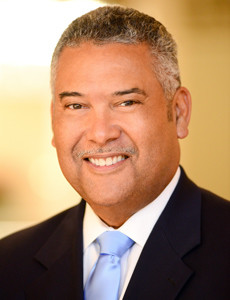 (APN) ATLANTA — US Rep. Hank Johnson (D-GA), the Democratic Congressman for Georgia's fourth U.S. Congressional District since 2007, is facing a Primary opponent, Tom Brown, former Sheriff of DeKalb County.
Despite participating in previous interviews with Atlanta Progressive News, U.S. Rep. Johnson refused to do an interview regarding his positions on policy issues.

Brown, on the other hand, participated in an interview and has promised to be accessible to not only news organizations, but to constituents.
In 2006, Johnson unseated U.S. Rep. Cynthia McKinney (D-GA), a true progressive who was willing to take stands.
Since taking office, Johnson has taken actions that have maintained the status quo.  
Last year, Johnson voted against amending the Patriot Act to end the likely unconstitutional telephony metadata NSA spying program.  Johnson explained his controversial vote in an interview with APN in July 2013, where he defended the NSA:
http://www.atlantaprogressivenews.com/interspire/news/2013/07/25/us-rep-johnson-defends-support-for-massive-nsa-spying-on-us-citizens-%28update-1%29.html
In 2007, Johnson voted to continue to support funding of the U.S. invasion and occupation of Iraq; his one vote tipped the U.S. House vote in favor of continuing funding in a year that voters supported Democrats in hopes of ending the occupation.
In a 2010 interview with APN, Johnson expressed his support for legalizing marijuana for medical purposes.  However, despite numerous efforts by his constituents to get him to co-sponsor federal legislation, Johnson failed to take action.
Brown tells APN that Johnson's "season has come to an end."  He asserts that Johnson fails to show a record of legislative accomplishments, and that he has failed to bring adequate federal funding back to the District.
Brown has been a fixture in DeKalb County for almost thirty years.  He has served as the DeKalb County Sheriff since 2001.  He has been successful at securing funds for DeKalb County through his visits to Washington, D.C.
"When I was Sheriff I went to DC to get money to help with prison improvements and inmate rehab and counseling.  I will be making sure my staff looks for every single opportunity for funds to help 501(c)(3) programs and local governments,"  Brown said.
"We have a limited role in shaping education in America.  It's a role that has a huge impact. Interest rates are high for student loans, there are no jobs for when they graduate.  We need to look at what education is available and a bigger push for technical degrees.  That's what we need people for.  Is there something we can do at the Department of Education for those with a C average who can go to a tech college for two years instead of a four degree that you can't get a job in?"
In the last campaign finance disclosure cycle, Brown outraised Johnson by almost one hundred percent.  
In his interview with APN, Brown revealed there were a few issues about which he was not knowledgeable.  The decision for voters, therefore, may be between a Congressman who is knowledgeable but who cannot be counted on to stand up for progressive principles or to be accessible, on the one hand–and a challenger who promises to be open-minded and accessible and to provide a fresh, new voice, on the other.
Brown's responses to questions posed by APN regarding his positions on policy issues are as follows:

WHAT IS YOUR POSITION ON NUCLEAR POWER?
I think nuclear is something we're going to have to have regulate and put standards in place.  It's very difficult for us to find other sources to power Metro areas like Atlanta.
WHAT IS YOUR PLAN, IF ANY, TO INCREASE SOLAR AND WIND POWER?
I currently do not have a plan for wind power.  I have not given much thought to it.  It is interesting listening to experts in those fields to see if it's an alternative.  I honestly don't know if we have enough wind to power the Atlanta area… I enjoy working with experts and professionals to find the best options available for any issue.
DO YOU SUPPORT GMO LABELING?
I'm not real read on the subject.  I'd like to hear all sides and great minds in the world on this subject.  I know it is very polarized.
DO YOU SUPPORT A VOTER-VERIFIED PAPER AUDIT TRAIL FOR ELECTRONIC VOTING?
I'm not sure if I'm ready for electronic voting, if you mean online.  Those individuals that are eligible to vote are denied that right.  We should be protecting every American citizen's right to vote.  What I'm for is that you have the right to vote.  Anything that's going to go against that right is something I won't be voting for.
[In a follow-up interview, Brown said he did not understand the question, which is about whether to support safeguards for existing electronic voting, not going to online voting.  He said he does not believe the expense of a paper trail is necessary so long as there is no reason to distrust a vendor, such as Diebold.  He said he was not aware of any problems with electronic voting.]
DO YOU SUPPORT RESTORING VOTING RIGHTS IN FEDERAL ELECTIONS FOR FELONS OR EX-FELONS?
Yes.  I will be in support of that.  Once an individual has served their time, their prison time, their probation time, their voting rights should be restored.  Your record should not impede your right to vote.  Once you've served your time, your debt to society has been fulfilled.
DO YOU SUPPORT A CONSTITUTIONAL AMENDMENT IN RESPONSE TO CITIZENS UNITED, CLARIFYING THAT CORPORATIONS DO NOT HAVE CONSTITUTIONAL RIGHTS, AND ALLOWING THE FEDERAL, STATE, AND LOCAL GOVERNMENTS TO LIMIT CAMPAIGN CONTRIBUTIONS BY CORPORATIONS?
I think we need to have some limitations and caps on federal elections contributions, insure more importantly that it is does not create an advantage of an incumbent. Opponents running for office don't have the power of incumbency behind them. By putting limits and caps on federal spending, we are leveling the playing field.
DO YOU SUPPORT A NEW VOTING RIGHTS ACT SECTION FOUR DEFINITION?  IF SO, WHAT SHOULD IT BE?
No, I support renewing the Voting Rights Act section that we have.  They are now trying to dilute and get rid of what is there.  We need to continue moving forward with that.
[Editor's note: Brown does not seem to understand that last year, the Supreme Court of the U.S. struck down the most recently enacted Section Four as unconstitutional.  Congress is currently considering a revised Section Four definition that might pass constitutional muster.]
WHAT IS YOUR POSITION ON NSA SPYING ON U.S. CITIZENS, INCLUDING THE PRISM PROGRAM, TELEPHONY METADATA PROGRAM, AND OTHER RECENT REVELATIONS?
We need to be very, very careful when look into the private life of any American citizen.  Email, telephone, and eavesdropping of sorts.  The agency doing that should not be the one investigating.  Whatever check the law enforcement needs to do, there needs to be a legitimate law enforcement reason.  Clear objectives, anything that the NSA wants to [do]… should be done with another set of eyes that can say probable cause when looking into the lives of American citizens.  Coming from a law enforcement background, making sure there is PROBABLE CAUSE is the most important element when engaged in this kind of activity.
DO YOU SUPPORT AN INTEREST RATE CAP OF 15 OR 18 PERCENT ON CREDIT CARDS?
I have not given that any thought; I'm not prepared for that question.
DO YOU SUPPORT LEGALIZING CANNABIS (MARIJUANA) AT THE FEDERAL LEVEL FOR MEDICAL PURPOSES AND/OR RECREATIONAL PURPOSES?
I support marijuana for medical purposes. I'm not ready to make that plunge into recreation. That's the law enforcement in me.  As easily as young people can get a hold of alcohol, I don't want marijuana to be another way to impede education.  Yes to medical, definitely.  I was very disappointed that the medical bill did not pass in Georgia.  There is a real medical need that is clearly documented.  Georgia was not on the right side of history by not passing that legislation.
[Editor's note: In a follow-up interview, Brown said his support was limited only to cannabidiol oil, not the full cannabis plant.  He said he would co-sponsor legislation related to cannabidiol oil, and would be open to researching other medical legalization.]
WHAT IS YOUR POSITION ON IMPLEMENTATION OF THE AFFORDABLE CARE ACT?  SHOULD THERE BE A DELAY IN IMPLEMENTATION OF CERTAIN COMPONENTS, AS MICHELLE NUNN HAS SUGGESTED?
We need to move full speed ahead on the ACA.  There are too many provisions that would do good, rather than pulling back.  We can do that as we get through the initial period of implementation.  See where this takes us so more objective minds can decide how or where it needs to be tweaked.  We need to work with it and get people covered.
DO YOU SUPPORT SAME-SEX MARRIAGE?
I support same sex marriage.  Everyone has the right to grow old with whomever they want to and do so legally.  We shouldn't be telling someone who to love and who they can spend their time with.
WHAT WAS YOUR POSITION ON INVADING SYRIA, PRIOR TO THE ANNOUNCEMENT OF AN AGREEMENT WITH RUSSIA?
I do not believe we needed to go to war with Syria.  Americans are war weary.  We need to focus on our economy.  This is a question that the Muslim nation needs to answer to, not the United States.

(END/2014)