APN Interviews with Sen. Orrock and Angela Stovall, Primary Challenger
(APN) ATLANTA — In our continuing coverage of the Democratic Primary, Atlanta Progressive News interviewed State Sen. Nan Orrock (D-Atlanta) and Angela Stovall, who are running for the Democratic nomination for the State Senate District 36 seat.
Orrock has held the State Senate position since 2007, when she was elected to the seat previously held by Sam Zamarripa.  Prior to that, she served in the House of Representative since 1987, as covered by APN in this 2006 article:
http://atlantaprogressivenews.com/interspire/news/2006/04/18/georgia-at-a-crossroads-state-rep-nan-orrock-says.html
In Orrock's youth, she was a member of the Great Speckled Bird newspaper, a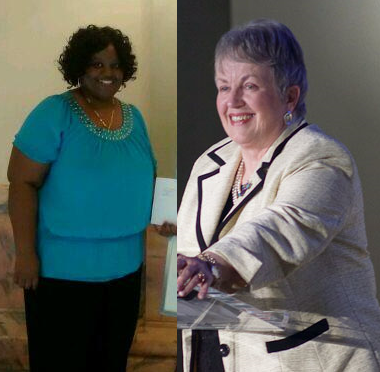 progressive magazine in Atlanta that was popular in the 1960s and 1970s.
Today, Orrock is one of Georgia's most outspoken progressive activists and works closely with the Georgia Women's Action for New Directions on anti-nuclear and anti-proliferation issues.

When progressive events are held such as rallies, protests, and press conferences, Orrock and State Sen. Vincent Fort (D-Atlanta) are the most likely to participate.  The pages of Atlanta Progressive News dating back to 2005 are filled with examples of this.
Orrock could be in a tough reelection battle because in the last round of redistricting, Orrock's district was redrawn to include portions of south Fulton and Clayton counties, which are heavily Black areas.  Orrock will have to make the case as to why a White woman should continue to represent what is now a heavily Black district.

When Orrock first was elected to the State House in 1986, she defeated Stovall's father, Lovett Stovall, for that House seat.
Indeed, Angela Stovall comes from a political family.
Stovall's sister, State Rep. Valencia Stovall (D-Ellenwood) was elected to the State House District 74 seat in 2012.  They are currently running a joint campaign.  For example, in a unique move, Angela Stovall and Rep. Stovall are sharing a website at gostovall.com.
Angela Stovall ran unsuccessfully for the Atlanta City Council District 1 seat in 1997 at age 21, the seat currently held by Councilwoman Carla Smith.  
Stovall has been Vice Chair and is currently the Public Safety Chair for the City of Atlanta Neighborhood Planning Unit Y.
Orrock is endorsed by the American Federation of Teachers, Atlanta North Georgia Labor Council, Georgia Association of Educators, Georgia Equality, Georgia Trial Lawyers Association, Georgia's WIN List, Planned Parenthood, and Georgia Stonewall Democrats.
Stovall has not yet responded to APN's request for a list of her endorsements.
APN sat down with both candidates to ask them about numerous policy issues. Their answers are as follows:
WHAT IS YOUR POSITION ON NUCLEAR POWER?
ORROCK: I do not think that taking America down the nuclear power road is in any way a wise move.  Nuclear power is described by proponents as clean and in fact it produces radioactive waste and poses real hazards to us right here in Georgia.  The notion that dealing with all that waste is not supposed to be considered as part of the cost of that kind of energy is preposterous.  I have grave concerns about it.
I think the Fukushima reactor collapse, the enormous crisis that is not going to be resolved in the foreseeable future and that is damaging the oceans and devastating the environment is an example of exactly why we should not take America down that road.
STOVALL: Nuclear power. Well there's a lot going on with nuclear power.  I would have to sit down and hear both sides of the argument.
For me to directly to say hey I'm against this or I'm for this when I have not fully been given the opportunity to hear everything, I can't give a direct answer.  The whole thing would be for me to hear from both sides and find the sweet spot and work it out from there.
WHAT ARE YOUR PLANS, IF ANY, TO EXPAND WIND AND SOLAR IN GEORGIA?
ORROCK: I'm very supportive of efforts that have been moving forward to take us in the direction of solar and wind.  Green energy is a terrific economic boost.  It's a boost to our economy and it's jobs that can't be exported in building out green energy infrastructure.
It's hopeful to see that even members of the Public Service Commission are now understanding that that is the way of the future and we need to encourage it with policy, an entrepreneurial spirit, and a way to reform the state laws so that traditional utilities providing electricity are not allowed to dominate the conversation and misshape the policies to disadvantage green energy.
STOVALL: You know, like some of that nuclear stuff, I haven't thought deeply into an exact plan for that.  In looking at it, [there are] a lot of direct things that are going to effect the District so I'd have to bring in constituents and see what their feelings are about the whole situation.  So again, engagement, getting out there and saying hey, here's the issues, this is what we have going on and how is this going to effect the District.
WOULD YOU SUPPORT REDUCING PETITION REQUIREMENTS FOR INDEPENDENT AND POLITICAL BODY (MINOR PARTY) CANDIDATES FROM THE CURRENT ONE PERCENT STATEWIDE, FIVE PERCENT NON-STATEWIDE REQUIREMENT?
ORROCK: Yes.  I do think that Georgia's built a high and unreasonable wall that creates a barrier to third party efforts and third party candidates and I'd like to see that changed.
STOVALL: I think it all boils down to who is their constituency base and what are their views. Then from there you can decide yes we need to reduce, no we may not need to reduce.  It all goes back to going out there and understanding what your constituency base is trying to go at.
WOULD YOU SUPPORT ADDING A VOTER VERIFIABLE PAPER AUDIT TRAIL TO ELECTRONIC VOTING SYSTEMS IN GEORGIA?
ORROCK: I think that'd be ideal.  There's enormous resistance to it, it seems, by the gatekeepers.  I think there's been significant concern and it's warranted.  Elections are too serious of an issue, they are a fundamental bedrock feature of true democracy and taking whatever measures necessary to ensure the integrity of the ballot and the confidence of the voter is the smart thing to do.
STOVALL: With technology being as advanced as it is, I believe you still have to have transparency, especially because technology doesn't always do what people tell it to do so you have to have some kind of backup, and a backup to another back up.
The other question behind that is if you add that extra layer, how do you fund it?  So if you're going to increase funding for something or find new money for something, something has to be decreased.  So it's going back to see and say okay lets look and see what we have.  Is there something we can take from and go over here and add to this?  How can we have a balanced budget and still be able to accomplish what we need to do?  It's really making sure if we got the electronic system to make sure the system is working properly like it needs to, so being more preventive rather than having an intervention afterwards.
WHAT WAS YOUR POSITION ON THE CONSTITUTIONAL AMENDMENT TO RE-CREATE THE CHARTER SCHOOL COMMISSION TO OVERRIDE LOCAL SCHOOL BOARD AND STATE SCHOOL BOARD DECISIONS REGARDING CHARTER SCHOOL APPLICATIONS?
ORROCK: I voted against it.  I supported the court ruling [Supreme Court of Georgia ruling] that found that local control of schools was being violated by the actions of the state to take money and power away from local school boards to conduct their education and control their budget.  
I am deeply concerned about the potential for corporate charter schools to run away with a bit in their mouth.  We already had a process in place that allowed for an appeal to the state school board.  The state school board had really demonstrated a lot of diligence in not carelessly shooting from the hip and approving a charter school just because it couldn't make it over the hurdles of a local school system.  I worked with them and knew the staff.  They built up their expertise and they did not green light every charter school, every notion for a charter school that came before them.  They, I think, demonstrated a lot of care.
What that amendment does is create yet another process with the Governor appointing people.  I felt very uncomfortable with the scenario of a Governor making appointments to a charter school commission that can then grant charters.  It makes it very political if these big corporations that are funding charter schools contribute to the campaign funds for the people that are appointing the gatekeepers.  It's a very problematic situation.
The state school superintendent pulled together a position paper that was documenting all the facts they had at their fingertips at the state education department and he [John Barge] was opposed to it.  He is the guy in charge of education for the State, and the Governor and the Attorney General absolutely pushed him around and said you have to take that off your website. They made him remove his position paper from the website and they got very bellicose about threatening school systems that they could not take any position on this.  
The vehemence, our arms were twisted for the entire Session to get Democrats to give our vote to that.  The governor's people were twisting arms like nobody's business and offering people things and coming back and sweet talking people to try to break up the unity of the Democratic caucus.  We were refusing to embrace this.  So when I saw that level of intentionality and that ramped up massively political approach it became clear to me that in my mind it had the appearance of somebody is going to make a lot of money off of this thing if y'all are working that hard for this.
Then we did the research and saw the model in Florida of corporate charter schools and how much money they were sucking out of the system.  So, I participated in the campaign to try to block that from passage.  There's very slick messaging going on promoting that.  It was heartbreaking at the point where the unity of the Democratic Caucus was broken by one or two people.
STOVALL: I can't particularly say, because again I'd have to go in there and look at the details and hear from both sides about what's going on to even have an accurate idea or straight up position on it.
WOULD YOU SUPPORT HB 885, THE MEDICAL CANNABIS BILL CURRENTLY BEFORE THE LEGISLATURE?  WOULD YOU SUPPORT A STRONGER MEDICAL BILL?  WOULD YOU SUPPORT DECRIMINALIZATION OR FULL LEGALIZATION?
ORROCK: I voted for it in Committee.  I'm in the health committee.  I strongly supported it and spoke with the author [Rep. Allen Peake] and offered him assistance.  Personally, I think they should legalize marijuana.  There's a lot of details to work out about what that would look like and how to manage it and make it work.  There are states where that has happened.  There is a whole set of arguments for legalizing marijuana that I think have some compelling ingredients.
I've read where now where the bottom line of state revenues is being greatly enhanced when they legalize and tax the sale.  I also heard a new report that with the drug trade coming into the U.S. that the prices of marijuana are being pushed down by the fact that this legalization is happening.  It definitely needs to be looked at seriously.
STOVALL: (Yes on HB 885).  There is all types of ways to treat different medical situations.  We cannot find ourselves going in one direction and think one size fits all for everything so we need to be able to explore different opportunities, so I would say I would have voted for it because we need to look at all options when it comes to health.  Everyday with new technology there's something new discovered on how we can be able to help people help themselves in their lives.  I would say yes, let's open it up and look at it and not just say no to something without thoroughly exploring the different options to help people.  In the end its all about helping people to get to the next level. (On a stronger cannabis bill) I think so. I'd have to look at it.  (On full legalization or decriminalization) I cannot say.
WHAT IS YOUR POSITION ON THE CITY OF LAKESIDE PROPOSAL?
Orrock: I was against that proposal.  It didn't pass.  Generally speaking I have not looked favorably on this proliferation of cities.  It seems to go counter to the question of creating more government, if you want to have smaller government.  It's a balance.
There are times and places where its appropriate.  I would see a racial overtone because it's in counties [Fulton and DeKalb] that have Black political leadership that there have been these White-led movements to remove one's community out of the reach and purview of the Black-led county government.  So I'm sure people will hoop and holler and say how dare you intimate such a thing, but there is that pattern.
Now there's an effort on the south side of Fulton County to do the City of South Fulton. That is Black-led and it's trying to engage with the fact that all across Fulton County there's been so much municipalization that if you're a part of unincorporated Fulton now you're a tiny little sliver that's left that's not municipalized.  I can see an argument for why citizens would want that in that situation.
The Lakeside debate was highly charged.  The other thing that's happened is those things are supposed to have been local legislation, but there have been cities in the past in Fulton County that they found some circuitous path and justification in going around the local delegation and making it a statewide bill.  
So all this race to create cities to me is very problematic.  I think that the reality is there's an energy for it out there.  The more it happens, the more other communities say, hey, we want that too, the more it is the more it becomes almost a stampede.  It seems that what I know of the situation in DeKalb County, there were deep divisions with the impacted communities and that the approach was to muscle through.  If you've got the political muscle, then you get your City. That didn't work this time. There were people of all parties or neither party in those areas that were appalled that their opinions weren't going to be respected.  So it was not hard for me to vote against that.
STOVALL: Number one, with Lakeside, they're not directly in District 36 so I would follow up on local legislation.  I would have sought out their Senator or whatever legislator and say, if this is what your constituency base says they want to do, then that's how we look at it.  It's not for me to be able to go in and say hey I'm going to tell you how to run your city, but find out what is it that they want to do and support it that way.
DID YOU SUPPORT THE INCORPORATION OF THE CITY OF BROOKHAVEN IN 2012?
ORROCK: I was against it.
STOVALL: Brookhaven does not fall directly in District 36 so again,  it depends on how those legislators feel.
DO YOU SUPPORT GMO (GENETICALLY MODIFIED FOODS) LABELING?
ORROCK: I do.  I do everything I can to heavily rely on organic fruits and vegetables and organic sources for the things that my family and I eat and on local farmers markets.  I think strong consumer protections are essential.  There should be full disclosure, then you can make your choice about what you choose to put in your body.  But to have it unknown, covered up and not transparent, it's wrong.
STOVALL: I do think people need to be more aware of what's going on.
WHAT IS/WAS YOUR POSITION HB 891, TO REDUCE EARLY VOTING FROM 21 DAYS TO SIX DAYS?
ORROCK: I voted against shortening the early voting period because (early voting) was one of the few positive steps and reforms in the right direction on voting to make the process more accessible and easier for people to vote.  That's what we should be looking for, is ways to broaden the numbers of people that are voting.  I was thrilled when it was defeated on the last night on the other side of the house.
I am sure that there are some local budgets that are highly stressed and highly burdened and are seeing early voting as an expense.  But if you embrace the view that you want to have a broad electorate input on issues and elections, then you prioritize putting some money in that.  The State could assist in that.  While I'm sympathetic to the situation where a small, local government is struggling to stay afloat and they see this as a burden that's too much to bare, we should look for solutions to that and not block early voting.
STOVALL: So from my understanding of what I've read and heard, the reason why they wanted to reduce was because some cities and some local governments I believe are spending out a lot of their money for the longer days.  Is that right?  I can't give you how I'd vote, I'd have to look more into it.  If we were doing something for this period of time, what has happened for us to all of a sudden want to reduce it?
So it's so going back, digging into the details, bringing everyone to the table and saying okay, what's going on?  And is there a real true need for it and do we need to have one section of certain people if this is going to reduce their budget and they're spending money they don't need to spend, then is there something we have to make statewide or is this something local legislation could cover?
DID YOU/WOULD YOU HAVE SUPPORT THE PREVIOUS REDUCTION OF EARLY VOTING FROM 45 DAYS TO 21 DAYS?
ORROCK: (No.)
STOVALL: I'd have to look at everything.
(END/2014)