Coan Middle School Spared in APS Closures Battle
With additional reporting by Matthew Cardinale, News Editor.  Photograph by Marko Robinson.

(APN) ATLANTA — Parents scored a recent victory when Atlanta Public Schools Superintendent Erroll Davis announced that Coan Middle School was no longer on a list of APS schools being considered for closure.
Coan Middle School is located in the Kirkwood community in east Atlanta, and, like many APS schools, has seen declining enrollment in recent years, particularly following the demolition–and in some cases redevelopment–of public housing developments.
When Coan was on an original list of thirteen schools slated for closure, parents mobilized, including by holding a community meeting at the school on March 23, 2012, attended by Atlanta Progressive News.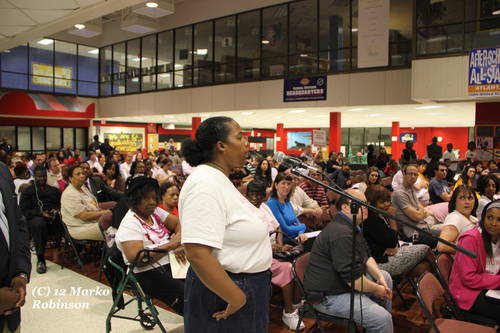 The proposal had been to either close Coan or merge it with King Middle School; either way the students would have been sent to King Middle School.
Some argued the proposal to close Coan was based on race; for others it was lack of enrollment with school's capacity to hold more.
As for race, Coan, King, and nearby Inman Middle School–which was not slated for closure–had clear differences.  
As of 2011, Coan MS was 96 percent Black, two percent White, one percent Hispanic, and one percent multiracial.  
Inman MS was 46 percent Black, 43 percent White, four percent Hispanic, four percent multiracial, and two percent Asian.
King MS was 90 percent Black, seven percent Hispanic, and one percent multiracial.  
As the statistics show, Coan and King are predominantly Black, while Inman is mostly mixed.  
As for enrollment and capacity, as of 2011, Coan has 307 enrolled and holds 902, Inman has 867 and holds 770, and King has 551 and holds 880.  
In the 23rd March meeting, APS stated that consolidating Coan-King would bring more services to the students and the "utilization rate" would have been 91 percent with a projection of 804 enrolled.
Overall, APS "has seats for 62,500 students but only 49,000 children enrolled," according to the Atlanta Journal-Constitution's Get Schooled blog.
Coan did not have a very large district.  Using Yahoo Maps to compare the districts and the mile radius they cover: Coan is 4.02 miles long and 4.84 miles wide, Inman is 6.91 miles long and 8.24 miles wide, while King is 8.05 miles long and 5.65 miles wide.  Coan is the smallest of the three, while Inman is the largest.
Emory University, which had been doing work at Coan, had sent a letter urging APS not to close the school.
At the March 23 meeting, a woman in a wheelchair stated that her aunt was Sammye E. Coan, the first Black principal in APS, and noted that Coan was the first middle school to be opened in Georgia.
APS should create a "life of equity," she said.  She said APS should think about the "whole person" and "the greater good of the children."
Another woman asked if APS is concerned with "equity in academics… what about the equity in people?"  She said Coan is not treated equally with north Atlanta schools.
Currently, APS is still considering closing ten schools, mostly in south Atlanta, even while it is planning on building new schools in the Midtown and North Atlanta neighborhoods.
The ten schools currently under consideration for closure are Capitol View Elementary, Cook Elementary, D.H. Stanton Elementary, East Lake Elementary, F.L. Stanton Elementary, Herndon Elementary, Kennedy Middle, Parks Middle, Towns Elementary, and White Elementary.
(END/2012)