Three Vie for Sandy Springs Council Seat
This article first appeared on The Beacon website at: http://www.beaconcastmedia.com/news/Three-Vie-for-Vacant-Sandy-Springs-City-Council-Seat-2821 (subscription-only)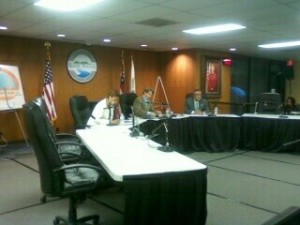 (APN) SANDY SPRINGS — Three candidates debated their qualifications and attempted to articulate their respective visions for the City of Sandy Springs at a forum held Thursday night at City Hall.
The hopefuls are vying for the District 4 city council seat left vacant by former Councilwoman Ashley Jenkins, who resigned in December. The outcome will be determined — or at least partially — in a March 15 special election.
The non-partisan race for District 4, which runs geographically south of Pitts Rd. from the north to Mt. Vernon Rd., is a majority election format (the winner must garner 50 percent plus one on March 15 or a run-off is held between the top two vote getters in April) where only registered voters who actually live in the District are eligible to vote (it is not city-wide election).
Off-year municipal special elections typically draw about a five percent turnout of registered voters. That narrows the realistic vote pool down to about 1,000 likely voters in this race. So every vote counts, and old-fashioned one-on-one retail politics often carries the day.
THE CANDIDATES
Gabriel Sterling, 40, considered the front-runner, is the quintessential political insider of the race. A Republican political consultant with the firm Landmark Communications, Sterling makes his living by running city council races for other candidates. Now he's attempting to put his consulting knowledge to the ultimate test — by trying his own hand to elect himself. He's racked up a litany of endorsements from his firm's current and former clients in and around North Fulton. He calls himself the "right-winger" of the race.
Chiteka Jackson, 39, is a realtor who previously worked on the Mary Norwood for Mayor of Atlanta campaign in 2009. Jackson has voted mostly in Democrat primaries.
The third and latest candidate to enter the race is the wild card: Dennis Williams, 55, a successful entrepreneur who casts himself as an "outsider." This is Williams first try at elected office, and his emergence of late has been fueled by his "anti-establishment" mantra and his solid business credentials.
Williams owns several real estate companies. He also manages several adult entertainment establishments in the City of Atlanta — none of which are located in Sandy Springs.
THE FORUM
About 30 audience members attended the forum including candidates' family members, campaign supporters, reporters, sitting Sandy Springs Council Members, and several concerned citizens.
One of the major issues raised at the gathering centered on the proposed location of a new technical college in Sandy Springs.
"We do have colleges in Sandy Springs: AIU [American Intercontinental University], Argosy. For colleges that are not in Sandy Springs, they're in such close proximity that it does not warrant our tax investment," Jackson, who answered first, maintained.
Sterling concurred. "I would love to have a school in this city. This was the wrong place, the wrong process, and the wrong concept," Sterling said.
Williams framed his opposition in economic terms: "The bottom line here is a lack of community support. The people on Peachtree/Dunwoody don't want it [the technical college]. It brings people here who don't have disposable income– they come to [attend] class and leave," Williams asserted.
"We'd pay the tax to support it with very little economic benefit to our city's residents or business owners," the entrepreneur added, afterwards.
DOWNTOWN, UTPOWN OR ANYTOWN
Moderator Joe Earle asked whether the City of Sandy Springs has a role in developing a downtown.
"The City has a central and leading role in doing that. It's not really defined [where that would be]. We're a suburban city that became an urban city against our will. The city has to take the lead. Everybody wants a downtown," Sterling responded.
Williams said there is no silver bullet. "There's no quick solution. It's going to take comprehensive planning," Williams contended.
But Jackson noted the city had already purchased a Target building, which maybe a decent location for a new City Hall. "I do believe we can get the ball down the court if we can get the community in the process with the developers," she said.
As for the current location of City Hall, "I'm not saying that what exists right now is a shining beacon," Williams said. "We need a city center to call our own, but it must come at a time when private enterprise supports it and it can be self-funding."
Williams elaborated after the forum he was opposed to floating bonds or saddling the city's taxpayers with any debt or financial burden.
Sandy Springs City Hall is currently in rented space in the back of an office park.
Sterling said he didn't think a new City Hall should be near the North Fulton County Government Center. "Who goes to the government center happy? You go to pay taxes…pay a fine."
THE ELEPHANT IN THE ROOM
The moderator asked if the city should have a role in fighting adult entertainment establishments.
"I know the basis of this question and I don't like it. It's targeted at one candidate [Williams]," Jackson said. "From a moral standpoint, I'm a mother, a Christian. I don't think it's a good atmosphere to have here. I know, for the people whoown adult entertainment establishments, it's a constitutional fight for freedom of speech. There's a problem getting engaged in fighting off existing owners. There are consequences to the cost of litigation."
Williams says if there is anyone who knows how to stop new unwanted adult entertainment center from opening in Sandy Springs, it's him. "I do have a [business] interest in adult entertainment," Williams said. "It's a multi-billion dollar industry. I don't expect people to accept it. I have no interest in [new] adult entertainment coming to Sandy Springs. It's not accepted in the community. I will stand behind the voters and say no." Williams added later that he has the knowledge to fight it. "That's a level of experience no one else can bring to the table," Williams offered, when asked to explain.
A blogger asked Williams to list the names of the establishments he manages. However, Williams declined, saying he was not there to advertise his businesses.
HURRY UP AND WAIT
Citizens who asked questions raised concerns about increasing development along Peachtree/Dunwoody Rd. and the encroachment of traffic. Williams said he'd support something like a coffee shop: "something soft"– but not a QT gasstation with harsh lighting, he maintained.
Sterling noted that he had received the endorsement of the Atlanta Board of Realtors, despite the fact that Jackson sits on that Board's governmental affairs committee.
But Jackson told The Beacon that she felt it was because Sterling's agenda was more in line with the realtors, whereas hers was more balanced with neighborhood concerns.
(END / 2011)