Phillip Rush Center Emerges as Shared GLBTQI Community Space
(APN) ATLANTA — Since its grand opening in 2009, the Phillip Rush Center, located at 1530 Dekalb Avenue, has emerged as a new, shared community space for Atlanta's gay, lesbian, bisexual, transgender, queer/questioning, and intersex community.
The facility is named after Phillip Rush, a respected Atlanta activist and philanthropist, who died in April 2009 at age 55.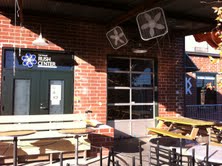 Rush served as program officer for the Community Foundation for Greater Atlanta, for 15 years, until he left just weeks before his untimely death.  Rush worked on a variety of community initiatives, including many which were not particular to the GLBTQI community.
Some of his honors included being named as one of eight honorary grand marshals for the Atlanta Gay Pride Parade several years ago.  The organization Georgia Equality has also created a Phillip Rush Community Builder award.
The vision for the Center began with Rush himself.  The Lloyd E. Russell Foundation–which seeks to "promote unity, visibility, and self esteem within the gay, bi, lesbian, transgendered, questioning (GBLTQ), and leather communities"–helped the Center launch with a 25,000 dollar donation.
The Center also received a donation from the Atlanta Gay and Lesbian Fund, and several individual donors.
Since its grand opening, the Center has grown both in size and in terms of the number of organizations it serves.  Currently, the Center hosts office and meeting space for several organizations.
The Atlanta Lesbian Health Initiative serves as the fiscal sponsor for the Center.  The ALHI and Georgia Equality are the two main organizations located at the Center.
Other organizations with offices at the Center include the MEGA Family Project, the Atlanta Pride Committee, the Atlanta Gay & Lesbian Chamber of Commerce, In the Life Atlanta, and SAGE (LGBT Seniors/Aging).
Several organizations hold weekly meetings at the Center, including the Black Lesbians Cancer Survivors Support Group, the Circle of Grace Church, the Domestic Violence Victims Support Group, the Domestic Violence Batterers Support Group, and Weight Watchers.
Several organizations hold monthly meetings at the Center, including the Atlanta Macintosh Users Group, the AID Atlanta's Deeper Love Program, and Transgender Individuals Living Their Truth.
At least an additional eighteen organizations have used the space for meetings or trainings, according to a flyer obtained by Atlanta Progressive News.
Last month, in January 2011, the Occaneechi Tribe of the Saponi Nation [in what is now North Carolina] held a forum at the Center to help Atlantans learn more about their tribe.
With almost 4,000 square feet after its recent expansion, the Center offers several boards rooms, activity rooms, a kitchen, a media projector, a printer, wi-fi, and a 75 person event room.
Currently, the Center is a partnership between Georgia Equality, headed by Jeff Graham, and the ALHI, headed by Linda Ellis.
The Center is also an incubator for a larger, more comprehensive community center in Atlanta.  Unlike most major metropolitan areas with a high proportion of GLBTQI residents, Atlanta does not have a GLBTQI community center.
All that may change in the near future.  Atlanta realtors Justin Ziegler and Barb Rowland have been meeting off and on for several months to discuss the possibility of having what they call a first class community center in Atlanta.  Ziegler did not immediately return a voicemail seeking comment.
Over the past twenty years, there have been numerous efforts to create such a community center, but because of financial issues, nothing has come to fruition yet.
One of the larger efforts was a plan to start a community center on 11th Street in Midtown Atlanta, but that center never was built due to financial struggles.
There previously was an Atlanta Gay Center, founded in 1976, according to a 2010 article in Georgia Voice magazine.  "The Gay Center, which eventually became the Atlanta Gay & Lesbian Community Center, provided support groups, a health clinic, and a newsletter, but always remained relatively small," GaVo reported.
"At one time the Gay Center was located on 12th Street.  It later moved to 159 Ralph McGill Blvd., where several HIV/AIDS service organizations, including Positive Impact and AIDS Survival Project, were located.  The Lambda Center also located there, and the two efforts joined forces," GaVo reported.
"But the '159 Center' broke up when that space became too expensive, and in February 2003, the Gay & Lesbian Center moved to a house located at 170 11th St.  The center closed soon afterwards in the wake of a lawsuit from a former employee," GaVo wrote.
"We plan on moving slowly, and looking into the needs of the LGBT Community to see what type of future facility can be supported," Ellis told APN.
Ellis and Graham plan on getting advice from other experts before anything is done.
Ellis says that Rush, her mentor, felt that being economically responsible was extremely important.  So far, the progress at the Rush Center is steady.  Both Ellis and Graham are very happy with all the support, and their goal is to have the Rush Center be sustainable.
Currently, the Rush Center is deliberate about describing itself as a shared community space.  The Center is interested in helping to facilitate a conversation with community stakeholders about the possiblity of creating a community center, which may be an outgrowth of the Rush Center, or may be a completely separate facility, according to Graham.  Graham hopes to assess the community's needs and then decide whether the Rush Center is the appropriate venue to fulfill them.
"One of Phillip Rush's best qualities was getting groups to work together, which was one of the reasons that the Center, which brings together all different LGBT groups, has been named after such a great activist," Graham said.
"Phillip was not only a friend but a mentor," Ellis said.  "Rush was a philanthropist and he not only gave his own money, but he helped raise money for practically every LGBT organization in Atlanta."
"Rush helped create and obtain some needed funding for the Center while he was alive," Ellis said.
Unfortunately, Rush passed away only two months after leaving the Community Foundation of Greater Atlanta.
Rush was on APN's email distribution list.  When he left the CFGA, APN received the following auto-reply: "I want to profoundly thank the, literally, thousands of people I have met who work to build the common good.  I hope I have made a constructive contribution to your efforts so far and hope to see you in the future. — Phillip Rush"
When asked what Rush would say about all the excitement, Ellis said "Phillip would probably be embarrassed by all the attention."
(END / 2011)