PETA Activists, "Elephant" Block Entrance to City Hall, 3 Arrested
(APN) ATLANTA — Four Atlanta activists with People for the Ethical Treatment of Animals blocked the entrance to Atlanta City Hall today, as part of a demonstration against the alleged abuse of elephants by the Ringling Brothers circus.
Three activists–Rachel Ewon, 25; Reagan Kimball, 31; and Jamie Salazar, 25–were handcuffed after blocking the entrance for about twenty minutes.  A fourth activist, Julie Robertson, who was dressed in a full elephant costume, was not arrested, although she also blocked the doors.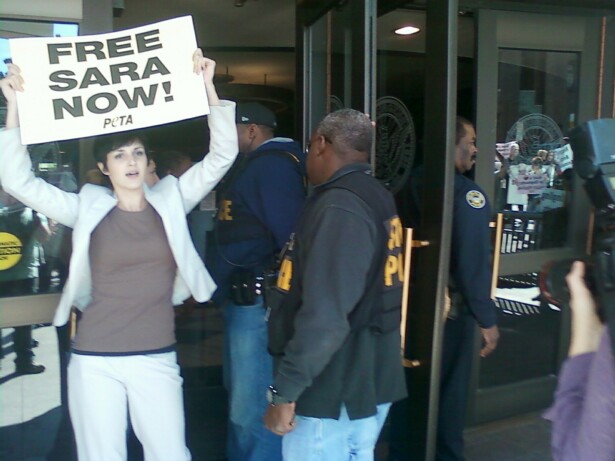 About 100 activists rallied in front of City Hall from 12pm to 1pm, earlier today, February 14, 2011.
One Atlanta Police Department officer told Atlanta Progressive News that there were plans to arrest the three activists who had been handcuffed, and that APD was considering a charge of "simple battery of a police officer" against at least one of them.
APN witnessed the entire ordeal.  City Hall security guards were pushing on the doors to get them open, and pushed against the activists to move them out of the way.  The activists attempted to stay in place and continue to block the doors.
However, APN did not witness any of the activists elbow a police officer, as is alleged by APD.  If anything, the activists were attempted to stand still, while the officers were pushing against them.  The APD officers and City Hall security–as well as some citizens trying to leave City Hall–appeared to be the ones assaulting the protesters.
The Ringling Brothers circus is opening this week in Atlanta, on Thursday.  The elephants who perform tricks are a major part of the attraction; however PETA activists claim that the animals are tortured and beaten with long sticks with hooks on them, in order to induce them to perform said tricks.
"If anybody treated their dog or cat the way Ringling treats animals, they'd be charged with animal abuse," Robertson told APN.
"Two of Ringling's elephants [Sara and Nicole] are lame and arthritic.  They're limping.  This has been documented by a veteranarian.  They use bullhooks–sharp poker-like devices–they stick the elephants with sharp devices to keep them moving," Robertson said.
"The elephants perform the same grueling and painful tricks several times a day," Lindsay Rajt, Manager of International Grassroots Campaign for PETA, told APN.  "They stand on their hind legs, balance on a pedestal.  When you're a thirty year-old elephant with severe arthritis it becomes painful."
"We're opposed to all animal-based circuses.  The elephants are hauled around the country 50 weeks a year in poorly-vented boxcars and trailers," Rajt said.
The activists are seeking the City of Atlanta to take action.  Delcianna Winders, Director of Captive Animal Law Enforcement for PETA, sent a letter to Mayor Kasim Reed on February 02, 2011, alleging that Ringling Brothers is violating both city and county laws.
Previously, PETA worked with Fulton County Commissioner Robb Pitts, who introduced legislation to ban cruelty to circus animals in Fulton County.  According to several sources, the Commission meetings where the proposed legislation was addressed turned into quite a circus in and of itself.
Commissioners Pitts, Emma Darnell, and Bill Edwards were the three Commissioners who stood up for the elephants.
Commission Chairman John Eaves, Commissioner Tom Lowe, and then-Commissioners Nancy Boxill and Lynne Riley voted no.
Activists may try to approach Fulton County again, seeing as how there are two new Commissioners–Joan Garner and Liz Haussmann–on the Board.
APN reached out to Atlanta City Council Members Kwanza Hall (District 2), Natalyn Archibong (District 5), and Michael Julian Bond (Post 1-at-large), to see if they were interested in pursuing Council action, such as a resolution.  They requested to receive more information, which PETA has offered to provide.
(END / 2011)