Undercover Cops Infiltrate SOAW Protest Planning
(APN) FORT BENNING, Georgia — Five undercover officers infiltrated a planning meeting of seven School of the Americas Watch protesters in the days leading up to last weekend's protest, Atlanta Progressive News has learned.

Hendrik Voss, National Organizer with SOAW, told APN, "Five undercover police officers participated in an action preparations workshop with seven SOA Watch activists who planned to block Victory Highway Saturday.  The five officers also participated in the civil disobedience, by blocking Victory Highway with the seven activists, and then testified against them in court."
"All the other people arrested Saturday were bystanders, people leaving the rally area and a Russian news crew filming the action," he said.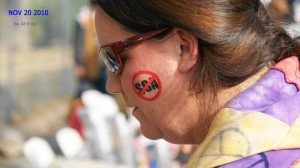 As previously reported by APN, two dozen activists, including innocent bystanders, were arrested at a protest on Saturday, November 20.  Seven activists–originally believed to be the Puppetistas–had planned to leave the designated protest area in order to march on Victory Highway; however, things went wrong when the police arrested a total of 24 people, including individuals walking to their cars or watching what was going on.  [APN originally reported 26 Saturday arrests, but SOAW now says the correct number is 24.]

According to an update on soaw.org, on Sunday the Judge found 23 of the 24 who were arrested by the city guilty on all charges including unlawful assembly, failure to disperse, and parading without a permit. The total of bonds and fines exceeds 75,000 dollars.
The Columbus Ledger-Enquirer newspaper listed 22 of the 24 arrested: are as follows: Curtis D. Thornton, 38, of Columbus; Charity Ryerson, 28, of Washington; Frances Lamb, 72, of Columbia, Maryland; Kenneth Crowley, 68, of Chicago, Illinois; Regina Rust, 25, of Chicago; Tracey L. Odman, 39, of Encinitas, California; Khadja Abdel-Hafiz, 21, of Arlington, Virginia; Jihan Abdel-Hafiz, 24, of Arlington, Virginia; Jamshid Bakhtiar, 19, of Richmond, Virginia; Annie M. Barrett, 21, of St. Paul, Minnesota; Katy Savage, 26, of Nashville, Tennessee; Catherina Tombs, 23, of Phoenix, Arizona; Maria Ramirez, 23, of Washington, D.C.; Kaelyn Eckenrade, 23, of Alexander, Virginia; Lissa McLeod, 43, of Knoxville, Tennessee; Erik T. Johnson, 66, of Maryville, Tennessee; Amelia Ramsey-Lefevre, 22, of Syracuse, New York; Jacob D. Weinstein, 56, of Knoxville, Tennessee; Jonathan R. Conway, 27, of Arlington, Virginia; Austin Srdjak, 24, of Washington; Jessica M. Sully, 28, of Decatur, Georgia; Cecelia Kluding, 17, of Boulder, Colorado.
Sully, a young mother of two small children ages three and five, was arrested at SOA Watch walking, on the sidewalk, with a few friends to have dinner at a near by restaurant.  Sully lives in Decatur and works at the Open Door Community.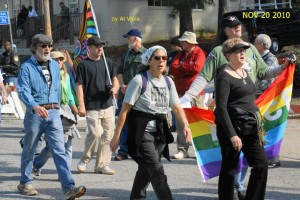 "I noticed several police officers arresting people and putting them on a bus.  I started to film the incident and suddenly three officers grabbed me. I repeatedly said, What did I do?  Everyone on my bus was also asking, Why am I being arrested? The arresting police were very rough, the zip cord cuffs were very tight and cut my wrists.  The Russian Times journalist, an American, was crying and her wrists were bleeding from the cuffs being too tight.  The officers had no regard for us as citizens and did not tell us why we were arrested," Sully said.
"Once we got to the jail, a few of the officers were nicer and did not appear to approve of our arrests.  However, the female officer outside of the holding cell made me feel degraded as her pat down felt like a borderline sexual assault," Sully said.
"The city charges were failure to disperse and demonstrating without a permit.  We all pleaded not guilty and were found guilty.  Only two women decided to appeal the guilty verdict.  The state charge was unlawful assembly and all but one pleaded not guilty.  We have not been to court on this charge yet.  Bond was posted at 1,000 dollars for each charge," Sully said.
"The SOAW legal team told us we could appeal the city charges but it would cost more money and the outcome is uncertain," Sully said.
"I was arrested at 4:30pm on Saturday and not released until 2:00am Monday morning.  My friends stayed in Columbus and waited for my release," Sully said.
On Sunday, November 21, 2010, four SOA Watch activists trespassed on Ft. Benning military base property, as part of the annual civil disobedience action which occurs each year. The four, who later appeared before a federal court, included David Omandi, a member of the Catholic Workers from Los Angeles; and Father Louis Vitale, a Franciscan priest from California; both pleaded "no contest" and were sentenced to a sentence of six months in prison.  Chris Spicer from the White Rose Catholic Worker in Chicago and Nancy Smith from the Hudon River Valley in New York pleaded "not guilty" and will return for trial on January 05, 2011 as reported by soaw.org.
From 1990 through 2006, 209 SOA Watch human-rights defenders have gone to federal prison and collectively spent over 88 years in prison for nonviolent civil disobedience by crossing over unto Ft. Benning property, as stated in Voices in Solidarity, a SOA Watch pamphlet.  APN has previously covered some of these arrests, including that of Mike Casey, who served six months, for an action in 2006.  APN also covered the arrest of three students whose crosses were too large in 2008.

So many people do not understand why thousands from around the world converge on Ft. Benning, Georgia, every November while others crawl over the Ft. Benning fence to face six months in federal prison.  As one online comment from a Columbus paper put it, "The protesters have drunk so much SOA Watch koolaid, they can't do any kind of critical thinking, they don't care about facts."

The Western Hemisphere Institute for Security Cooperation (WHINSEC) formerly called School of the Americans (SOA), is better known as School of the Assassins by everyone who knows its dark and bloody legacy.  During its 60 year history from Panama in 1946 to Ft. Benning, Georgia from 1984 until present, SOA has trained over 65,000 Latin American soldiers from 18 countries.  Many of these SOA graduates return to their respective countries to murder, rape, and torture their own people, according to SOAW.  They support US-backed dictators and overthrow democratically elected socialist leaders. 
At least 11 Latin American dictators have been trained SOA since it opened in 1948 as reported on the soaw.org website.  They are General Leopoldo Galtieri, Military dictator Argentina 1981-82; General Juan Melgar Castro, Military Dictator Honduras 1975-78; General Efrain R. Montt, President Guatemala 1982-83; General Manuel Noriega, Panama; General Policarpo Paz Garcia, Military Dictator Honduras 1980-82; General Guillermo Rodriguez, Dictator Ecuador 1972-76; General Hugo Banzer Suarez, Military Dictator Bolivia 1971-78; General Omar Torrijos, Dictator Panama 1968-81; General Juan Velasco Alvarado, Dictator Peru 1968-75; General Roberto Viola, Military Dictator Argentina 1981; and General Guido Vildoso Calderon, Military Dictator Bolivia 1982.

The purpose of SOA is to stamp out seeds of socialism from taking root in the fertile soil of poverty and oppression in South America, and to support governments that have friendly business relations with US corporations.  Governments propped up by SOA officers include those which favor low wages, lax to no environment laws, no unions, and huge profits for the oligarchy.
In 1996, the Pentagon disclosed that manuals used by SOA between 1982 and 1991 appeared to advocate the use of torture, executions, beatings, and other human rights abuses.  The manuals have been discontinued but the strategy they embody persists at SOA.
During the 1980's in El Salvador over 75,000 people, mostly civilians, were killed by the SOA led army.  In Guatemala, officers trained at SOA were responsible for the majority of the civil war's 200,000 deaths.  Honduras's SOA graduates established the infamous Death Squads that terrorized, kidnapped, tortured, and killed so many Honduran citizens.  The list of murdered, raped, and tortured peasants grows with each Latin American country that has US supported dictators kept in power by brutal SOA trained officers.  US taxpayers pay for this terrorist training of Latin American officers.
The murder of Archbishop Oscar Romero, the rape and murder of four US churchwomen, the murder of six Jesuit Salvadoran priests, and the ever increasing number of murdered and tortured peasants were the injustices which motivated Fr. Roy Bourgeois and a small group of supporters to form SOA Watch. 
In 1990, SOA Watch begin to research the SOA, document the atrocities, educate the public, lobby US Congress, and practice nonviolent civil disobedience at Ft. Benning, Georgia, home of SOA. 
The atrocities of SOA officers in the past has not gone away and is still happening today with new SOA officers.  The 2009 coup of democratically elected Honduran President Manuel Zelaya was led by SOA officers.  In 2010, seven Peruvian SOA graduates were convicted of murder and kidnapping in two massacres of civilians, and of the murder of a radio journalist who had been reporting on human rights violations.  According to numerous sources, many SOA officers in Latin America are heavily involved in drug trafficking.
In November 2002, Luis Eduardo Guerra, leader of the Peace Community de Apartado in Colombia, traveled to Ft. Benning to protest againt the SOA.  In February 2005, Guerra was one of eight members of his peace community brutally assassinated.  The eight who were murdered included Guerra's 11 years old son and two other children, as reported in Voices in Solidarity. 
Over the years many efforts have been made to get resoultions through US Congress to shut down the SOA.  On May 21, 2009, US Rep. Jim McGovern (D-MA) reintroduced the Latin American Military Training Review Act as HR 2567.  This legislation would suspend operations at the SOA, and investigate torture manuals and human rights abuses associated with the school.  As of today, the resolution has 103 cosponsors and is languishing in the House Committee on Armed Services.
US Rep. John Lewis (D-GA) is currently the only co-sponsor from the Georgia delegation.

"On April 4 through 11, 2011 SOA Watch will sponsor April Days of Actions to Close SOA with educational workshops, demonstrations, intense lobbying of Congress, and letters to President Obama asking him to sign an executive order to close the SOA," Voss said.