Becky Blankenship, 1939-2010, !Presente!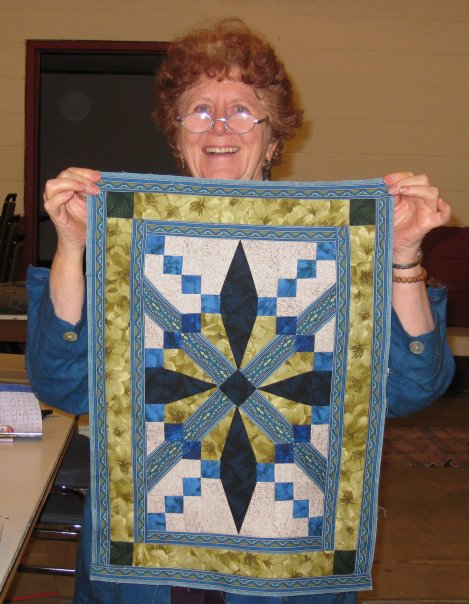 (APN) DECATUR — Rebecca "Becky" Blankenship, a left-leaning activist for the arts, has died at the age of 70. Ms. Blankenship died on January 6, 2010 of a currently-unknown illness–likely pneumonia–which she acquired in London, according to friends.
She had stood on parade in the frigid English air on New Years day 2010. For several years she with others had represented her organization, The Red Hat Society, at the parade. She returned home to Atlanta immediately afterward. Her close friend, former Dekalb County Commissioner Jacquie Scott, met her at the airport. Blankenship appeared to be suffering from a severe cold. This soon appeared to be serious and after a trip to the emergency room with Scott, she was admitted to Piedmont Hospital. She died at 1pm the following day. Her death was unexpected.
Becky Blankenship lived alone after her children had grown, but had very close relationships with the community. "She was very vivacious and outgoing, she was a lot of fun. She saw humor in everything," Scott told Atlanta Progressive News.
Among the numerous causes she supported, Blankenship was a long-time reader and financial supporter of Atlanta Progressive News.
Ms. Blankenship was a red head who dressed in vibrant colors and was very alive, State Rep. Stephanie Benfield told APN. Her impression was striking and her personality matched her clothing. She was also said to be a very warm friend and outgoing person who was fun to be around as well as a community activist. 171 people were listed as friends on Facebook.
Ms. Blankenship was a 30 year resident of South Dekalb County, and a graduate of Decatur High. She was concerned and active in local politics and community affairs, especially those affecting the economic growth of her area. She never moved from her house in South Dekalb even with changes in the neighborhood; she welcomed diversity.
Blankenship graduated from King College in 1961 with a degree in English, according to her Facebook page.
She dedicated herself to improvement of life for the entire community.
According Benfield, Blankenship was always advocating for one candidate or another. She was active in the campaigns of Tom Scott, husband of Jacquie Scott, when he previously ran and served as Tax Commissioner of Dekalb County; Jacquie Scott's own campaign; former State Rep. Georgia Maddox; and Burrell Ellis, CEO of Dekalb County. Many people knew her from community rallies and events.
Blankenship was best known for her part in bringing the arts to South Dekalb. She was President of the Dekalb Council for the Arts. She talked about the connection between economic and arts development in the area and how necessary one was for the other.
Benfield described her as an "active fixture" in South Dekalb in the arts community from long before her Presidency. She was a volunteer for many years before becoming the President ten years ago. She was instrumental in development of the arts, attending every meeting of the Art Center. "She was very involved with the development Arabia Mountain and Wonderland Gardens and was supportive of the art community in general in Dekalb," Benfield said.
Becky Blankenship was also good to those around her, according to her friends.
"She was a wonderful friend. I was in an automobile accident. I was laid up for three months and every three weeks she took me to get my nails done because she knew that would make me feel better. In those days that meant driving out to Alpharetta because that's where I went to get my nails done. She epitomized what a friend is. She would try to do things for people that would really make their day," Ms. Scott said.
Ms. Blankenship joined the Hotlanta Reds, a local chapter of the Red Hat Society, an organization for women aged 50 years and over, with the mission of enjoying life to the fullest. Though she originally joined the branch in Atlanta, later after the organization grew very large, she started the Devilish Divas of Dekalb.
As the founder she was called the Queen Mother. She met the members regularly for lunch and her attendance at the parade in London had been a regular event, Scott said. She attended many events representing the organization.
In addition, she attended conferences for quilters both in the United States and Canada, Scott said.
Blankenship was a widow who lived alone and was retired. She formerly had been an office worker at a retail outlet.
She is survived by her mother, June Blankenship of Decatur; a son, Bobby Pharr of Decatur; a daughter, Suzanne Pharr, of Gainesville; a sister, Jessica Arthur of Lawrenceville; two brothers, Peter Blankenship of Snellville and Johnny Blankenship of Maysville; two stepdaughters, Stephanie Young of Stockbridge and Ginny Powell of Tucker; and three stepgrandchildren, according to the Atlanta Journal-Constitution newspaper, which also ran an obituary.
(END/2010)
About the author:
Alice Gordon is a Staff Writer for The Atlanta Progressive News and is reachable at alice@atlantaprogressivenews.com.
Revised syndication policy:
Our syndication policy was updated June 2007. For more information on how to syndicate Atlanta Progressive News content, please visit: http://www.atlantaprogressivenews.com/extras/syndicate.html