State of State Speeches Vague, Unimpressive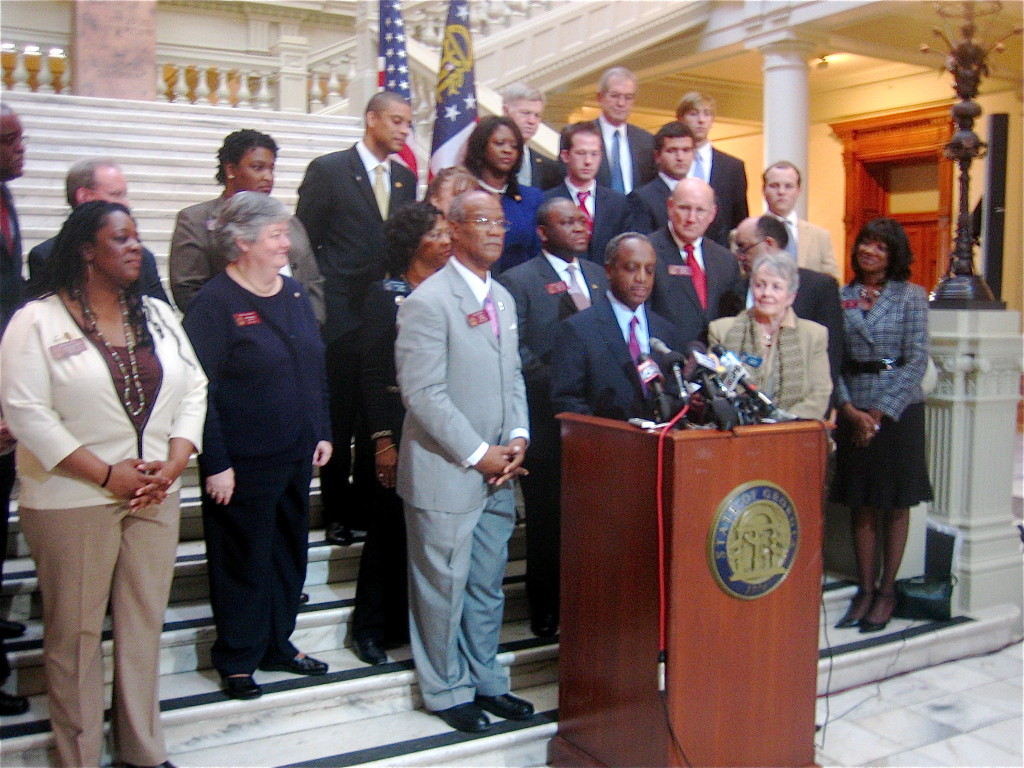 (APN) ATLANTA – Gov. Sonny Perdue delivered his annual State of the State address before a joint Session of the Georgia General Assembly on Wednesday, January 13, 2009, his last before leaving office next January.
Perdue spent much of the nearly 40 minute address sermonizing and recounting moments in history when US citizens overcame adversity rather than outlining solutions to problems surrounding transportation, water, healthcare, or ethics.
"Each generation has faced their own trial and shouldered their own responsibility," he said. "What stands out most is each generation's willingness to pick up the yoke and move our nation forward."
The governor said Georgia's bleak economic outlook provides a new challenge for this generation.
"We have to avoid the temptation to serve the needs and wants of today at the expense of tomorrow. We must reject the course forward that promises the next generation little more than an expensive bill – crushing entitlements and unfunded mandates," Perdue said. "We cannot vote ourselves ease and comfort at the expense of our children and grandchildren."
Though lawmakers made billions of dollars in spending cuts last year, the governor prepared the Assembly Wednesday to make more this year.
"I believe I stand with most Georgians when I say I am for doing with a little less if it means a lighter burden and a brighter future for the next generation," he said. "There is honor in sacrifice and we must never pervert it into the disdain of dissatisfaction."
Perdue urged members of both parties to put aside partisan stunts and work together.
"The people who send us here expect us to work together for the good of this State," he said. "The folks back home have entrusted us to put principles and progress over partisanship and they have asked us to do the hard thing now for the future of this State."
The governor did urge lawmakers to tackle the issue of teacher salaries, which Perdue believes are too low and serve as a disincentive for young people to join the teaching profession.
"Many young people today have the idea that the salary ceiling is simply too low in teaching," he said. "That perception effectively shuts many of our best and brightest out of our classrooms."
Perdue offered more specifics on this idea when he spoke at the annual Eggs and Issues Breakfast at the Georgia World Congress Center on Tuesday, January 12, 2010.
The governor's vision would allow teachers to earn higher salaries based on classroom observation and student growth.
"Our current system only incentivizes the degree, not the degree to which students learn," Perdue said Tuesday. "We must encourage our best and brightest to enter the teaching profession and must reward effective teachers in order to retain them in Georgia classrooms. Student achievement must be our driving force and our compensation model must reflect that focus."
The proposal would preserve the current salary structure and allow teachers to opt into the performance system when it is fully available in 2014.
Perdue also spoke of the need Wednesday for the reform of the State's mental health program. He pledged an additional investment of $20 million in 2010 and $50 million in 2011.
"We have a moral obligation to serve those with disabilities," he said. "They are our mothers and fathers, our sons and daughters, our neighbors and we are our brothers' keepers."
THE DEMOCRATIC RESPONSE
State Labor Commissioner Michael Thurmond delivered the Democratic Party's response at the State Capitol later in the day.
Thurmond spoke in broad terms about what he said the Democratic Party of Georgia stands for: decent wages, good jobs, proper education, efficient and honest government, sound money management, and tax reform.
But like the governor's speech, Thurmond offered few specifics about how to make these ideas a reality.
While he noted "the number one issue is jobs," Thurmond argued specifically for ethics reform.
"Our State government has been tarnished by ethical lapses at the highest levels of Georgia's elected leadership," he said. "All Georgians–Democrats, Republicans, and Independents–are not just disappointed, in many cases they are rightfully furious."
Former Speaker of the House Glenn Richardson (R-Hiram) resigned his Speaker post and State House seat earlier this month after his ex-wife went on TV with emails she said proves Richardson carried on an affair with an Atlanta Gas Light lobbyist while pushing legislation that would have benefited the company.
"When it comes to ethics, neither the Democratic or Republican Parties are completely blameless," Thurmond said. "We must and should be held accountable for our deeds and misdeeds."
Thurmond echoed the Governor's call for bipartisanship.
"We call on responsible members of the other party to put partisan differences aside and work together to move Georgia ahead," he said. "It's time to chart a course in a new direction. Let our compass be integrity."
(END/2010)