More on American Clean Energy and Security Act
APN just received an e-mail from the Center for American Progress that contains a host of numbers on what the American Clean Energy and Security Act could mean for Georgia and the rest of the United States. The map below shows how many green jobs would be generated in each state.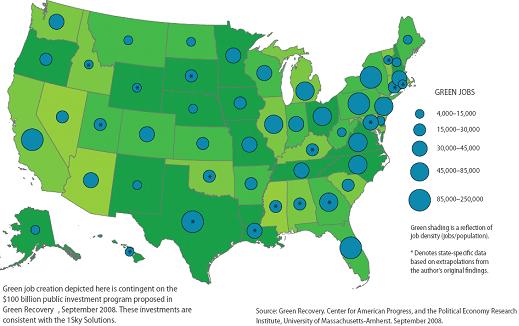 CAP estimates that the bill could create 5 million green jobs nationwide, with 45,000 to 85,000 of those in Georgia. So far, 112 Georgia companies have committed to creating green jobs if Congress acts on energy reform. 
As a result of reform, Georgia could see as much as $8.6 billion flow into its economy. Georgia taxpayers are currently shelling out $810 million to subsidize big oil and gas companies. Overall, the United States is subsidizing these companies to the tune of $32 billion annually.
"Green Recovery: A Program to Create Good Jobs and Start Building a Low-Carbon Economy," a report compiled by the Political Economy Research Institute at the University of Massachusetts-Amherst under commission by CAP, finds that a $100 billion green recovery package would:
Create nearly 

f

our

 

times more jobs

 than spending the same amount of money within the oil industry and 300,000 more jobs than a similar amount of spending directed toward household consumption.
Create roughly 

triple the number of good jobs

—paying at least $16 dollars an hour—as spending the same amount of money within the oil industry.

Bolster employment-especially in construction and manufacturing.

 Construction employment has fallen from 8 million to 7.2 million jobs over the past two years due to the housing bubble collapse. The Green Recovery program can, at the least, bring back these lost 800,000 construction jobs.