Atlantans Throw Shoes at Bush Effigies After Six Years of Iraqi Occupation
(APN) ATLANTA — About 100 activists rallied and marched downtown Thursday, March 19, 2009, to protest the US occupation of Iraq during an event marking its sixth anniversary.
Activists, led by the Georgia Peace and Justice Coalition (GPJC), Iraq Veterans Against the War, and others, urged President Obama to immediately withdraw all US forces from Iraq.
Additionally, they called for a 25 percent reduction in US military spending, a withdrawal of all US forces from Afghanistan, no war with Pakistan, and urged the United States to stop aiding Israel against the Palestinians.
"We belong down here in the trench with you to fight this illegal and immoral occupation," Jason Hurd, southeast regional director of Iraq Veterans Against the War, said. "We're going to keep fighting until we see the change we need."
Hurd, a 10-year veteran of the Army and National Guard served in Iraq in 2005 as a medic. He joined several other Iraq veterans as well as veterans of Vietnam and other wars Thursday.
"Iraq and Afghanistan are the same damn thing," Hurd said. "Both are occupations [and] occupations can't be won… they are a drain on the system."
The rally and march are part of the GPJC and the American Friends Service Committee's series called Cost of War, which has toured several other Georgia college campuses since March 16.
The goal of Cost of War is to educate people on the human and economic costs of the invasion and occupation of Iraq. The event is scheduled to last until March 22.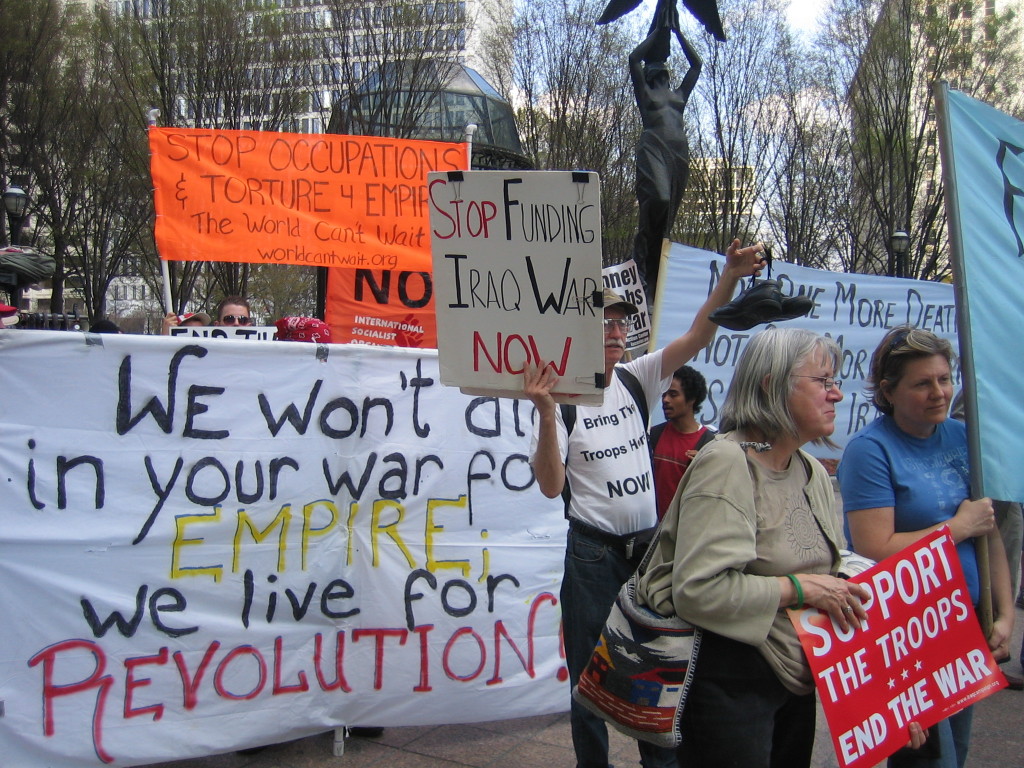 "We elect certain officials to do the job but we need to do the job," Balewa Alimayu, a Vietnam veteran said of ending war. "The only ones that are gonna stop this thing is the people."
Armed with signs, banners, US flags, and megaphones, the contingent marched down Marietta Street to the CNN Center. Organizers said CNN has not done enough about the human and economic costs of the strife in Iraq, Afghanistan, and Palestine.
During the march, protestors shouted slogans like "stop the torture, stop the war," "occupation is a crime, from Iraq to Palestine," and "people rise up, the war stops now."
The march tied up downtown traffic during rush hour, drawing car horn blasts of frustration, but also more than a few of support.
The day culminated at the CNN Center when protestors were encouraged to hurl their shoes at two effigies of former President George W. Bush.
Iraqi journalist Muntazer al-Zaidi received three years in prison after hurling his shoes at Bush during a December press conference with Iraqi Prime Minister Nouri al-Maliki.
"This journalist stood up and as a sign of disrespect well-known throughout the Middle East showed the soles of his shoes to that war criminal," Dianne Mathiowetz of the Atlanta International Action Center said.
Any shoes thrown Thursday will be donated to charity, organizers said.
About the author:
Jonathan Springston is a Senior Staff Writer for The Atlanta Progressive News, and is reachable is jonathan@atlantaprogressivenews.com.
Revised syndication policy:
Our syndication policy was updated June 2007. For more information on how to syndicate Atlanta Progressive News content, please visit: http://www.atlantaprogressivenews.com/extras/syndicate.html