Part 1 of 2: Democrat Jim Martin Sees US Senate Seat within Reach
With additional reporting by Matthew Cardinale, News Editor
(APN) ATLANTA — What once seemed like an easy victory for US Sen. Saxby Chambliss (R-GA) has turned into a genuine race with Democratic challenger Jim Martin and Libertarian candidate Allen Buckley.
A Research 2000 poll of 600 likely Georgia voters conducted October 14 through 15, 2008, shows Chambliss leading Martin 47% to 45%, with Buckley pulling 5% and 3% undecided. A Research 2000 poll at the end of September showed Chambliss ahead by only 1%.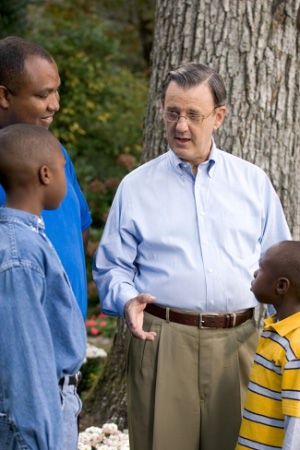 This is a significant shift considering a SurveyUSA poll conducted one month ago showed Chambliss leading by 17. A more recent SurveyUSA poll shows Chambliss ahead by 3.
The Martin campaign attributes his recent success to the economic downturn.
"Middle class Georgians have been hit hard by the failed economic policies of the Bush Administration – policies that Saxby Chambliss has supported every step of the way," Kate Hansen, Martin's press secretary, told Atlanta Progressive News in an email.
"Georgia voters are looking for someone who will stand up for their needs in the Senate, and they're looking more and more to Jim Martin," Hansen said.
Martin is a former veteran and state legislator and former head of Georgia's Department of Human Resources.
In 2006, he ran for Lt. Governor but lost in the General Election to Republican Casey Cagle.
From 2007 to 2008, he served as a Development Director for Georgia State University's Andrew Young School of Policy Studies.
Martin faced several Primary Election challengers for US Senate earlier this year, including progressive Rand Knight. He entered the race late only to raise over a million dollars quickly, based on name recognition.
He emerged out of the crowded Primary to defeat conservative, former Dekalb County Commissioner Vernon Jones in a Democratic Run-off.
With Democrats looking to expand their majority in both houses of US Congress, the national Democratic Party is starting to expand resources into races like the one in Georgia to possibly snatch once-safe seats from Republicans.
Some Democrats are even seeing a filibuster-proof majority of 60 US Senate seats within reach.
This year Democrats only need to protect 12 seats, but Republicans need to protect 17 seats and another six seats are open due to Republican resignations, according to the DSCC website. Numerous Republican seats and open seats are in jeopardy.
Democrats currently have a slim 51-49 majority in the US Senate, when counting two independents, US Sens. Joe Lieberman (I-CT) and Bernie Sanders (I-VT) who caucus with the Democrats.
According to the Cook Political Report, Democrats are expecting to pick up seats in Alaska, New Mexico, and Virginia. Democrats are also in toss-ups with Republican candidates in Colorado, Georgia, Minnesota, Mississippi, New Hampshire, North Carolina, and Oregon.
Democrats expect to protect the seats of US Sens. Mary Landrieu (D-LA) and Tim Johnson (D-SD), the only two appearing in any jeopardy.
US Sen. Barbara Boxer (D-CA) has sent out at least two fundraising pitches for Georgia's candidate to her PAC for a Change email list.
"Jim Martin is challenging Georgia Senator Saxby Chambliss who ran what many thought was a dishonorable campaign in 2002 when he compared war hero and incumbent Democratic Senator Max Cleland to Osama bin Laden in a TV ad," Boxer wrote.
"Across the country there is growing interest in our campaign, including by national parties, because it's clear that Georgians are ready to reject Saxby Chambliss for his support of the economic policies that have gotten us in this mess," Hansen said.
The Democratic Senatorial Campaign Committee (DSCC) is now pumping money into Georgia, running its first negative television ad against Chambliss on October 15, 2008, with the provision that no candidate or campaign endorsed the ad.
In a tight race, a third party candidate like Buckley could play the spoiler by taking votes away from one or both candidates. Buckley may be taking votes away from fiscally conservative Republicans who would otherwise vote for Chambliss.
One possible scenario, which seems somewhat likely based on poll data, is that Chambliss wins a slight plurality, but not the 50% plus one required for a majority.
If Chambliss and Martin go into a run-off, the race will likely garner national attention and financial resources from national Democratic and Republican parties.
But the Buckley campaign says the Atlanta attorney is in it to win it.
"In order for Allen to win, he has to take votes away from both candidates [but] he's not interested in being a spoiler," Brian Jackson, Campaign Manager for Buckley, told Atlanta Progressive News. "He's certainly interested in coming out and swinging."
Jackson said Buckley is appealing to Republicans and Democrats who are fiscally Conservative and fed up with runaway Congressional spending. Recent polls show Buckley pulling anywhere between 2 and 8%.
"If the people are tired of the two people who are out there, if people are aware of Allen Buckley and get a chance to hear his message, then they're going to vote for him," Jackson said.
As previously reported by APN, the Libertarian Party is the only third party in Georgia to have standing as a party and to be on the ballot for statewide elections. The Party was able to garner the signatures of 1% of registered voters in Georgia and run in a previous statewide election. As long as they get 1% of the vote or more, they perpetuate access for themselves onto the next statewide ballot.
Stay tuned for part two, a comparison of the policy positions of each of the three candidates.
About the author:
Jonathan Springston, Senior Staff Writer, is reachable is jonathan@atlantaprogressivenews.com
Revised syndication policy:
Our syndication policy was updated June 2007. For more information on how to syndicate Atlanta Progressive News content, please visit: http://www.atlantaprogressivenews.com/extras/syndicate.html