Green Presidential Nominee McKinney Visits Atlanta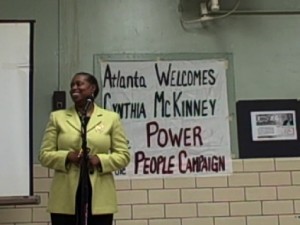 (APN) ATLANTA — Green Presidential candidate and former US Rep. Cynthia McKinney (D-GA) made a campaign stop in Atlanta at an event hosted by DeKalb County Green Party and the International Action Center, on Saturday, October 18, 2008.
About 50 supporters gathered at the Little Five Points Community Center for the low-key event which had been announced only a few days prior.
Dianne Mathiowetz of the Atlanta IAC introduced McKinney. Atlanta artist, Jibril, sang a rap song promoting McKinney. Guest speakers included the present writer, as well as Bruce Dixon of the Black Agenda Report.
"The idea of the vote is a powerful one that holds the imagination of people around the world. It's the establishment's job to make sure it doesn't count for everyone," Dixon said.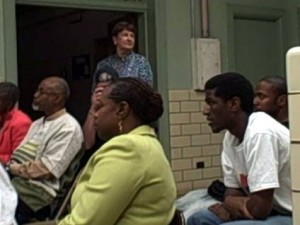 "A hundred years ago, Debs said we'd rather vote for what we want and not get it, than vote for what we don't want and get it," Dixon said.
"I've been away from Georgia a long time. There's no place like home," McKinney said in her remarks. McKinney has visited about half of the 50 US states during her campaign, Hugh Esco, campaign adviser, said.
"I do believe the people do have the power. It is a power that is unused and unflexed and when we flex our muscles, we actually can win," McKinney said, citing the Civil Rights Movement in the US as well as progressive movements through South and Latin America which have brought leftist leaders to power.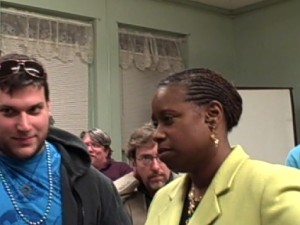 "I have to dare to believe in this country we will be compelled to act. They worked very hard to disenfranchise people who think like us," McKinney said.
McKinney also praised Atlanta Progressive News in her speech, saying in the last three years, the news service has filled a niche and has provided an "information highway" for Atlanta readers.
After her speech, McKinney took questions from the audience.
One audience member asked McKinney what she would do about homelessness in the US if she were elected President.
"US policymakers should act as if the law of the land actually is. The US is a signatory to the US Declaration of Human Rights which includes the recognition of shelter as a right. We should not have homeless people, period," McKinney said.
"We have not addressed the issue of poverty in this country. Bush's tax cuts have created the greatest inequality in the history of the country. We can't wait to close these gaps," McKinney said.
"The first thing I'd do is end the war in Iraq. Right now, your Congressional delegation supports the expenditure of over $720 million a day for war. There's a lot of things we could spend $720 million on," McKinney said.
"My replacement [US Rep. Hank Johnson (D-GA)] voted to fund the war," McKinney said.
McKinney also called for the nationalization of the Federal Reserve and "the establishment of a national banking system that responds to taxpayers."
Several audience members wanted to know about how the Green Party could become a more viable option for candidates to run on in the future.
"We've got to have people who have fresh ideas, who are unafraid. It's very difficult for a party as small as the Green Party. The Green Party has ballot access in 32 states. Certainly in Georgia it's very difficult and you have to get 45,000 signatures to get on the ballot," McKinney said.
McKinney did not obtain ballot access in Georgia for the 2008 Presidential Election although she is appearing on the ballot in over 20 other states. As previously reported by APN, Georgia has one of the more restrictive ballot access laws in the nation.
McKinney cited a recent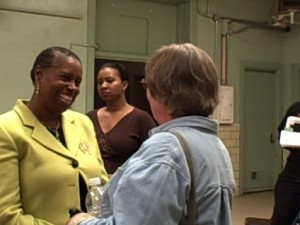 lawsuit by Faye Coffield–an independent and former McKinney assistant who is opposing US Rep. Johnson in McKinney's old Congressional District–as a promising development which could pave the way for more Green Georgia candidates in the future. APN has exclusively covered the lawsuit.
"Through litigation it might be possible [for the requirements] to be nullified," McKinney said. "If that's the case, who knows, anyone could run in Georgia, and that would be nice."
Jibril asked McKinney about the excitement in the Black community for Democratic nominee, US Sen. Barack Obama (D-IL), who appears on the verge of becoming the next President of the United States.
The Green Party is "not even a known thing. Everyone's like Barack, Barack, Barack," Jibril said.
"Voters ought to win. Voters win when they have choice… candidates who reflect their values," McKinney said.
"We're attracting new people and people all over the country not afraid of their independent thinking," McKinney said.
"If the Democrats and Republicans don't reflect your values, then you've got to vote for political entities that reflect those values; and you can't vote for other people and expect them to do what they never have done before," McKinney said.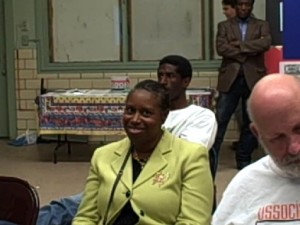 As previously reported by APN, McKinney declared her independence from the Democratic Party in 2007 at a rally in Washington, DC.
"When I declared my independence, that was a turning point because I looked at a litany of crimes committed in my name," McKinney said, citing the Patriot Act and the funding of the US Invasion of Iraq.
"The party here has had an uphill battle with progressives. After this [election] is over, how do we move on?" asked Adam Shapiro, host of Current Events on 89.3 FM WRFG radio. "There seems to be a catch 22 because you need ballot access to be effective but you need to be effective to get ballot access."
"The Green Party has put together really the most progressive platform of any political party," McKinney said.
"It's in the interests of the corporate media and the corporate political parties to ensure the marginalization of the Green Party because if you look at the values, those are majority values," McKinney said.
"So how do we deal with… a body of elected officials who have party loyalty? That requires a lot of grassroots organizing."
About the author:
Matthew Cardinale, News Editor, is reachable is matthew@atlantaprogressivenews.com
Revised syndication policy:
Our syndicaton policy was updated June 2007. For more information on how to syndicate Atlanta Progressive News content, please visit: http://www.atlantaprogressivenews.com/extras/syndicate.html