New Grady CEO Questions Indigent Care Burden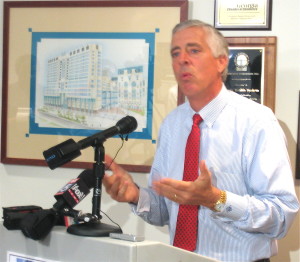 (APN) ATLANTA — Michael A. Young began work as the new CEO of Grady Memorial Hospital last week. Young said he was working on improving services, boosting employee morale, and turning around the cash-strapped hospital.
"The vast majority of Grady Health System employees are very excited about the opportunity," Young said during a press conference Friday, September 05, 2008. "The medical community is very, very excited to return Grady to what it was and that's probably the thing that makes me most excited about this first week."
Young said the large number of patients that flow into Grady daily, especially those without insurance, surprised him.
"We're not the safety net hospital, we're the safety net foundation for the 14 county [area]," he said, referring to Metro Atlanta.
Other hospitals in the metro area, which are managed by nonprofit boards and which get tax breaks from the state government, are going to have to help Grady handle the load, Young said.
"Everybody has a responsibility," he said. "I've been in the [Grady] ER probably 20 hours so far this week and a high number of those patients started elsewhere."
"We're going to need some help from the rest of the medical community in the 14 county area – which isn't to say we're not going to do more than our fair share – but we can't be the sole answer for every county in western Georgia… in the current financial model that's
not survivable for us," he added.
Young said he would like to see some extra financial help from the State of Georgia.
"I would ask the state government to give us much more state support because we're doing this for a 14 county area and we're only getting financial support from two counties [DeKalb and Fulton]," Young noted. "If we're going to be that safety hospital…then we need broader support from the government."
In order to bring other hospitals on board, Young said he wants to reach out to them to find common bonds.
"You build relationships, you find out what programs those other hospitals have that are strong and that would be good for [serving patients]," Young said. "Those areas where we're strong, we should serve patients in those areas."
Until Grady can build relationships with other hospitals and secure more government money, Young said he is going to work to streamline Grady's existing services in order to maximize efficiency.
To make Grady efficient, Young said the amount of time patients spend waiting in pharmacy lines, in the emergency room, in waiting rooms, and for operating rooms needs to decrease across the board.
If these wait times go down, he argued, then Grady can take in more patients, which in turn means more money for the hospital.
Better service also means Grady's reputation will improve, which will attract more paying customers, something Young said is crucial for solving Grady's financial hardships.
As the head of the Erie County Medical Center (ECMC) in Buffalo, Young said he knew things were going well when the cardiologist from another major area hospital requested in an ambulance to go to ECMC and when the president of a large business had elective shoulder surgery there.
To help rally employees to the cause, Young said pay increases are on the way.
"I've never met anybody who was overpaid," he said. "We believe in paying employees competitively in the market place. We will begin to focus on paying employees on a pay for performance model."
During the Grady Memorial Hospital Corporation's (GMHC) monthly meeting Thursday, a presentation to the board suggested many Grady employees undervalue their market position and recommended adjusting pay for jobs out of line with the market.
As Grady becomes more efficient and serves more patients, Young said there will be more money to go around for everyone.
"We recently had a nursing bump to make our nursing competitive and we'll look at other jobs that are competitive… it'll be competitive within their own job grade," he noted. "It's been a while since [Grady gave] a pay increase for some folks."
WACHOVIA EXTENDS LINE OF CREDIT
The Fulton-DeKalb Hospital Authority (FDHA) approved a resolution Wednesday that would open the door for a $75 million line of credit from Wachovia.
Wachovia would provide $50 million for what Young called Friday a "normal line of credit" that serves as a "cushion for paying bills."
The FDHA would receive an additional $25 million loan, which the FDHA would send to the State of Georgia. The state would receive another $25 million in matching funds from the federal government's Indigent Care Trust Fund because Grady serves so many indigent patients.
The state would then have a total of $50 million that would all go back to the FDHA. The FDHA would send $25 million back to Wachovia. The other $25 million would remain with Grady.
Young said the line of credit could be useful for times when Grady has either spent the money received from Fulton and DeKalb Counties or when such payments had not been received.
About the author:
Jonathan Springston is a Senior Staff Writer for The Atlanta Progressive News and may be reached at jonathan@atlantaprogressivenews.com.
Revised syndication policy:
Our syndicaton policy was updated June 2007. For more information on how to syndicate Atlanta Progressive News content, please visit: http://www.atlantaprogressivenews.com/extras/syndicate.html