BirdBlast Marks 40th Anniversary of Paper's Speckled Inception
(APN) ATLANTA — Over 400 people gathered Saturday, May 24, 2008, to celebrate the 40th anniversary of The Great Speckled Bird, Atlanta's famous underground newspaper that took on Atlanta's elite and the US power structure from 1968 to 1976. The event also highlighted the importance of independent media in today's society.
Proceeds from the event went to Atlanta Progressive News and Radio Free Georgia, WRFG 89.3 FM, both of whom are continuing The Bird's maverick spirit.
Many former staffers and other fellow travelers reunited to share stories and remember a time marked by political strife and numerous social challenges.
Event organizers showcased a visual history of The Bird, including numerous covers, pictures, and pieces of artwork. The event was held in an old warehouse complex called the B Complex.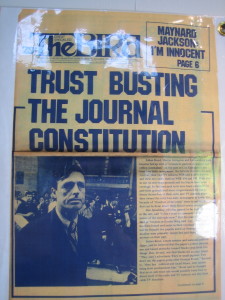 Attendees examined at least a dozen different hanging panels, each highlighting a particular aspect of The Bird's history.
Former staffers shared their stories Saturday and drew parallels between 40 years ago and today.
"The Bird was my first genuine institution of learning," Neill Herring, a former staffer who now works as an environmental lobbyist with The Sierra Club, told Atlanta Progressive News.
"The Bird embraced the entire movement," Ann Mauney, former staffer who now organizes against US Invasion of Iraq with the Georgia Peace and Justice Coalition, said. "It reached a broader audience and therefore reached more people."
The Bird covered many issues during its run, including the war in Vietnam, civil rights, labor rights, women's rights, equal rights for homosexuals, and so much more.
In addition, The Bird contained book reviews, photographs, drawings, cartoons, letters, interviews, and even music reviews. Some music reviews even included critiques of country music artists, whom were shunned by many other publications of the day.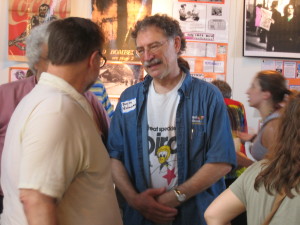 "The list is unending," State Sen. Nan Orrock (D-Atlanta), former staffer who continues to work for women's rights as a state lawmaker, said of The Bird's scope.
"We didn't show up with a resume; we showed up ready to work hard," Orrock added. "We were on the right side of history. The Bird was a reflection of movement building across this country that fueled the movements that came after."
Despite facing near constant harassment from local police and federal agents who did not take kindly to The Bird, staffers never wavered in their quest for the truth, and never missed a beat even after a firebombing forced The Bird into new digs.
History has come full circle and citizens still face many of the same challenges that tried the nation's soul 40 years ago. Speakers urged everyone Saturday to remain on the front lines in the battle for justice.
"If you are not voting this year, you have stepped off the bandwagon of history," Orrock said. "You can hold people who are in charge accountable…get out here and get engaged."
"If we remember those places where people acted magnificently, that gives us hope," Mauney said. "Our individual actions will have ripple effects we will never know."
Amy Goodman, author and host of radio program, Democracy Now!, drew the largest crowd Saturday when she delivered the keynote address. Goodman shared stories from her new book, Standing Up to the Madness: Ordinary Heroes in Extraordinary Times.
Her remarks highlighted the need for independent media in an environment that seeks to silence voices of the disenfranchised.
"It really is true that you …are not a fringe minority …but the silenced minority by the corporate media and that's why we have to take it back," Goodman said.
In the book, Goodman and her brother David profile individuals ranging from librarians harassed by the federal government to disgruntled veterans speaking out against an immoral war, all of whom stood up to fight injustice against all odds.
"We need a safe place where we can discuss these issues," Goodman said Saturday. "They are the most critical of our day. We're supposed to be the exception to the ruler."
APN's News Editor, Matthew Cardinale, also made a brief speech, thanking the Great Speckled Bird for their support and acknowledging the former Bird staffers who were intertwined with the founding of Atlanta Progressive News.
The Bird was impressive for putting out a print edition once a week consistently, despite the challenges of maintaining a print edition, and for maintaining a large, diverse staff, Cardinale said.
Both Great Speckled Bird and APN sold back issues of their print editions at the event. APN ran three print issues in 2006 and 2007, in addition to the website, and is currently only available online.
To learn more about the history of The Bird, visit www.greatspeckledbird.org.
About the author:
Jonathan Springston is a Senior Staff Writer for Atlanta Progressive News. He may be reached at jonathan@atlantaprogressivenews.com.
Revised syndication policy:
Our syndication policy was updated June 2007. For more information on how to syndicate Atlanta Progressive News content, please visit: http://www.atlantaprogressivenews.com/extras/syndicate.html