Activist, Rev. James Orange, 1942-2008 (UPDATE 2)
(APN) ATLANTA — Rev. James Orange, a noted civil rights activist, passed away at Crawford Long Hospital yesterday, February 16, 2008. He was 65. He worked with such organizations as the Southern Christian Leadership Conference (SCLC), the Georgia Coalition for the People's Agenda (GCPA), and the American Federation of Labor and Congress of Industrial Organizations (AFL-CIO).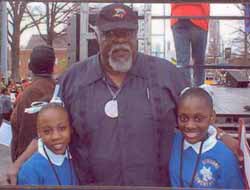 Orange had complications during a recent gallbladder surgery, according to the Atlanta Journal-Constitution newspaper. Funeral arrangements have not yet been made by the family, Atlanta Progressive News has learned.
He is survived by a wife, three daughters, a son, and two grandchildren, Helen Butler of the GCPA said.
Orange was one of the last living "giants" of the Civil Rights Movement who had worked with Dr. Martin Luther King, Jr., with the other being Dr. Joseph Lowery, several activists told Atlanta Progressive News.
"A giant has really fallen in the movement. All that's left now is Dr. Lowery," Joe Beasley, Southern director for Rainbow-PUSH, said.
"When you think about Civil Rights, it's synonymous with James Orange. He was not as well known as Dr. King or Dr. Abernathy or Dr. Lowery. But he was really right there in the heart of the movement," Beasley told APN.
"He stayed active right up until the end… The Martin Luther King celebration this year fell on the 21st. He was still conducting it from his hospital bed. If you wanted something… he was still calling the shots," Beasley said. According to Takia Easley, Orange's niece, he was in fact at the march on the day of the celebration and was hospitalized after.
Orange had remained active in recent years, including participating in former US Rep. Cynthia McKinney's failed bid for reelection to US Congress in 2006; participating in the April 1, 2006, Anti-War Rally in Atlanta, organized by the Georgia Peace and Justice Coalition; and laying a wreath at Dr. King's grave during the US Social Forum in 2007.
"Rev. Orange and I have been friends and colleagues over 40 years. We've both come through the SCLC," State Rep. Tyrone Brooks told APN.
"We were expecting it because he'd been battling several issues with his health. He had a triple bypass 6 or 7 years ago. We thought we were going to lose him then. His health had been declining over the years. He lost his baby daughter a year ago, and that may have had an effect on his mental state," Brooks said.
"He also served as the Ambassador to the Republic of South Africa representing Georgia Association of Black Elected Officials. We appointed him maybe 5, 6 years ago or longer because of his many, many years of work in South Africa," Brooks said.
"Before Nelson Mandela was freed in 1990, Rev. Orange went to South Africa to mentor, train, and prepare the Africa National Congress (ANC) for the upcoming registration of elections," Brooks said.
"Knowing Mandela gets out one day, he said, if he gets out, we want to make sure we have brothers and sisters registered to vote and they know how to run elections," Brooks said.
"He was one of the first people on the ground in South Africa working on that particular project. He established a great relationship with the ANC and Nelson Mandela," Brooks said.
"Rev. Orange has been a good friend and a big brother to me. We'll miss him because he was just a big, big giant in the movement. He died young but we have to thank God we had him for 65 years," Brooks said.
"He was friendly, likable, very humble, giving, caring, a very generous person who would give you his last penny and do anything he could do to help you. He established many, many friendships around this country and around the world because of those attributes," Brooks said.
"He would also remind me that whenever I visited my sister-in-law's over in Aiken, South Carolina, to make sure I brought him one of their cakes. They would always prepare him a nice cake. The last time I saw him at the Atlanta Life Building, he said, when you go over to your sister in laws to send me one of those cakes," Brooks said.
"But he didn't need it. He didn't need it," Brooks remarked.
To be sure, Orange appeared in person to be over six and a half feet tall and weigh over 300 pounds. Activists seemed to allude to this when they described him as a "giant in the movement."
"He was so tall and so big and you were like, wow," Butler said.
ARREST IN 1965 INDIRECTLY LEADS TO MARCHES
"It was a miracle he wasn't assassinated in Marion, Alabama, in 1965," Brooks recalled.
"Alabama officials arrested Orange in 1965 for disorderly conduct and inciting students to participate in voting rights drives," the Associated Press reports.
"He was organizing for voter registration, education, and mobilization. That was the SCLC's major focus… He was being held in the jail in Perry County, Alabama," Brooks said.
"James is there leading the activities on behalf of SCLC. He told me when he gave me a tour of the jail 5 years ago, he showed me the cell where he was being held and it was dark, no lights, no windows, it's a dungeon. They had it at the end of the hall in the corner. He said they planned to kill him," Brooks said.
"Civil rights activists clashed with Alabama police Feb. 18 when rumors spread that Orange would be lynched," the AP reports.
"Jimmy Lee Jackson was murdered, had come home from Viet Nam, he saw his grandfather and mother be attacked for registering to vote. He asked them to please stop. Police turned on him and shot him dead," Brooks said.
"James told me two women started talking about a march on Montgomery. If those women had not starting talking it up, he was sure the Klan would have come in and killed him. The Klan and law enforcement were one and the same," Brooks said.
"The reason he was spared was the focus was shifted from Marian to Selma where Hosea Williams was based, the SCLC project director. John Lewis was working for SNCC. He joined the first march with Hosea when they were beaten. Dr. King led the march two weeks later," Brooks said.
The first march where individuals were beaten by police is now called Bloody Sunday. After Dr. King led the successful march to Montgomery without incident, President Lyndon Johnson signed the Voting Rights Act into law later that year.
OTHER MAJOR MARCHES
Orange also participated in major cross-country marches in the years to come.
"James and I were in a march all the way from New Orleans to DC in 1975. I was the National Field director of SCLC, and he was working with SCLC and AFL-CIO. He asked Dr. Abernathy to let me come lead a portion of the march through Mississippi. As soon as I started leading the march, we were all arrested by Mississippi state troopers," Brooks said.
"We stayed in jail overnight. Abernathy threatened to come, and they released us," Brooks said.
"In 1982, we marched with Dr. Joseph Lowery from Pickens County, Alabama, all the way to Washington to lobby for the extension of the Voting Rights Act," Brooks said.
"We would march 4 to 5 miles a day, sleep overnight, have a rally. We had transportation," Brooks said.
MLK MARCH COMMITTEE
"Also he spent a lot of time with the African American Renaissance, which is the organization that starts the MLK March, the big march in January on the third Monday. Rev. Orange has been the one who has organized it and led it on that Monday. He's been doing that for years," Brooks said.
Orange founded the M.L. King Jr. March Committee-Africa/African American Renaissance Committee, Inc. in 1995, according to the Associated Press.
The organization was officially created as a nonprofit organization in 2001, according to the Georgia Secretary of State's website. Rev. Orange is listed as CEO.
"It's a coalition of activists here in Georgia, also some in others states, that even stretches into South Africa. Also it stretches into Ethiopia and Somalia. We have brothers and sisters from Georgia who have moved to the homeland. Every year as we approach Dr. King's birthday, we have activities for a whole week," Brooks said.
"He wanted a name that he thought that reflected the global spirit of Africans and African Americans working together. Those who were born here in America and those born in Africa," Brooks said.
Where did Orange get the name Renaissance? "I guess because every year we go into South Africa for a huge political, cultural, and business festival. It's kind of like a Renaissance. That's the way he felt about it," Brooks said.
"The King Center decided they no longer wanted to sponsor the march. This was over 10 years ago. He was doing it under the MLK Center for Nonviolent Social Change. That's when he decided he would just organize a committee of activists and he would continue to sponsor the march. He didn't tell me that they ever gave him a reason," Brooks said.
"I said, we don't need the King Center to do the march, we can do it," Brooks said, adding that the march will go on next year.
"I happened to arrive from Viet Nam in Atlanta on the day Dr. King was killed," Beasley recalled. "I remember him from the standpoint of the funeral procession, him at the head of the wagon train."
"James globalized our struggle. He's more respected in Africa than he is here in the United States. If you go to South Africa, James Orange is highly respected in Africa from the standpoint especially in South Africa. He brought his children all into the movement. One of his daughters died a couple years ago," Beasley said.
"We really have lost a real giant in the passing of James Orange. He was a gentle giant. He was large in statue but gentle-hearted," Beasley said.
A GENTLE GIANT
"I thought Rev. Orange to be like a gentle giant. He was not a front person, but the one who got it all done in the background to make the front look successful," Butler said.
"He knew people everywhere and could always connect people. A lot of elected officials are in office because he organized efforts to turn out of the vote kind of thing. He could be on the front if it called for that. He was content to be in the background, getting things organized, mapping the strategies, connecting all of the dots," Butler said.
"He was a master organizer," Butler said.
"He has done great things. If you look at the more positive things, working with young people, there were a set of gangs he converted to very productive people. They will say Rev. Orange was the reason they looked to productive lives. He nurtures young people like that," Butler said.
Part of Orange's work was "continuing the principles of nonviolence with the March Committee. With the young people, their portion of the march is continuing the teaching of nonviolence that he imparts to young people. He himself pulled that together and made that such an important event, bringing people of all walks of life together," Butler said.
"And continue the teaching of the principles. And looking at the role that Bayard Rustin played in the movement. Teaching them that history, and teach them the principles of what needs to be done for young people to organize," Butler said.
"He along with Dr. Lowery and Tyrone Brooks pulled all the people [involved in the GCPA] together. It's through their leadership that this continues. There's a common focus all of us have in social justice issues, so you come together and work united and that makes a better movement. It is their vision that brought it together," Butler said.
"He's trained a lot of us to continue that. The void is you didn't know somebody in an area. You call Rev. Lowery and say lead us, who I need to talk to in Birmingham? Who do I need to talk to out west?" Butler said.
"If you look at the immigrants rights march that came through, it was him that help gave them the roots to focus on some of the things they did in the Civil Rights Movement," Butler said.
"You lose that history, that connectivity. Hopefully he touched enough people with different parts of it, you can pull it together," Butler said.
CORRECTION: This article is updated in its title to reflect the year of birth of 1942. Also we have corrected the spelling of Marion, Alabama. Thank you to two of our readers who pointed out these facts.
CORRECTION: This article is updated to add the following sentence: "According to Takia Easley, Orange's niece, he was in fact at the march on the day of the celebration and was hospitalized after."
About the author:
Matthew Cardinale is the News Editor for Atlanta Progressive News and may be reached at matthew@atlantaprogressivenews.com.
Revised syndication policy:
Our syndication policy was updated June 2007. For more information on how to syndicate Atlanta Progressive News content, please visit: http://www.atlantaprogressivenews.com/extras/syndicate.html