Censored Anti-War, GLBT Veterans Groups March without Incident
By Supraja Narasimhan, Special to The Atlanta Progressive News (November 17, 2007)
(APN) ATLANTA — Censored groups Veterans for Peace, Greater Atlanta Chapter 125 (VFP) and American Veterans for Equal Rights Georgia (AVER) both marched in the Georgia Veterans Day Parade held in downtown Atlanta on Sunday, November 11, 2007.
The groups' applications to march in the parade were initially rejected by the Parade Committee.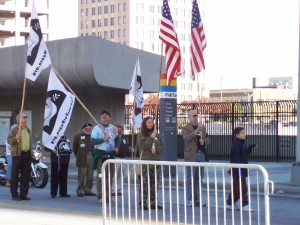 However, after negotiations with organizers, group leaders eventually obtained permission to participate by agreeing to additional restrictions limiting their expression.
The Parade Committee originally denied VFP's application on the premise they had violated last year's guidelines by displaying "political" messages, such as "BRING THEM HOME… NOW!"
VFP Member Reid Jenkins told Atlanta Progressive News previously that other groups had displayed pro-war political messages in previous years. This year, the most political message observed was "Freedom Isn't Free," carried by a Korean Veterans' group.
Debbie Clark, Army Veteran and Founder of VFP 125, spearheaded negotiations for her group to eventually secure permission to march.
After conversations with President of the Parade Association, Melvin Myers, Clark learned VFP was voted to be allowed in the event for a second year in a row by a narrow vote among Parade Committee Members.
However VFP would not be allowed to have a vehicle, a float, banners or display any messages.
"Although we're not happy about the stipulations, we're happy to be able to participate and carry on the message of peace," Clark said.
"It's ridiculous. We have the best banner, but they're not allowing us to display it this year. And it doesn't have any political message written on it," Jenkins said. The banner itself shows a peace dove overlaid with the words "Veterans For Peace, Greater Atlanta Chapter 125."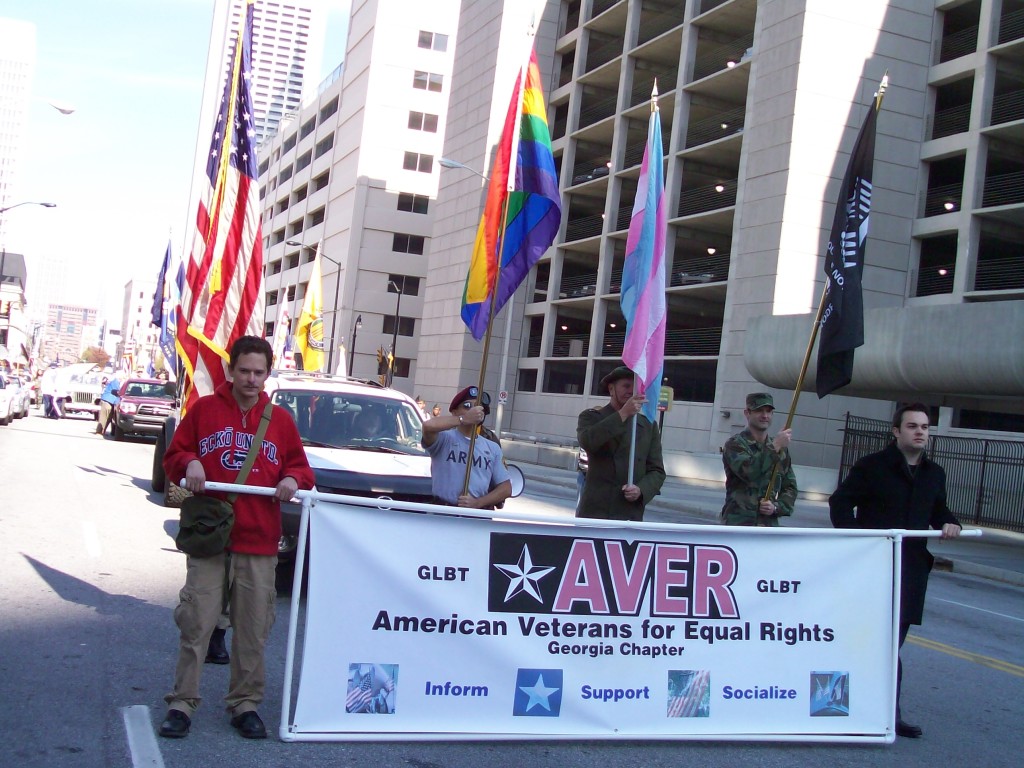 VFP had been told not to display their local chapter's banner, Jenkins told APN. However, Myers previously told APN that VFP would be allowed to display a flag with their name on it.
Anti-war groups in across the country faced difficulties obtaining permission to participate in local Veterans Day Parades. A parade in Long Beach, California, banned VFP, Iraq Veterans Against the War, and Military Families Speak Out from marching altogether.
VFP was also disallowed in Boston, and VFP in Denver was permitted to participate in a last minute decision Friday before the scheduled Sunday procession.
"We are here to show our presence, that there are Veterans who advocate other ways of resolving disputes besides the military use of force. Peace is patriotic, and peace is certainly possible," John Zientowsky, VFP Member, told Atlanta Progressive News.
"They are standing up for what they believe in. They're not against the government or against defending our country. They more or less feel the war [against Iraq] is frivolous and that we should bring our boys home," George Jones, Patriot Guard Riders Member, said about the VFP attendance at the parade.
"If Veterans Day is about anything, it's about respecting the sacrifices of our military and ensuring they weren't in vain. This group [VFP] is more appropriate than anybody else in the parade because they are advocating peace," Danny Ingram, AVER Georgia President and also a VFP member, said.
Ingram petitioned AVER's own application with Rich Sale, Parade Program Director.
"Sale said several people had complained to them that they had found our presence in the parade offensive. When I asked him what specifically, he wasn't able to tell," Ingram said.
Meanwhile VFP was told AVER was initially excluded for "public display of affection" and for carrying the Pride Flag. Sale acknowledged he had received a complaint about alleged public displays of affection in an interview with Atlanta's Southern Voice magazine.
However, the Committee did not explicitly prohibit the Pride Flag, and AVER kept it unfurled for their third year in the march from Civic Center to the Georgia Dome. AVER also marched with, Anne Fauver, an openly homosexual Member of the City Council of Atlanta.
In the spirit of honoring all veterans, including gay, lesbian, bisexual and transgender service members, "We're out here to let our veterans know their sacrifice means something, that's it's a part of our history, something we carry on," Sgt. Alejandro Lopez, AVER Georgia Vice President, said.
About the author:
Supraja Narasimhan is a Special Contributor for The Atlanta Progressive News
Revised syndication policy:
Our syndicaton policy was updated June 2007. For more information on how to syndicate Atlanta Progressive News content, please visit: http://www.atlantaprogressivenews.com/extras/syndicate.html