Ron Parker, Atlanta Activist, 1953-2007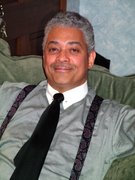 (APN) STONE MOUNTAIN — Atlanta activist Ronald Joseph Parker–known to friends as Ron–was an avid activist for social justice, in issues ranging from Hurricane Katrina, to working families' concerns, to criminal justice reform, to addressing racial injustice, to international affairs, to supporting Independent and third party movements, while still helping Democrats get elected to local office in Georgia.
Parker passed away yesterday at the age of 54, after a five month battle with colon cancer, Atlanta Progressive News has learned. Parker was undergoing chemotherapy and seeing only a few visitors since discovering he was in Phase Four colon cancer in May 2007.
Parker is survived by his wife of 30 years, Geri Parker; three daughters; two son-in-laws; and five grandchildren, Parker's friend, Cathy Harris, told APN.
Funeral arrangements are currently being organized. The family is accepting donations to help pay for Parker's medical expenses at Geri Parker, PO Box 2508, Stone Mountain, GA 30086. A website with updates on plans for the funeral is available at http://donationsforronparker.blogspot.com
"Ron Parker was an activism giant, when it came to being proactive, stepping up for the community, people who had no voice. The poor people, the homeless people, the injured workers of America who couldn't go to work, the sick, the elderly. He was deep in the community as a grassroots activist," Cathy Harris said.
"He was a foot soldier. I'm talking about people who will be there at 5 o'clock in the morning holding up signs. He was just a wonderful guy. I've known him since 1998. He said let's meet and strategize when I was going up against Customs. He protected me. I blew the whistle on racial profiling of African American travelers," Harris said.
"He was an extremely nice person. I mean, I spent a lot of time with him. I used to chauffeur him around cause he didn't like driving. Pick him up at 8am and we'd be out the whole day. We'd hit 3 or 4 different meetings," Harris said.
Parker was largely to credit for the recent successful campaign to bring attention to police brutality in Dekalb County, Harris said.
"That whole thing came out of Ron Parker. Ron Parker was in the background telling that young lady every thing she needed to do. He tried to push young people to the front to become leaders. He didn't want to be in the media. He didn't want any recognition for his work. He wanted to create future leaders for tomorrow," Harris said.
"He set up political forums, he set up workshops on how to get elected to office. He gave seminars on how to pass a bill. We were just mentoring young people. 6 people were elected in Dekalb County due to campaigning Ron did. He realized that politics is what really changed the community. He never wanted to run for office," Harris said.
Parker was born in New Orleans, Louisiana, in 1953. He graduated with a Bachelor's Degree from Southern University of New Orleans (SUNO), a historically Black college. He also attended the George Meany School of Labor in Baltimore, Maryland, in 1987. Parker lived for several years in Los Angeles, California, before moving to Atlanta in 1994.
"I'm really saddened to hear than Ron has passed on. He was really very, very active on all the issues that really kind of count with respect to the underdog. Right down the line of issues if someone was being maltreated, you could count on him to be a spokesperson. We're really gonna miss Ron. He was tenacious. He went after [injustice] with a lot of energy and integrity," Joe Beasley, of Rainbow/PUSH and the Task Force for the Homeless, said.
"He, I believe, left a great legacy behind. Those of us who knew him, his family, should be proud of the work he did when he was able to do it. It just reminds us all that whatever we have to do, let's do it now. Tomorrow's certainly not promised. It should give us additional courage to fight on and fight the good fight," Beasley said.
"He worked on my campaign a couple of times. He was on my Advisory Committee. I'm sorry to hear he passed. He was a great guy. He was interested in people, of course, because he worked on civil rights issues. He worked on just human interest issues. Those kinds of issues it seems sometimes that someone else don't want to work on. He was always out front. He was concerned about workers' rights and equal pay for both men and women," State Senator Gloria Butler (D-Stone Mountain) said.
"I know one of the things, he sent out a lot of emails. Issues that you hadn't even heard about yet. But he was out there working on them," Butler said.
"He wanted everyone to have the best, I guess he forgot about himself. He didn't have the resources to go to the doctor to see about himself and didn't say anything, to me. I wish he had. I think before that he had some minor pain because he didn't take it serious. He said [recently] that to me in the hospital when I went to see him," Butler recalled.
"He said he didn't see the doctor because he didn't have insurance. That's a classic issue we deal with in the Georgia Senate. It's so distressing to me when a person loses their life and we always think it could've been prevented. If he had insurance, it wouldn't have mattered if it was a minor pain," Butler said.
"I think I met him on Cynthia's [McKinney for US Congress] Campaign… in the 90's. He lived in my District. He worked on my Campaign and he wanted to help me," Butler said.
"He went to the MARTA station and handed out my fliers. He definitely made a difference. Absolutely- any person who would go stand out at a MARTA station early in the morning. He put out signs. He did a lot of things. Made phone calls. He was interested in my being reelected," Butler said.
And not only that. "He was really good looking," Butler added, "but he wasn't trying to be fresh with it or anything like that."
"I knew him very, very well. The one thing I'll tell you, whether you agreed or disagreed, Ron was about getting what he believed to be right, done. Ron went over to picket Channel 2 about something one time. He didn't have a problem picketing. I always liked Ron," Faye Coffield, of the Georgia Coalition for the People's Agenda, said.
"In politics, people often disagree about the method of getting to the end. He would help you out. He would really, really help you out. He was just an all-around good guy," Coffield said.
"He used to come to the People's Agenda Meetings regularly, almost every week. He always helped me out. He didn't whine, he didn't cry. Some people go on, this is foolish. He just did it," Coffield said.
Coffield added, the thing about Ron having learned so late about his having cancer is, "People should have colon cancer screenings. The 3 screenings you should get in your life because [the diseases are] so preventable, are for colon cancer, cervical cancer, and breast cancer," Coffield said.
We met "in the trenches. We met on the picket line," John Evans, former Dekalb County NAACP President, said. "He was one who, if he said he was gonna do it, he did it."
"I think he was a great person, a great civil rights activist. We're gonna miss him tremendously. We pray for the family," Evans said.
"You know he had no health insurance. And we'll be helping along those lines. It's just one of those unfortunate things. In these cases, you just try to do the best you can," Evans said.
"Most of us, I know my dealings with him were in the street. I've never been to his house in my life. And that's not where you know people, sitting in their living room; it's in the streets and in the trenches is where you develop what you think about people. That's where I develop my respect for him, was on the firing line," Evans said.
About the author:
Matthew Cardinale is the News Editor for The Atlanta Progressive News and may be reached at matthew@atlantaprogressivenews.com
Revised syndication policy:
Our syndicaton policy was updated June 2007. For more information on how to syndicate Atlanta Progressive News content, please visit: http://www.atlantaprogressivenews.com/extras/syndicate.html