US Budget Act Calls for Common Sense
Photographs by Susan Keith, Staff Writer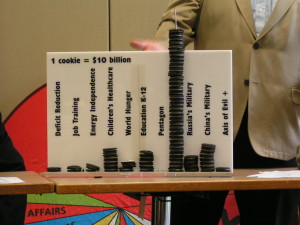 (APN) ATLANTA — A new federal budget act calling for common sense is being promoted by Atlanta Women's Action for New Directions (WAND).
Oreo cookies, thus far, have played a central role in the promotional skit.
Bobbie Paul and Krista Brewer of WAND have taken the skit on the road, to activist events around Greater Atlanta, since Ben Cohen of Ben and Jerry's Ice Cream was in town to express his support for the Budget Act.
"I got involved in this issue because I was with a group of business people, and we said, how could we possibly be the richest country in the world, and we don't have enough money for our schools, health care, or jobs?" Ben Cohen said during his recent visit to the Georgia Coalition for the People's Agenda (GCPA) meeting.
"We decided to look at the federal budget," Cohen said.
"As you can see, the Pentagon gets 50% of it. The Pentagon only grew to 50% during the Cold War," Cohen
said.
And this figure doesn't even include the so-called discretionary appropriations made in recent years for the US Invasions of Iraq and Afghanistan.
"We brought in a board of military advisors. And they said, you guys are right. The US is still designing weapons that no longer have any purpose in protecting our country," Cohen said.
The Common Sense Budget Act would take 15% from Pentagon and give it to domestic programs, Cohen said.
The US House bill, HR 4898, was introduced by US Rep. Lynn Woolsey (D-CA), and currently has 39 total co-sponsors including Woolsey.
The Congresswoman's press secretary did not return a phone call from Atlanta Progressive News seeking comment.
Co-sponsors from the Georgia delegation include US Rep. John Lewis (D-GA) and Cynthia McKinney (D-GA).
"What are we gonna cut from the Pentagon?" Cohen asked rhetorically.
"Every year, we spend $20 billion on keeping up nuclear arsenals," Cohen said, in one example.
The US currently maintains 150,000 Hiroshima-sized nuclear bombs, enough to blow the entire world up ten times, Cohen said.
"Our experts say, we'd be safe at four times over, and we could save $10 billion per year," Cohen said.
Why are there not more Congressional co-sponsors, Atlanta Progressive News asked Mr. Cohen.
"So many Members of Congress are beholden to the contributions of the defense contractors. And we'll never be able to match that," Cohen said.
"But, they're beholden to two things, to money and to votes. When we show people the budget, they come to their own conclusion," Cohen said.
So where do the oreos come in?
Well, Mr. Cohen and the WAND crew have been using oreos to represent pieces of the federal budget.
"Let's say one cookie equals 10 billion dollars. The Pentagon's annual budget is 44 cookies or 442 Billion. So how much do you think we spend on this other stuff?" the WAND oreo skit, obtained by Atlanta Progressive News, says.
"K-12 Schools – 3 ½ cookies
"World Hunger – 1 cookie
"Alternative Energy – ¼ cookie
"Children's Health care – 4 cookies
"Head Start – ¾ cookie."
But, there is a common sense solution, according to the Budget Act proposal.
"Just take 6 cookies a year off this pile [Pentagon].
"Use 1 cookie to rebuild our schools.
"2 Cookies to feed all of the six million starving kids around the world.
"1 to eliminate our need for Middle East oil."
Then take the fifth cookie, use half to provide health insurance and a quarter to provide Head Start for every kid that needs it, it says.
This leaves one and a quarter cookies for other needs, for example, rebuilding the levees of New Orleans, Louisiana.
This is not a very radical proposal. It is more like trimming the excess fat off the Pentagon budget and providing minimal domestic relief, rather than providing deep structural changes.
However, moving around six cookies, or $60 billion, could make a world of difference for those who would benefit.
About the author:
Matthew Cardinale is the News Editor and National Correspondent for Atlanta Progressive News. He may be reached at matthew@atlantaprogressivenews.com
Syndication policy:
This article may be reprinted in full at no cost where Atlanta Progressive News is credited.