Picnic Aims to Unite Blacks, Hispanics
By Jennifer Sauer, Special to The Atlanta Progressive News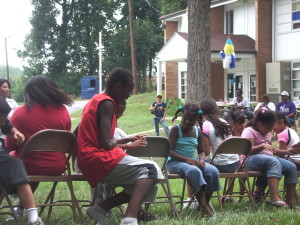 (APN) ATLANTA — On August 19, 2006, members of the Jobs with Justice, Sagrada Familia Lutheran Church, and Interfaith Outreach Housing joined together for a first of its kind discussion and fiesta on Black and Latino tensions in the Atlanta region.
While getting off to a late start, more than 30 participants gathered and shared information and stories at what was referred to as the Black and Brown Picnic.
Pastor Villanueva opened the discussion with a bilingual inspirational song uniting colors.
Since the pastor's four years in Atlanta, Villanueva has seen a rise in the unfair stereotypes of Latinos in our communities, she said.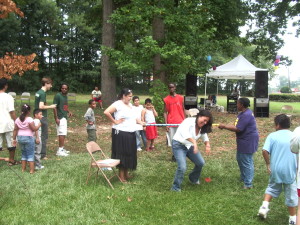 She was quick to mention the common stereotype that people cross the border for welfare. "They do not come here to receive welfare, they come here to work," Villanueva said.
One Black participant, who spoke in both English and Spanish, described the forces that bring Latinos to the US: severe unemployment and economic systems in shambles largely due to US led so-called free-trade policies like the North American Free Trade Agreement (NAFTA) and the Central American Free Trade Agreement (CAFTA).
Villanueva explained, "Latinos were invited to come here during the Olympics to work. The government contacted the Mexican Consulate and [they] were formally given working permits and Social Security numbers."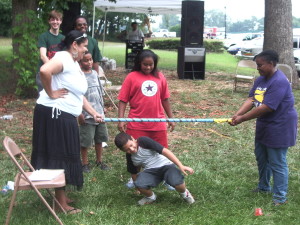 "We come to work, just work," said one participant, "We are a burden to the government? I pay my taxes and all of my bills. How am I a burden?"
Latinos pay their taxes and contribute to a soaring Social Security now in the billions, billions they will never have access to.
Many Blacks spoke of similarities with Latinos; being forced to come to the US as slaves, while Latinos are being forced to leave their communities because of hunger.
Villanueva was worried about Latinos being fired at will in factories if they can not prove legality, but as some Black union members pointed out, "This is a Right to Work state." Apparently even citizens can be fired.
Regardless, most agreed undocumented workers have a far more difficult time with this issue.
While the discussion was primarily in English with less input from the Hispanic community, it was a good start on bridging communities.
As Villanueva said, "It will take time for my community to open up." They are afraid of being arrested, harassed, and in some communities, killed.
The next meeting must be "cien por ciento bilingual," one Black participant said.
Actually, the real bonding seems to come from playing silly games together like Musical Chairs and the Limbo. Here, attendees didn't have to worry about language or sticky cultural problems. They just laughed together and fell on the ground a lot.
There were games for children and school supplies passed out as prizes, a nice start. There will be more gatherings like this in the future with the hopes of creating deeper bonds for more social change in Atlanta.
About the author:
Jennifer Sauer is a Special Contributor to The Atlanta Progressive News.
Syndication policy:
This article may be reprinted in full at no cost where Atlanta Progressive News is credited.