BREAKING: McKinney Pursuing Legal Challenges to Elections in Georgia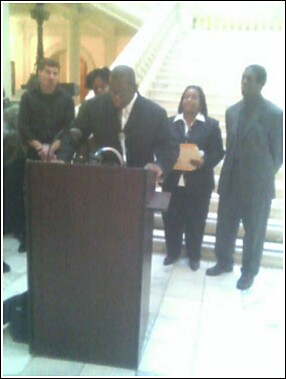 (APN) ATLANTA — US Rep. Cynthia McKinney (D-GA) is pursuing numerous legal avenues to challenge the so-called results of not only her recent Primary and Runoff Elections, but also the fundamental reality that the current E-voting system in Georgia does not provide us with results that are in any way meaningful.
The Congresswoman and her attorneys and campaign are looking at ways in which they can either join or support Donzella James's legal election contest filed last week, Donzella James, who is working closely with the Congresswoman, told Atlanta Progressive News. The US Department of Justice is already said to be investigating as well.
APN covered James's lawsuit filing exclusively in recent days, although James held a joint press conference yesterday where two TV stations were in attendance for part of the time. APN was the only news agency there at the last segment of the press conference to take questions; also a freelance writer Bruce Dixon was in attendance, formerly of the Black Commentator.
As APN previously reported in detail, the Donzella James election contest lawsuit is contesting her apparent loss in the 13th Congressional District based on election irregularities, plus the principle that there is no way to know whether the E-voting machines are counting votes accurately.
The James lawsuit is essentially applying the VoterGA lawsuit to a specific election and is believed to set a national precedent; it has attracted support from across the country from concerned citizens and advocates alike. The VoterGA lawsuit, the coverage of which has also been led by APN, ultimately seeks an injunction against Georgia elections because all physical evidence of voter intent has been removed from the process.
Because VoterGA's lawsuit did not seek to stop the Primary specifically, "Georgians are going to have to hope and pray for fair elections." Hopes and prayers do not appear to have been enough.
Present at the press conference were Donzella James, her husband, her lawyer, her campaign staff, McKinney's lead poll watcher Karon Edge-Fitzpatrick, former Secretary of State Candidate Angela Moore, Garland Favorito of VoterGA, and Faye Coffield, a private investigator who is assisting McKinney on an independent basis.
If McKinney cannot join James's lawsuit, her campaign may file their own lawsuit, file "friend of the court" briefs in James's case, and/or provide evidence of elections irregularities in the 4th District, James said. McKinney may file her own suit, and a multiparty class action lawsuit is being pursued as well, James said.
The US Department of Justice is already reviewing the affidavits and letter sent by Karon Edge-Fitzpatrick, a lead pollwatcher for the Congresswoman, Fitzpatrick told Atlanta Progressive News. APN has obtained a copy of the letter and is in contact with the USDOJ for details.
The Atlanta Progressive News Board of Directors today unanimously declared "no confidence" in any elections in Georgia conducted by E-voting without a voter verified paper audit trail.
Until this happens, our reporting will not use the word "results" in any article without quotation marks and the prefacing words "so-called," in any Georgia election. We believe other news agencies should adopt similar language so as not to mislead the public.
Congresswoman McKinney has been the most outspoken critic of electronic voting in US Congress, voting integrity advocate Bev Harris told APN.
"The bottom line is we can't trust the machines, and we can't trust the results being told to the American people," McKinney told APN's Editor in June 2005, prior to the APN's founding as a publication. That interview was conducted on a freelance basis and ran on the website Buzzflash.
"I'm gonna support anything that will bring integrity to our Democracy because we don't have it now," Congresswoman McKinney told APN in a July 2006 interview, at a screening of American Blackout cosponsored by APN and Georgia for Democracy.
"The suit we filed was regarding voting irregularities in the Primary. One, many irregularities deprived voters for the right to vote for the candidate of their choice. Two, we simply do not know without independent verification that Donzella is not the winner of the election," Johnny Wilson, Attorney for Donzella James, said in the press conference.
"Our voting system is not complete. I am convinced that electronic voting in its current state is a clear and present danger to our Democracy," Ron Allen, Clark Atlanta University graduate student, said. "We [young people] may be young, but we're not naive."
"I ran for Secretary of State because I understand that Democracy starts right here. Georgia Senate Bill 591 would have made the paper ballot the official ballot of record," Angela Moore said. "In November we will test [in 3 precincts] if it [a paper trail] will work, but nonetheless it won't be the official ballot of record."
"I'm here to tell you, it's not sour grapes. But while we're talking about fruits, if you put in an orange and you get out an apple," then there's a problem, Donzella James said. Donzella James acknowledged APN to the other media initially present for "taking the issue seriously."
One problem which came up in the most recent election, is "people voted for a candidate in the Primary but came back and were not allowed to vote for the same candidate," Faye Coffield, private investigator, said.
The State Election Board replied that those voters lived in a split Congressional District, Coffield said. But the district was not split in the time span that occurred during the three weeks between the Primary and Runoff Elections.
"I am preparing to call on the Secretary of State's Office to investigate the matter. I'm hoping to get a look from the FBI and US Department of Justice to determine how this could happen, why it happened, and whether it's illegal," Coffield said.
Congresswoman McKinney called these "ghost voters" or "phantom voters" in Rev. Al Sharpton's radio program yesterday.
"The fact is, the voters needed to force the runoff were so small, it is mathematically possible that the inclusion of voters who were ineligible to vote could be responsible for the need for a runoff. Thus, if this is the case, the runoff in itself may have been unnecessary," Coffield said in written remarks obtained by Atlanta Progressive News.
McKinney Pollwatcher Karon Edge-Kitzpatrick gave an absolutely amazing speech. It was as if she was challenging the anger, frustration, and trauma of thousands and thousands of voters across the entire state of Georgia. Fitzpatrick's speech and energy was comparable to that of US Rep. Stephanie Tubbs-Jones (D-OH) on the floor of the US House when she contested the 2004 Presidential Election.
"I stand here today as a public servant honored to work with Donzella and our Congresswoman Cynthia McKinney. Why does Democracy allude us today? When we entered the world of electronic voting, Democracy was thrown out the window… Instead today, we have continuing voter disenfranchisement and irregularities in our voting system and no audit trail," Fitzpatrick said.
"We have a black box voting process," Fitzpatrick said.
"Until we get this issue resolved, ALL ELECTIONS should be declared invalid. We must go back to paper if that's the only way to ensure… verification. Instead Diebold has given us an electronic poll book and we're supposed to trust that a Democratic vote isn't being turned into a Republican vote. They continue to fail us in having blackouts," Fitzpatrick said.
"I received far too many calls that voters, when they pressed the name for Cynthia, and their opponent's name came up. Or, the machine voted on its own!" Fitzpatrick said.
"When these problems occur it emphasizes the disenfranchisement of our voters. I stand with those courageous enough to fight. Democracy isn't dead. We're not going to allow it to be dead. The vote… is too precious to allow political infighting. We won't have another stolen election. Here today I applaud you all. We're in this for the long haul. It's on," Fitzpatrick said.
SOME ELECTIONS PROBLEMS THAT HAVE COME TO OUR ATTENTION
While we do not know the extent of how many problems there were–and that's exactly why E-voting with no audit trail and procedure is a problem–there are some examples that have come to our attention.
One striking thing is how many activists and election integrity advocates THEMSELVES reported problems they experienced. Their complaints and others are listed below.
-As APN reported earlier, Donzella James, herself a former state senator and now a US Congressional candidate, saw machines not work and have to be shut down, and she kept being given a Republican ballot, in the Primary election.
-Dianne Mathiowetz, activist for the International Action Center, told APN her vote flipped before her very eyes in the Runoff election.
-Frieda Smith, activist, VoterGA lawsuit plaintiff, and Cobb County voter, told APN her vote flipped before her very eyes in the Runoff election.
-An email from Deborah Odom, a Democratic Party activist, relays an experience of receiving a Republican ballot in the Primary, and then being told her vote was already recorded. She said a Diebold worker had to call to get a special code to negate her vote. What if the Diebold worker wasn't there? What's up with this special code?
-Genie Armour's affidavit from the Primary, obtained by APN: "I came to cast my vote for Congresswoman Cynthia McKinney. Unfortunately, I experienced a problem that concerns me. When I touch the screen to vote for Ms. McKinney, it automatically record Mr. Johnson's as though I had voted for him. I attempted to correct this mistake by retouching the screen, but it would not clear. So I had to go back to the instructions and then return (2-3 times) before I was able to clear the incorrect vote. Immediately after clearing the misvote and another voter had a similar complaint. He had voted for Congresswoman McKinney but it was recorded as a vote for Mr. Johnson. We immediately notified the poll worker and they told us that we could check our votes before we cast them at the end. I noticed before casting my vote that the block for Congress was cut off and could easily be overlooked if not careful…. My opinion is many voters will not take the time to check their selection and as a result an incorrect vote can easily be made."
-Albert Scott's affidavit, obtained by APN: "Put card in the machine, scrolled the names down, the machine voted for the candidate ON ITS OWN [caps added for emphasis]. Voter requested assistance from poll manager, voter was told by manager he couldn't help him. Machine went to last page then ejected card and was told he couldn't do it again."
-Two voters cited in Fitzpatrick's letter to USDOJ Mr. Ash and Jerold Ross, both who voted in the Primary but said there was no US Congressional race listed on his Democratic ballot.
-This in addition to people told their names were not on the voter rolls, or who had their polling place moved without being informed.
-Two pollwatchers told APN voting machines were down for four hours and several voters had to leave because pollworkers did not have a long enough extension cord to plug in the voting machines, in the Runoff Election. These pollworkers also told APN a polling location manager said machines were rejecting cards.
-A Diebold employee reportedly locked herself in a room and manipulated results for one and a half minutes, in the Runoff election, Garland Favorito of VoterGA said in a press conference.
-One pollwatcher told of two machines breaking down in the Runoff Election where 5-8 voters were turned away.
-Diebold electionic pollbooks appeared not to have any mechanism to ensure that Republicans who voted in the Primary couldn't pick up a Democratic ballot in the Runoff, Fitzpatrick said.
-"Less than one hour into the voting day, multiple problems with the electronic voting machines have arisen. McKinney precinct watchers are reporting machines down already, insecure machines, and at least one 4th Congressional District precinct without McKinney's name on the ballot, but with her opponent's name on it," Congresswoman McKinney wrote in an email to APN and other media outlets after one hour into voting during the Runoff.
-"We have a situation at Idlewood Elementary School. Two voters attempted to vote and the voting card cast the ballot without the voter having made a candidate selection. The voter complained that the voter never selected her candidate–Cynthia McKinney. The same problem occurred with that same voting machine with another voter. Team McKinney has spoken with one of the voters; the poll watcher caught one of the two voters and the voter that we have, witnessed the second voter having the same problem," Congresswoman McKinney wrote two hours into Runoff voting.
-"At 11:00 a voter said she voted for me, but after the vote the machine displayed a vote for Hank Johnson. A Team McKinney attorney followed up with the voter and will issue a complete report. At least two voting precincts not in the District, on July 18th voters report that my and my opponents' names were on the ballot. Today, these names do not appear on their ballots. On July 18th, how many votes were cast and counted from outside the Fourth District? Only the graveyard of bits and bytes knows for sure," Congresswoman McKinney wrote in a noon email during the Runoff.
-"One voter went to vote and my name didn't appear on the ballot. The voter went and complained, and then when she went back to cast her vote, my name was on the ballot. This occurred at Wadsworth Elementary School. The machine that tallies the total vote broke down at Stronghold Church around 2:10 pm. At 3:15 it's still down," Congresswoman McKinney wrote at 3:30 that day.
You can bet Atlanta Progressive News will continue following this issue.
About the author:
Matthew Cardinale is the News Editor and National Correspondent for Atlanta Progressive News and may be reached at matthew@atlantaprogressivenews.com.
Syndication policy:
This article ma