Georgia Candidate's Car Vandalized, Lefist Bumper Stickers Thought to Have Role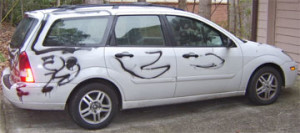 (APN) ATLANTA–RuthE Levy, Georgia State Senate Candidate for the 32nd District, was shocked when she found first one, and then another, of her family's two cars vandalized in recent weeks, Atlanta Progressive News has learned. Levy, an Air Force Veteran, grandmother, and Middle School Teacher, is an outspoken progressive vying to represent parts of somewhat-conservative Cobb County and Sandy Springs, Georgia.
Levy suspects her Leftist bumper stickers–Kerry 2004, and Proud to Be a Democrat–may have played a role in motivating the incidents. While she cannot confirm the motive at this time, she says she's been explicitly harassed in her neighborhood before.
"The very night before David [RuthE's husband] put a bumper sticker on his car, 'Proud to be a Democrat,' Levy said.
"We got a security camera after the first incident [in January], because I was afraid whoever it was, was going to do it again," Levy told Atlanta Progressive News. "And sure enough about 2 weeks later, I came out on a Monday morning at 6am to go to school, and there was my husband's car station wagon covered in black paint."
Levy identified the culprit to police, who later admitted to the crime, she said, and they are working on a warrant to arrest the "bad neighborhood youth," who she estimates to be 18 or 19 years old.
"The car said 'fuck you's' all over it," Levy said.
"That's why we had his car taken care of first because it was definitely readable. It was not nice, definitely not nice. After the second incident I went inside and woke up my husband."
The second incident of vandalism came on the heels of harassment the night before.
"The night before we were at a restaurant in East Cobb less than 2 miles from where we lived and while we were sitting these someone left us a nasty note, 'How could you be so stupid as to put a bumper sticker on your car that proves that you're stupid?' That was pretty clear," Levy said.
"I'll tell you, all these years, it wasn't until Kerry in 2004 that I actually had a courage to put a bumper sticker on my car, and I have been stopped and harassed. One day I was driving on a Saturday morning on my way to Temple. A guy honked at me. I thought something wrong so I get out of my car, and he said how could you be so stupid as to vote for Kerry. It was upsetting for me on my Sabbath for that kind of thing to happen," Levy said. Levy is an observant Reform Jew.
The security cameras cost Levy and her family about $350, she said. "The neighbors were very happy [when we got them] because they were worried something would happen to them. They were all afraid this kid would come back and do something to their car."
"I think she's a good person. She's got some good issues. I like what she's saying. I'm supporting her and I know a lot of my friends are as well," Sander Bellman, Chairman of the East Cobb County Democratic Alliance, told Atlanta Progressive News.
Atlanta Progressive News first interviewed Levy at a Meet the Candidates Forum a few weeks ago. According to an APN analysis, Levy is one of the most progressive Democratic candidates in Georgia.
"I've been against the Iraq War since it ever started," Levy said during that event. "It's doing everything bad for our country and is destroying our military."
"The first incident was a Saturday morning early. We had guests over for dinner for Friday night Shabbat. They left at 10:30, and our car was fine. I have a little red car," Levy recounted.
"So I came out early the following morning and there it was all painted purple and so I called the police and they came and took a report and basically did not much. We were upset about that, so I asked David to get a security camera. And I still go out there every morning worrying about whether we're gonna get our cars painted," Levy said.
"We're still not sure if they've arrested the guy. Police told us once David was able to give them pictures from the security camera– and he gave a CD of the incident– they were able to go to his house. The policeman told him it would be a year for every incident, so at least 2 years for what he did," Levy said.
"He admitted to both incidents," she said.
"They're supposed to arrest him; if they haven't yet, they're supposed to. They said they were working on a warrant," she said.
It was not one of those things they can actually arrest you on the spot for.
Levy says free speech is still very important to her and she will not be intimidated into backing down. "But you know, especially considering I'm running for office, I'm not gonna stop for this."
"I have gone out and told the neighbors I'm running so they know," she said.
"It's East Cobb. There's a lot of very conservative Republicans here who can't stand the fact that maybe there's a Democrat in our neighborhood," Levy said.
About the author:
Matthew Cardinale is the Editor of Atlanta Progressive News and may be reached at matthew@atlantaprogressivenews.com
Syndication policy:
This article may be reprinted in full at no cost where Atlanta Progressive News is credited.