Activists Rally at Rosa Parks's Anniversary at Lenox Mall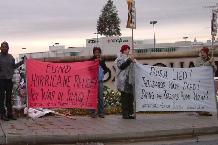 (APN) ATLANTA — 45 activists rallied today at Lenox Mall in Atlanta, Georgia, to remember Rosa Parks and protest poverty, racism, and war. The rally began at 11:30 am and ended at 1 pm.
Protesters held banners reading, "Shut the War Down," "End Poverty, Racism, and War," and "Fund Hurricane Relief! Not the War in Iraq!"
The honking of horns, mostly in support, of the Rally, was incessant. One elderly woman blew kisses at the protesters.
Remembering Ms. Rosa Parks
"We're here because of the Anniversary of Rosa Parks sitting down on the bus. Someone was courageous and spoke up. It takes bravery to speak up," Rhonda Reynolds, 53, said. Reynolds, with Code Pink, was wearing a pink sweater, pink jacket, pink scarf, pink hat, and pink boa and stood prominently on the corner of Lenox and Peachtree.
"We're out here doing something outrageous. Otherwise, we'd just sit down and cry," Reynolds said.
The Rally continued despite a light rain which let up after the first fifteen minutes.
"Growing up, it's always been instilled in me the different battles she [Rosa Parks] went through, and she basically opened the door," Miranda Hallett, 22, said. "Rain or shine, you have to fight for what you believe in." Hallett is a senior in chemistry at Spelman College."
"I?m excited, especially when you hear people riding by honking," Hallett said.
The rally was organized by Dianne Mathiowetz, 59, of the International Action Center (IAC). It was part of a national network of over 100 rallies in major cities, Mathiowetz told Atlanta Progressive News.
"The notion behind [the rally] was, besides statues and memorial services, the real way to honor Rosa Parks is to continue the struggle, to be active, to encourage people to take action on social justice," Mathiowetz said.
The IAC chapter in Atlanta has been involved in every anti-war demonstration that happened since the first Gulf War, Mathiowetz said, adding they also "do other things around racism and poverty."
"This corner is one of the busiest intersections in Atlanta on a Saturday. The idea was to be visible. We often have demonstrations downtown. This is another part of the city where tens of thousands of people go through. It?s a fairly affluent area and I think the message needs to come," Mathiowetz said.
"I was in tears for Rosa Parks, bless her heart. She proved that one person can make a difference. I just loved her to death," Chris Bondurant, 37, said, unable to hold back tears during an interview.
"I?m a gay man, and I don?t appreciate being made a second class citizen in my home state at all," Bondurant said.
Opposing an Overseas Invasion
Members of the group Veterans for Peace were also in attendance.
"Three men who I knew in boot camp later died. One guy died during training in 'drown proofing.' The point is there are a lot more casualties than 2000 in this war; those are just combat casualties. Plus there?s wounded, and collateral damage, and dead Iraqis," Peter Morgan, 56, a veteran in the US Coast Guard said.
In the future, "The international community won't be able to believe us because we went before them with hypotheses that were inaccurate," Morgan said.
"I'm protesting the Iraq War, of course, because it's an unwinnable war. I make my conclusion on my experiences in Vietnam. The type of Army we have is best suited to fight conventional wars against conventional armies. Iraq is a war with no fronts. We're completely surrounded by enemies," John Zientowski, 58, who served in Vietnam in 1969 at the age of 21, said.
"For Atlanta to be part of the Civil Rights Movement, the Black turnout, the usual Black activism, is horrendous. Younger generations don't know what we went through," Kevin Fortune, 39, Co-Organizer of the Rally, said.
One Protester Threatened with Arrest
One altercation with Lenox Mall Security, a group called "Simon Malls Security," occurred when Terence Boles, 53, was walking through the mall towards the Rally, Boles told Atlanta Progressive News.
This reporter saw Boles being told by a female Security representative not to hold his sign up and to leave the mall and go to the sidewalk.
Boles described an earlier incident that had transpired in the Mall. A male Security representative "told me if I go back in the mall, he'd arrest me," Boles said.
"I?ve been in the movement since 1968. I was cutting through the mall from the MARTA bus station because it was warmer. I remember when this mall was a forest. A couple dudes asked me what my sign said and I made the mistake of showing them," Boles said.
Simons Malls Security also was seen driving by and photographing the protesters, and at least two officers appeared to have been assigned to the street corner.
"If they're on private property, we can do whatever we want," a phone representative for Simons Malls Security told Atlanta Progressive News, referring questions to a supervisor, and then an outside firm, KCPR.
"No matter what, they [the mall security guards] are trying to protect the shoppers at the mall. That's the number one priority at all times. We can't comment on any security measures or policies. There are written policies in place, but they can't be released to the public," Kitsy Rose of KCPR said.
"Security at the mall has to document the incident for internal reasons," Kitsy Rose added, referring to the photographing of protesters which was done by Simons Malls Security at Lenox Mall.
Rose told Atlanta Progressive News the Department of Homeland Security was not responsible for the photography, dispelling concerns of at least one protester.
"Many people don't realize the mall is private property, and there are no protests allowed on private property," Kitsy Rose said.
The outside sidewalk, where the protest occurred, fell outside of the private property of the mall, protest leaders said.
Matthew Cardinale is the Editor of Atlanta Progressive News. He may be reached at matthew@atlantaprogressivenews.com