Gwinnett Voters to Consider MARTA Referendum in March 2019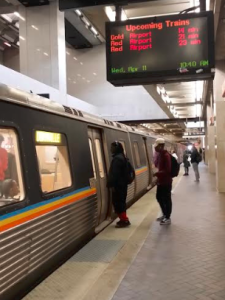 (APN) ATLANTA — On August 02, 2018, the Gwinnett County Board of Commissioners voted unanimously to create a ballot referendum that will take place on March 19, 2019, for Gwinnett County citizens to consider whether to approve a one cent sales tax that would fund the expansion of the Metropolitan Atlanta Rapid Transit Authority (MARTA) into Gwinnett County.    
If approved, the collection will begin on July 01, 2019, and will expire on July 01, 2057.
The Gwinnett County Board of Commissioners also approved a contract between Gwinnett County and MARTA for the expansion of Gwinnett's transit system in accordance with the approved Connect Gwinnett Transit Development Plan at the same meeting.  The vote was four to one with Commissioner Tommy Hunter (District 3) voting no.
If the referendum is passed, the existing Gwinnett bus service would be turned over to MARTA and they would begin expanding which would be the first major expansion of transit under the new plan
The Plan includes new transit services: heavy rail transit, bus rapid transit, rapid bus, local bus, express commuter bus, direct connect, vanpool, flex service, and paratransit.
"It is a more efficient way to move a lot of people and it will also reduce air pollution," Colleen Kiernan, Executive Director of Georgia Conservation Voters, told Atlanta Progressive News.
Public transportation greatly reduces the emissions of carbon dioxide that would otherwise occur with private car travel.  Carbon dioxide is a greenhouse gas that, when present in high amounts, can trap too much heat in Earth's atmosphere.
"This is good progress on the environment… it helps people to not use their car for every trip," Kiernan said.
"It will help people get around who are not old enough to have a driver's license; people without cars; and seniors who no longer want to drive or can't drive.  It will provide a higher quality of life for Gwinnett citizens," Kiernan said.  
The population in Gwinnett County has almost doubled from one half million people in 2000 to almost one million in 2016, and is expected to grow another one half million in the next two decades to 1.5 million people.  
Georgia may finally be turning the tide on mass transportation.  After decades of MARTA being propped up by sales taxes paid in Atlanta and Fulton and DeKalb Counties, Clayton County finally joined MARTA in 2014.
http://atlantaprogressivenews.com/2014/12/01/how-the-clayton-county-marta-vote-was-won-update-1/
As previously reported by APN, the State Legislature passed HB 930 earlier this year.  HB 930 authorized referenda to join MARTA in both Gwinnett and Cobb Counties.
In June 2018, citizens approached the Board of Commissioners during public comment, asking Commissioners to set the referendum.
http://atlantaprogressivenews.com/2018/07/01/gwinnett-county-residents-ask-for-marta-referendum-per-new-state-law/
Residents from all over Gwinnett have made it clear that residents and businesses are tired of traffic congestion and gridlock, and want mobility options and expansion of the current service.
Gwinnett County Transit began Express Route service in November 2001 and local bus service in 2002.  
After operating for fifteen years with no significant changes, the current system is in desperate need of an upgrade to accommodate a rapidly growing and ethnically diverse population.
Approval of the Connect Gwinnett Plan would allow people to move around and access work, schools, and hospitals with ease.   
Here is a link to the complete Plan:  
https://www.gwinnettcounty.com/static/departments/transportation/pdf/Connect%20Gwinnett%20Recommendations_20180718.pdf
The most substantial part of the Plan is the expansion of MARTA's Heavy Rail Transit into Gwinnett County.
The Plan would extend the existing northeast line, or Gold Line, from Dunwoody to a new multimodal hub in the vicinity of the intersection of Jimmy Carter Boulevard and I-85.  Eventually, the line will extend to Gwinnett Place Mall.
Bus Rapid Transit (BRT) does not exist today.  Three proposed BRT lines will connect Lawrenceville with Berkeley Lake and Peachtree Corners; the Jimmy Carter Boulevard corridor with the Infinite Energy Center; and the Snellville line with the Indian Creek MARTA station in DeKalb County.    
It is similar to a rail-based transit service but uses rubber-tired vehicles and will run predominantly on dedicated right of way lanes adjacent to mixed flow lanes.
Eight proposed new Rapid Bus corridors would include operations on U.S. Highway 29, Scenic Highway, Pleasant Hill, Ronald Reagan Parkway, and Peachtree Industrial Boulevard, providing connection to the Mall of Georgia and Sugarloaf Mills.  Some routes would provide connections to adjacent Metro Atlanta counties.
Local Bus already exists in Gwinnett County, the Plan would result in eleven local bus routes, providing greater coverage to the County and connectivity to a multimodal hub.  
Express Commuter Bus would be expanded to include additional pick-up points and to serve existing destinations in Atlanta and Emory University, Perimeter Center, and the new multimodal hub.
Direct Connect is proposed a new service that would connect metro heavy rail stations with "park and ride" lots around the county.  
New park-and-ride locations would be added in Lawrenceville, Harbins Road, Braselton, Loganville, McGinnis Ferry, and I-985.  Other existing park and ride locations will be upgraded.
All this would be supplemented with on-demand Flex Routes, private van pools, and paratransit services.
Five new transit hubs would be created at Peachtree Corners, Gwinnett Place, Infinite Energy, Georgia Gwinnett College, and Lawrenceville.
If approved by voters, the total project will take thirty years to complete.
"The capital costs of the plan are projected to be approximately $3.7 billion… On the operating side, the overall plan has an estimated cumulative… cost of $2.21 billion," Joe Sorenson, Communications Director for Gwinnett County Government, told APN in an email.
"Work on bus rapid transit and rail will begin in short order; but both of those will require significant design, environmental, right of way (ROW) acquisition, and a great deal of construction.  
"Bus rapid transit is expected to be the first Gwinnett transit operating," in dedicated rights-of-way, Sorenson said.
(END / Copyright Atlanta Progressive News / 2018)