Renters Beware: Divvy Homes Lawyers Up over Repair Requests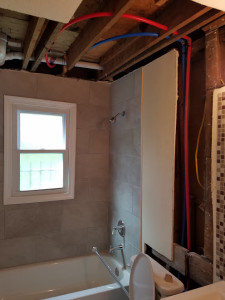 (APN) ATLANTA — Divvy Homes, an out-of-state, tech-driven investment group is looking to make a handsome profit for its Silicon Valley investors on the backs of its Atlanta tenants, by routinely refusing to make repairs; and now, it has hired lawyers at the Troutman Sanders and Mayer Brown law firms to respond to repair requests by the News Editor of Atlanta Progressive News.
APN's News Editor–the present writer–is currently preparing for litigation with Divvy Homes, and is taking this step of informing Metro Atlantans about Divvy Homes's practices, based on personal experience with the company.
"We represent Divvy Homes, which has forwarded to us several emails you have sent to Brian Ma, the CEO of Divvy Homes, regarding what you consider to be necessary repairs to the property," M. Jefferson ("Jeff") Greenway of Troutman Sanders wrote on yesterday, March 27, 2018.
"All further communication with respect to the Agreement, the requested repairs or the Property should be directed to us and not Divvy Homes," Greenway wrote.
The present writer has advised Mr. Greenway to secure a large retainer from Divvy Homes because the further communications are expected to be voluminous.  
DIVVY HOMES ACQUISITIONS, INC.
Based in San Francisco, Divvy Homes Acquisitions Inc. is a rent-to-own company that is currently trying to expand into the Atlanta market.
Divvy recently raised seven million dollars from Silicon Valley investors to expand into Atlanta and Cleveland, Ohio.  Investors include Caffeinated Capital (Raymond Tonsing), HVF (Max Levchin), and Draper Fisher Jurveston (Heidi Roizen).
As of February 2018, Divvy said they had only had five closings in Atlanta, but they are receiving over one hundred requests per day.
Earlier this year, the Atlanta Journal-Constitution newspaper ran two fluff pieces on Divvy Homes:
"S.F. company's new idea: Lease homes to potential Atlanta buyers" by Michael Kanell (Feb. 16, 2018)
https://www.ajc.com/business/company-new-idea-lease-homes-potential-atlanta-buyers/a4Yg0FCm8fFKkJlZzo4d1O/
"Tech startup Divvy aims to revolutionize the rent-to-own model for houses" by Craig Johnson of Clark.com (Feb. 15, 2018)
https://www.ajc.com/business/personal-finance/tech-startup-divvy-aims-revolutionize-the-rent-own-model-for-houses/VEsIqbjwbAOcFImwZuL26L/
The CEO of Divvy is Brian Ma, and the Secretary is Adena Hafetz, according to the Georgia Secretary of State website, where they are registered as an out-of-state corporation.
Ma told Clark.com: ""Our highest priority is to educate, support, and partner with our home buyers to make sure they transition smoothly into homeownership… Our program is specifically designed to be fair and transparent — we want every home purchase to be a win for our customers."
"Is it going to blow up on you as a consumer, a would-be homebuyer? Don't know… we're going to have to see if it works out well," consumer advocate Clark Howard said at the time.
DIVVY'S REFUSALS TO MAKE REPAIRS
Divvy's business model is centered around refusing to make repairs.
Their standard lease, which appears to violate Georgia law, states:
"Landlord and Tenant agree that Tenant is solely responsible for all maintenance and repair of the interior improvements, plumbing, mechanical (including air conditioning, if any) electrical and other utility connections and systems, and the exterior elements of the improvements on the Real Property… and shall, at its sole cost and expense, keep and maintain the same in good operating condition and a state of repair consistent with that of well maintained comparable residential properties in the neighborhood where the Real Property is located." (p. 6)
However, Georgia law states that the property owners, not the tenants, are responsible for repairs (O.C.G.A. 44-7-3), and that residential leases cannot avoid the responsibility of complying with local housing codes such as the Atlanta Housing Code of 1987 (O.C.G.A. 44-7-2).
The present writer negotiated to have this provision changed, but it appears the standard lease remained the same, including for the Atlanta tenants who had already signed the lease.
Therefore, there is great concern for other tenants who may be out there and not realize their rights.
The Divvy standard lease also purports to require tenants to waive their rights to make counterclaims or seek a jury trial or even make motions in court.
Divvy failed to do the due diligence regarding the house before APN's News Editor moved in.  Divvy Secretary Adena Hafetz only required inspector Marlon Page to inspect one item–out of the several issues that were identified–prior to move-in.
Realizing their mistake, Divvy spent some 15,000 dollars, according to Mr. Ma, to address major plumbing and electrical repairs.  However, when the present writer asked for the remaining code violations to be addressed, including the need for environmental remediation, Ma balked.
"The investors might start asking why are we renting this property to Matthew, instead of renting it to somebody who will be happy in the house?" Ma said, apparently referring to Raymond Tonsing at Caffeinated Capital, Max Levchin at HVF, and Heidi Roizen at Draper Fisher Jurveston.
Therefore, it appears that Divvy's business model is to seek out tenants who will be happy living in houses with apparent code violations, and to prey upon low-income working people who may be unaware of their rights under local, state, and federal laws.
The present writer is currently preparing for litigation with Divvy, including regarding necessary repairs and regarding a refund for a portion of February 2018 rent for the time the house was uninhabitable.
For now, it appears Divvy would rather spend thousands of dollars creating jobs for attorneys, than deliver on its promise to "educate, support, and partner" with their tenants to make every home purchase "a win-win."
If you know anybody who is having difficulties involving Divvy Homes, please contact Atlanta Progressive News as soon as possible at matthew.charles@atlantaprogressivenews.com
(END / Copyright Atlanta Progressive News / 2018)