APN Candidate Q&A: Brionte McCorkle, District 11, Atlanta Council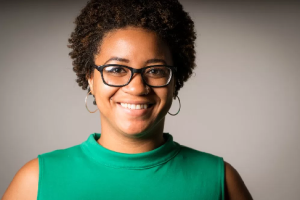 (APN) ATLANTA — In our continuing coverage of the City of Atlanta Municipal Elections for 2017, this article presents the Candidate Questionnaire responses from Brionte McCorkle, who is running for the open District 11 seat on the City Council.
District 11, in southwest Atlanta, is currently represented by Keisha Lance Bottoms, who is running for Mayor of Atlanta.
There are currently eight candidates for the seat, including Harold Hardnett, Debra F. Harris, LaTarsha D. Holden, Anthony Johnson, Edith Ladipo, McCorkle, Marci Collier Overstreet,
and Georgianne "Doc" Thomas.
Deja vu from 2009, when a crowded field sought the seat.  Of the nine candidates who ran for the seat in 2009, only one, Edith Ladipo, is seeking the seat again this year.
So far, APN has sent questionnaires to two of the candidates in District 11, Ladipo and McCorkle.  APN will be sending out another round of questionnaires shortly.  Ladipo has confirmed receipt but has not yet provided her responses.
McCorkle is the Assistant Director for the Georgia Sierra Club.
McCorkle's responses to the APN Candidate Questionnaire were as follows:
What is your position on the following affordable housing proposals?
Surplus Property Affordable Housing ordinance 17-O-1643 – Requiring that surplus city parcels that are suitable for use as housing be sold to nonprofit developers for $1 to develop affordable housing.

I am in favor of activating surplus city property for affordable housing and am happy to see that the proposed ordinance addresses residents living below 30% annual median income (AMI). I believe the requirement that the developed properties shall remain affordable for at least fifty years is key.
Though, I would take this further by requiring the Office of Housing to work with Invest Atlanta on a comprehensive plan for making sure low-income residents are aware of this program and have financing options. The city currently has a number of programs aimed at getting lower-income families in homes that residents remain largely unaware of. In this case, the ordinance requires only that the Pre-Qualified Non-profit Developer "commit to renting the properties at rates affordable to extremely low-income families, or selling the properties to extremely low-income families."
I am concerned that most families will rent the properties rather than purchasing them. If most families rent, the properties would revert back to nonprofits or private developers after a period of 50 years, at which point they could sell them at market value. This would give the developers an incentive NOT to do everything they can to sell the homes.
Further, low-income families may still be intimidated by the cost of purchasing the homes–even if it is as low as $30,000-$50,0000–and may not have access to financing options. Lowering rents is a great approach, but home ownership is key to solving our affordable housing crises and building generational wealth. Finally, the devil is in the details. I would be interested in what the criteria would be for residents to participate in this program. Some nonprofit developers add in things like requirement of military service, a certain number of children, age requirements, etc. that dramatically limit access to programs.
Promoting the production and preservation of units at 0 to 30 percent AMI of the Area Median Income (AMI) across all City of Atlanta policies.  This is the income bracket with the greatest and fasting growing unmet need, whereas the recent trend in City housing policies has been to produce affordable units at higher levels of AMI.

Yes, I support this. I have long said the Inclusionary Zoning ordinance would be much stronger if there were percentages for people living below 60% AMI included. We need to examine the income data in our city. We should then establish tiered goals in each policy to address affordable housing based on the current percentage of people living in the city below 30%, below 60%, at 60% and above, and at 80% AMI.
Inclusionary Zoning, including as proposed in the Beltline Overlay District by Dickens et al.

I support taking this legislation further by adding in percentage requirements as described above, using Neighborhood Median Income (NMI) instead of AMI as the benchmark for affordability, and expanding the ordinance citywide, beyond the overlay district.
Requiring that new multi-family buildings include a certain percentage of affordable units, while giving incentives to the developer in the form of upzoning.

I support this, as described above in the section on inclusionary zoning. Demonstration of inclusion of  affordable housing units should be a key part of the permitting process. I am open to creating incentive packages that are necessary for developers to meet these requirements. Upzoning is an interesting idea, however, there is a process for Neighborhood Planning Units (NPU) to weigh in on zoning changes that I would like to remain in place.
Adding form of housing payments (ie – Section 8 voucher) as a protected class to be protected from housing discrimination in the City of Atlanta – thus requiring that lessors cannot discriminate against an applicant solely because they have a Section 8 voucher.

I have talked with a number of multi-family property owners and individuals working in housing about this. Yes, I support adding form of housing payments as a protected class from housing discrimination. Households with Section 8 vouchers remain concentrated in certain parts of town since lessors in higher income parts of town routinely reject these applicants. This concentration of poverty is problematic. Mixed income neighborhoods are beneficial and can be created by distributing section 8 voucher residents throughout the city. Mixed income neighborhoods have shown to have psychological benefits for low-income residents in the form of mental health and stress-reduction. Children also benefit through improved health and behavior, as well as having access to improved education.
Creating a baseline inventory of Atlanta's existing affordable housing stock.

Yes. A baseline inventory of affordable housing stock would complement my suggestion to identify the number of people living at each AMI level (1b). This would help us identify where the gaps are and craft policy accordingly.
Exploring property tax reforms, including seeking State Legislature to pass enabling laws: (1) to allow lower tax rates based on income; (2) to allow tax breaks for lessors who keep rental rates affordable; and/or (3) to allow tax breaks for nonprofit developers.

I am open to this. We must be clear that taxes pay for vital public infrastructure and government services. Tax breaks must be carefully considered. If we reduce our tax digest too much, it can strain city budget and leave us unable to operate effectively. So, let's explore. I have lots of questions about how this would work.

For example (1) I support a stronger tax abatement program for long-term, low-income homeowners and seniors at risk for displacement. I would like to know, how often would we check for proof of income to ensure people who gain higher-income employment are not allowed to keep their lower tax rate longer than necessary? Who would own the responsibility of administering this program? (2) What exactly would affordable mean? How long would they have to keep them affordable? Would this break be given to lessors who are required to build affordable housing by the IZ ordinance? (3) Many of my concerns raised towards the end of my response to question 1a apply to this one.

I support expanding the Anti-Displacement Tax Fund which will pay qualifying homeowners' property tax increases in the English Avenue, Vine City, Ashview Heights and Atlanta University Center communities. This program reduces the burden on residents while making sure the city will still be able to collect the tax revenue it needs to serve them.
Offering grant assistance to property owners of aging multi-family apartment buildings, in return for securing promises to keep the units affordable.

Yes, provided that affordability is clearly defined, other requirements are not imposed on renters to limit access, and that the affordability period lasts for a reasonable length of time.
Exploring the increased use of community land trusts;

Yes. I have many friends who have benefited from efforts like the Atlanta Land Trust Collaborative. Community land trusts are exciting and we should make sure they have what they need from the city to be successful. Let us not also forget that we also have organizations like the Fulton County/Atlanta Land Bank Authority that need to be supported and included as a key part of our affordable housing strategy.
Increased use of Tiny Houses and accessory dwellings, including appropriate zoning changes;

Yes. Several of my neighbors have expressed interest in building units in their back yards and renting them out. They believe this could help seniors living on fixed incomes deal with the rising property taxes. Legislation has already been introduced to allow tiny houses in some cases. I support continuing to experiment with Tiny Houses and how they can be a part of our affordable housing solution.
Creation of an Affordable Housing Trust Fund;

I am not in favor of duplication and over-complication. As I understand it there already exists a Beltline Affordable Housing Trust Fund (BAHTF). I am hearing that this is not adequate. Before moving to create another entity to funded and managed, I would like to explore ways in which this existing HTF is meeting or not meeting its intended purpose. Then, let's address those things first and explore whether this could be expanded. If it cannot, then let's create an Atlanta HTF learning from the successes and failures of the BAHTF.
Use City of Atlanta median for purpose of determining Area Median Income, rather than Atlanta-Sandy Springs-Marietta.

Yes. I alluded to this earlier in my response to 1c.
DEMOCRACY AND PUBLIC ENGAGEMENT
Do you support using general fund revenue to create a public financing campaign system for Municipal Elections, much like the Democracy Voucher program in Seattle, Washington? http://www.seattle.gov/democracyvoucher

Absolutely. Being a candidate for office has made it crystal clear to me how money in politics systemically advantages people who are wealthier and/or connected with high-wealth individuals in winning elections. As a result, we end up with relatively wealthy people in office who are out of touch with the day-to-day struggles of those of us making less than. Further, in a candidate's quest to raise money to lead an effective campaign, private interests inevitably contribute money to candidates they believe will win, creating loyalties that play out in policy making. Still, I would like to explore further how Seattle funds their program and the impact it has had on their budget. This would help us anticipate pitfalls and build an even stronger program for Atlanta.
Do you support limiting or prohibiting campaign contributions from individuals doing business with the City of Atlanta, or from individuals employed by entities doing business with the City of Atlanta?

I support limiting campaign contributions from organizations doing business with the city. However, individuals employed by the city, or who belong to organizations that do business with the city are still citizens. They have some of the most thorough understanding of how the city works and how it can be improved, are greatly invested in the city's success, and know what qualified representation looks like. Their opinions also matter. Still, I understand how their contributions can create loyalties, and believe that the voucher program can help level this out.
If appointed Chair of a Council Committee, or if asked as a Committee Member to vote on a public comment policy pertaining to a Council Committee, would you be open to the idea of no time limit for public comments?  If not, why not?  

As a grassroots community organizer who uses public comment periods frequently to move policy forward, I support public comment. I don't think we should limit the overall time allotted for public comment, though I do think time allotted to each individual should be limited. Without a limit, some individuals can hoard time and make meetings counterproductive. I think five minutes is more acceptable than the current two minutes. I also encourage citizens to consider whether hours of similar comments on the same topic are productive to communicating our agenda and desired outcomes in every case. I have found that one-on-one meetings with council representatives are underutilized and there are less people willing to make these happen, even though they can be just as effective. I understand that sometimes our council people to refuse to meet and in those cases, comment away!
Relatedly, would you allow citizens to make public comment on individual items as they come up on the agenda, or should public comment be restricted to the beginning and/or end of the meeting?  

I think public comment is most appropriate at the beginning of the meeting, and support adding an additional comment period at the end of the meeting. The problem I see is that agendas need to adjusted to more clearly explain the intended outcome of each piece of legislation so that residents can fully digest what is on the agenda and prepare their comments more effectively ahead of time.
Would you support a change to the City Charter allowing the public to comment at Work Sessions?  Currently, there is only the right to comment at Full Council and Council Committee.

I support public comment at every public meeting.
Do you believe Committee Briefings should be videotaped and made open to the public?

As often as possible, except in cases where sensitive matters related to human resources, real estate, etc. are discussed, and releasing that information would be detrimental to Atlanta residents.
CRIMINAL JUSTICE REFORM
Do you support reforming City of Atlanta municipal code to eliminate the possibility of jail time for possession of one ounce or less of cannabis in the City of Atlanta (i.e. – decriminalization)?

Absolutely. If this is not passed before the election, this will be my top priority after being elected. The benefits of doing this have been discussed at length. In this age of police brutality and black lives matter, it is a shame the city known as the leader in the civil rights movement is allowing such a minor offense to be used to profile and criminalize thousands of black men. I respect the concerns of the current council members who have expressed fears that this policy my not be followed consistently due to county and state officers being required to enforce state law, which would still classify marijuana as an arrestable offense. We should not let this hold us back and should be actively working with them to create a pathway for this to work.
BAR HOURS
Do you support extending bar hours to 4 a.m.?
I am not opposed to this overall. However, I do think there should be an approval process similar to what is done during the alcohol licensing process so that residents in the surrounding area have an opportunity to weigh in on how this may impact them.
ENVIRONMENT
Do you support the increased use of solar panels and other renewable energy at City-owned buildings?

Absolutely. As the Assistant Director of the Georgia Sierra Club, the nation's oldest and largest grassroots organization, I have been promoting a 100% clean energy future. With coal and nuclear declining as affordable sources of energy, and oil predicted to reach peak demand in the next few decades, the clean energy economy is coming and it is important that we are positioned to take advantage of its growth. A clean energy economy will bring reduced energy costs, saving the city and its residents on power bills. It will also create thousands of high-quality, high-paying jobs which we need to attract to our city. We will have cleaner air through reduced emissions from power plants, meaning lower asthma rates and improved public health.

Mayor Reed has taken significant steps to position the city of Atlanta as a leader in the movement for a just climate future. In addition to participating in and making a strong stand on the Paris Climate Agreement, he has also attracted investment in the form of 100 Resilient Cities. This work will allow our city to continue thriving after major shocks, whether caused by climate or social stresses. Councilman Hall also led the effort to commit the city to a 100% clean energy future by 2035. I'm very excited to see the plans produced by this effort, and as a council person, will make sure that the necessary departments are adequately funded and supported to achieve their goals.
How should the City of Atlanta change its policies and practices to promote more recycling by residents and businesses?

The city does not have a recycling culture. It is very much still designed for people to consume and toss things with very little thought. The first step we should take is to make sure residents are clearly informed about what goes in the recycling bins. I have a magnet I picked up at an event, but I would suggest guides be sent along to all homes that sign up for new service.
Further, recycling at home is just the beginning. We have to place more recycling bins around the city with clear signage. If there is a trash can present, there should also be a recycling bin present. Taking this further, where there is a water fountain, a water bottle refill station should exist as done in the Hartsfield Jackson Atlanta Airport. This will cut down on plastic bottle use.
Businesses should also be mandated to recycle, rather than giving them an option. This includes convenience stores where litter and trash accumulate. Restaurants and other food service establishments should be encouraged to avoid disposable, one-time-use items. We should offer incentives to increase the volume of waste recycled and lower the volume of waste sent to landfills; I would look to the city's Office of Sustainability to explore what those could be. Finally, recycling doesn't mean much to residents when litter and dumping plague our communities. I want to make sure that Keep Atlanta Beautiful is properly resourced to conduct regular clean ups on all parts of town.
TAXES
Do you believe the City of Atlanta sales tax rate is too high, and would you support any portion of the sales tax rate not being renewed?  If so, which portion and why?

Yes, the city of Atlanta's sales tax is higher than surrounding cities. We also have a higher population and greater burden on city infrastructure. Our tax dollars ensure that our residents can move around and live in the city comfortably. Let's break down our sales tax rate:

Four percent of our sales tax rate goes to the state of Georgia. State law would have to change that and given the great restructuring in 2015 to raise money for statewide road projects, that is unlikely to change in the near future. An additional three percent is Fulton County, one percent of which goes to MARTA, a vital contributor the to city's (and region's) economic competitiveness.

The city has a one percent municipal option sales tax (MOST) to help pay for water and sewer system upgrades, and to offset the impact on residential rates. This is incredibly important to reducing the cost burden for water on residents. Finally, due to the imposition of a 0.5 percent MARTA expansion tax, and a 0.4 percent TSPLOST (Transportation Special Purpose Local Option Sales Tax) for improving our transportation options that voters approved last year, our city sales tax rate increased by 0.9%. So the total tax rate that is imposed by the city is only 1.9%.

Only when combining state, Fulton county, and the city does the rate arrive at 8.9 percent. I understand that sales taxes are regressive and not an ideal way to fund transit, transportation and water infrastructure. I am open to coming up with an alternative way to fund these vital projects, and welcome ideas. Until then, I support keeping these taxes in place as both the MOST and the TSPLOST are renewed periodically by voters, giving them a chance to weigh in on whether they are satisfied with how these taxes have improved their lives.
TRANSPORTATION
Which of the several public transportation projects that have been proposed do you think deserve the highest priority? Current proposals include several MARTA rail line extensions in several directions; the Beltline and various street car lines; and several other projects.
I am most interested in:
Light rail/BRT on Campbellton Road because my residents have consistently voted to support MARTA and are some of the most transit dependent in the city. We deserve a high capacity project to help reduce commute times to the job centers in the northeast part of the city, and to spur economic development on Campbellton Road. The Clifton Corridor light rail is a key part of making this work, though, I do not want to see the delivery of that project prioritized over the delivery of the Campbellton Road project.
Making the Atlanta Streetcar work by connecting it to the Atlanta Beltline light rail loop. Adding MARTA infill stations that connect the existing heavy rail system to the Beltline loop will do a lot to improve mobility in the city.
PEDESTRIAN ACCESS
What is your plan to make Atlanta more safe for pedestrians and to provide Atlanta's pedestrians with safe passage in the form of sidewalks?
First, I would like to applaud the steps the city has taken to achieve a more walkable city. The next mayor and round of council people will take office with major steps to accomplishing safer streets already done. The MARTA expansion will increase transit service and development near transit. The Renew Atlanta bond and the TSPLOST both include a number of projects that will add sidewalks and bike lanes to key corridors throughout the city. These projects are planned and funded over the next five years. Our bikeshare program is also expanding. I would take these actions further by supporting the platform put forth by the Atlanta Bicycle Coalition. I am most interested in creating a city Department of Transportation to consolidate an array of roadway, transit, and infrastructural responsibilities. This should improve speed and delivery of transportation projects, including bike lanes and sidewalks. I would like us to adopt the Street Design Policy drafted by the Department of Planning, and to make sure that related things, like zoning are updated to be consistent with this policy. Finally, but not all, I support eliminating the minimum number of car parking spaces required for housing developments.
COUNCIL OPERATIONS
Do you support restricting Council Office expenditures to staff and constituent outreach?  Currently, some Council offices use their funds to run their offices, while others use some of their funds to allocate grants to pet projects in their district.
I intend to use my funds to hire staff whose job it is to work with residents to solve day-to-day issues, to create an internship program for students at Therrell High School and the Atlanta University Center, and to set aside a portion of the funds for projects that are not included in the city budget. While city council members have a responsibility to manage financial resources wisely for the entire city, we are also specifically elected to represent our districts. Each district needs a champion, otherwise those with lower-income and less civically engaged residents would consistently lose out to higher income, more influential districts in the budget prioritization process. Indeed, even when a council person asks for their district priorities to be included in departmental budgets, they do not always arise to the top of the city's priority list and are therefore not included. When that happens, I think a responsible council person should use their allocated funds to support district-specific projects that their residents have asked them to make a priority.
ATTENDANCE
If elected, would you still be employed in any other outside full-time or part-time employment, aside from your salaried position at City Hall?  If so, what will that outside employment be?
I am currently employed full time as the Assistant Director of the Georgia Sierra Club, and intend to step back once elected. I feel very strongly that it is the responsibility of a council person to be fully engaged. Council people that remain employed full time elsewhere are distracted and have trouble keeping up with the amount of proposed legislation they have to vote on. This prevents them from being fully present and mindful about how proposed legislation may impact the district they represent and the city as a whole. Further, in 2014, the city council voted themselves a $20,000 pay raise, justifying the increase by arguing that they work more than what typically would be considered part-time hours. So, I intend to treat my position as a city councilperson as a full time job. If an employment opportunity arises that I believe would be appropriate to take on (i.e. does not interfere with my ability to fulfill my duties as a council person), I would thoroughly vet that with my residents at NPU meetings and town halls before making a decision.
If elected, do you commit to sitting in your chair during the public comment portions of Full Council and Committee Meetings to actually listen to the public?
Yes. As a grassroots community organizer, I fully support citizen engagement and activism. The more engaged citizens are in local government, the more equitable the outcomes. By all means, tell us how you really feel! I do also want you all to reach out to me directly with your concerns and desired outcomes prior to the meeting so I have enough time to communicate with and bring other council members along as necessary.
Do you support linking Councilmember salary to meeting attendance, except in the case of a documented excuse?
I am open to it. Council people should at minimum be held accountable to attending council and committee meetings.