APN Questionnaire, Kwame Thompson, HD 58 Special Election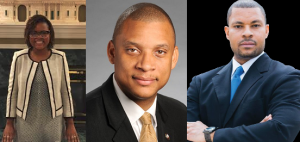 (APN) ATLANTA — Three candidates–former State Rep. Ralph Long (D-Atlanta), Park Cannon, and Kwame Thompson–are running in the Special Election to replace former State Rep. Simone Bell (D-Atlanta).
APN published responses by former Rep. Long and Cannon under separate cover:
http://atlantaprogressivenews.com/2015/12/16/cannon-long-responses-to-hd-58-special-election-questionnaire/
Thompson is an attorney who was active in the Michael Brown protests in Atlanta, and who ran unsuccessfully for the Democratic nomination for Fulton County District 5 in 2014, currently held by Commissioner Marvin Arrington, Jr..
Thompson's responses to the same questions are as follows:
DO YOU BELIEVE ALL HOUSE AND SENATE COMMITTEES SHOULD KEEP MINUTES, AND THOSE MINUTES SHOULD BE MADE PUBLIC? DO YOU HAVE ANY ADDITIONAL IDEAS FOR TRANSPARENCY AND PUBLIC PARTICIPATION IN THE LEGISLATIVE PROCESS?
Yes. I believe that all House and Senate Committees should keep minutes and those minutes should be made public.  Additionally, I believe that there should be a timeframe to make those records public and those minutes should be made available to the general public online. These ideas would increase transparency in the legislative process and increase public participation.
WHAT IS YOUR POSITION ON NUCLEAR POWER?
I support the U.S. Environmental Protection Agency's Clean Power Plan which sets emission reduction targets.  Today's power plants account for more than one third of America's carbon pollution. Carbon­-free electricity generated by nuclear power plants are a cleaner alternative. Research has shown that carbon emissions contribute to climate change in the form of global warming.
As your next state representative I will act as a steward of our environment by fighting to reduce carbon emissions in our atmosphere.
WHAT ARE YOUR PLANS, IF ANY, TO EXPAND WIND AND SOLAR IN GEORGIA?
In 2014, renewable energy sources provided 13 percent of the nation's electricity – a third from wind and 3 percent from solar, according to federal data.  As your state representative I will work diligently to ensure that Georgia is a leader in wind and solar power.
First, there has to be incentives for companies to invest in solar and wind power technology. Those incentives could include increased tax credits, loan guarantees and grants.  Second, consumers have to become educated on wind and solar power.  Georgia offers energy tax credits to consumers and as your state representative I will work with my district constituents to ensure that these tax credits are utilized.
WOULD YOU SUPPORT REDUCING PETITION REQUIREMENTS FOR INDEPENDENT AND POLITICAL BODY (MINOR PARTY) CANDIDATES FROM THE CURRENT ONE PERCENT STATEWIDE, FIVE PERCENT NON­-STATEWIDE REQUIREMENT?  IF SO, WHAT SHOULD THE NEW REQUIREMENT BE, IF ANY?
Yes, I would support reducing petition requirements for independent and political body (minor party) candidates. I believe in the democratic process and removing unreasonable barriers from qualified citizens who wish to run for public office.
The new requirement should drastically reduce the quantity by providing a graduated scale not [to] exceed five thousand signatures.
WOULD YOU SUPPORT ADDING A VOTER VERIFIABLE PAPER AUDIT TRAIL TO ELECTRONIC VOTING SYSTEMS IN GEORGIA?
Yes, I would support adding a voter verifiable paper audit trail to electronic voting systems in Georgia.  A paper audit would increase voter confidence in Georgia elections.
WHAT IS YOUR POSITION ON THE REFERENDUM TO CREATE A STATEWIDE OPPORTUNITY SCHOOL DISTRICT TO TAKE OVER SO­-CALLED FAILING SCHOOLS?
I support school choice.  Parents should decide where their children attend school.  Those choices should include public schools.
However, I oppose a statewide opportunity school district to take over failing schools.  As an adjunct instructor at Atlanta Technical College I understand the importance of a quality public education with the liberty of addressing the specific factors that contribute to poor performance in the education process.
DO YOU SUPPORT AN EXPANDED MEDICAL CANNABIS PROGRAM (IN­-STATE CULTIVATION, FULL PLANT MEDICINE, EXPANDED LIST OF CONDITIONS)?  DO YOU SUPPORT DECRIMINALIZATION?  DO YOU SUPPORT LEGALIZATION?
I support an expanded medical cannabis program to include in-­state cultivation, full plant medicine and an expanded list of conditions.  I support decriminalization and legalization of medical cannabis.
WHAT IS YOUR POSITION ON CITYHOOD AND ANNEXATION IN GENERAL?  DO YOU BELIEVE GEORGIA'S CITYHOOD AND ANNEXATION LAWS SHOULD BE CHANGED?  IF SO, HOW?
Citizens should have the right to self-­determination. I don't believe that Georgia's cityhood and annexation laws should be changed.
WHAT IS YOUR POSITION ON THE PROPOSALS FOR NEW CITIES IN DEKALB COUNTY, SUCH AS STONECREST?
My position on the proposals for new cities in DeKalb County, such as Stonecrest, is that the residents of those areas have the right to self-­determination either by vote or petition.
WHAT IS YOUR POSITION ON THE PROPOSED CITY OF SOUTH FULTON?
My position on the proposed City of South Fulton, is that the residents of that area have the right to self-­determination either by vote or petition.
DO YOU SUPPORT GMO LABELING?
I support GMO (or "genetically modified organism") labeling. Genetic engineering is a relatively new science.  The FDA has approved GMOs based on studies conducted by companies who sell GMO products. In many developing nations, GMOs are highly regulated or banned.
DO YOU SUPPORT ANY OF THE RECENT PROPOSALS REDUCING THE EARLY VOTING PERIOD, OR ALLOWING LOCAL JURISDICTIONS FLEXIBILITY TO REDUCE EARLY VOTING?
I do not support any of the recent proposals reducing the early voting period, or allowing local jurisdictions flexibility to reduce early voting.  On June 25, [2013] the Supreme Court invalidated major provisions in the Voting Rights Act.
We are faced with modern­ day disenfranchisement as our right to suffrage is under attack by conservatives.  As your state representative I will fight to expand early voting​.
DO YOU SUPPORT A U.S. CONSTITUTIONAL AMENDMENT IN RESPONSE TO THE CITIZENS UNITED RULING, CLARIFYING THE ABILITY OF CONGRESS TO REGULATE CAMPAIGN CONTRIBUTIONS?  (THE STATE COULD EITHER CALL FOR SUCH AN AMENDMENT BY RESOLUTION OR CALL FOR A CONSTITUTIONAL CONVENTION.)
The Citizens United v. Federal Election Commission decision undermines our democratic election system by allowing super PACs (or political action committees) to collect unlimited amounts of contributions in the form of "dark money."
Since the ruling, 60 percent of the $1 billion spent in federal elections came from 195 people and their spouses, according to the Brennan Center report.  Thus, we have a small number of people unequally impacting our elections.
I support a U.S. Constitutional Amendment in response to the Citizens United ruling.  Congress should have the ability to regulate campaign contributions to super PACs especially single­ candidate PACs.
(END/2016)