Recycling in Metro Atlanta is Easy, Rewarding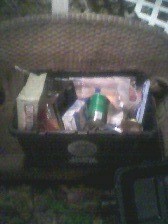 (APN) ATLANTA — Every day, thousands of Atlantans continue to throw away glass jars, plastic bottles and containers, paper products, and other items that should be recycled, while others have made recycling part of their weekly routine.
However, recycling in Metro Atlanta is quite easy, although the rules are a bit different depending on where you live. Perhaps more Atlantans will recycle if they had information about how to do it.
Every year recycling becomes more popular and necessary especially in large urban areas like Atlanta. Recycling is a good way to keep materials out of the landfill and turns trash into cash by creating new products and jobs.
Recycling in the US is a 236 billion dollar per year industry, according to the State's website on recycling, www.georgiarecycles.org. More than 56,000 recycling and reuse enterprises employ 1.1 million workers nationwide.
The City of Atlanta, Fulton County, DeKalb County, and City of Decatur are among the entities that have recycling programs for residents. If you live in the City of Atlanta, you are covered by Atlanta's program. If you live in City of Decatur, you are covered by Decatur's program. Typically if you live in incorporated parts of counties such as Fulton or Dekalb, you will be covered by your county's program.
"The City of Atlanta has approximately 95,000 curbside recycling customers. Of that total, about 33 percent participate on a regular basis. We are working to raise participation rates and tons recycled at the curb," Mary Harrington, City of Atlanta Recycling Project Manger, told Atlanta Progressive News.
In an attempt to increase recycling, the City of Atlanta selected 10,000 households for an incentive-based pilot recycling program, according to a press release obtained by APN.
Each home in Atlanta's pilot program receives a 96 gallon cart retrofitted with an ID tag with the resident's address and a RecycleBank account number. City trucks have been retrofitted with technology to read the cart ID tag. Upon activating their account with RecycleBank, the household will begin to earn RecycleBank Points with every pick-up. Points can be redeemed for rewards, gift cards, groceries, and products at hundreds of local and national RecycleBank Reward Partners.
"The pilot recycle incentive based program has been going for six months and could run for two or three years before a decision is made on whether or not to expand the program city-wide," Harrington said. "We have seen a rise in participation and recycling rates. We are working on tracking the numbers the City Council will use to make the final decision."
"At our current collection pace we'll collect around 10,000 tons of recyclables through the residential collection program in 2010," Harrington said.
Even if you were not selected for the pilot program, in the City of Atlanta you are eligible for curbside recycling pick-up, if you live in a house with fewer than five units. You can call the Recycling Hotline at 404-330-6333 or email publicworks@atlantaga.gov for a recycling bin. Your house may already have a small black recycling bin that you haven't paid much attention to.
"Single family residents are billed around 300 dollars once a year for curbside [garbage] collections. From that annual fee, thirty goes to the recycling program," Harrington said.
The City of Atlanta does not collect recyclables from commercial or multi-family sources. If you live in an apartment or condo, talk to the owner or building manger to request recycling.
A 2007 ordinance states that the owners of multi-family dwellings must furnish commercial containers for the collection of recyclables.
"I want residents to know we accept a lot of things in the recycling program, but garbage is still garbage even if it is put in the recycling container so only put listed material in the containers. No PLASTIC BAGS ever in the curbside container," Harrington said.
City of Atlanta says it's okay to leave the glued-on paper labels that sometimes come on plastic and glass containers. However, you should rinse out items like juice containers or tomato sauce jars so food particles do not get mixed in with recyclable materials.
You can visit www.atlantarecycles.com and then click on "Recycle at Home" to find the complete list of what can and cannot be recycled at the curb. You do not have to sort out items or separate them. The recycled items will be sorted later at the recycling center.
For addition information about what happens to your recycled waste and frequently asked questions click on this link www.recyclebank.com/recycling/the-cycle.
For information on recycling outside the City of Atlanta, contact your Keep Georgia Beautiful affiliate at http://www.keepgeorgiabeautiful.org/local_affiliate.asp.
Some contact information for Metro Atlanta recycling includes: In North Fulton County call 770-551-7794 for the Dunwoody recycling center or use their website www.keepnorthfultonbeautiful.org For the City of Roswell recycling call 770-442-8822. Roswell currently takes recycling from others in the area. In South Fulton call 770-306-3252 or www.keepsouthfultonbeautiful.org
DeKalb County also has a comprehensive residential curbside recycling program. Unincorporated DeKalb County and City of Lithonia residents can participate in the recycling program.
To participate in the DeKalb County recycling program, call 404-294-2900 or email sanitation@co.dekalb.ga.us and subscribe. The cost is a one-time fee of fifteen dollars for the Blue Bin for mixed paper recycling and fifteen dollars for the Blue Bags (box of 100). The blue bags are used for commingled items such as plastic, glass, and food containers. Your recyclables are picked up every Wednesday.
For additional information about recycling in Dekalb, call the customer service number 404-294-2900.
In the City of Decatur, contact Decatur's Sanitation Department 404-377-5571 to request a recycling bin which is free or go to their website at www.decaturga.com for detailed information.
The City of Decatur has a unique program to encourage recycling: instead of offering incentives like points for recycling, Decatur offers a dis-incentive to throw anything away.
It is called Pay As You Throw and was started in 1998 in an effort to reduce landfill deposits. Decatur residents can only have their trash picked up in special City of Decatur approved bags, which are somewhat more expensive than regular garbage bags. Residents purchase the special plastic bags from supermarkets, hardware stores, and other local suppliers.
The price for ten PAYT bags depends on the size: 8 gallon bags cost $4.07, 15 gallon bags cost $6.96, and 33 gallon bags cost $14.45. Residents who recycle more and use fewer bags for garbage save money because they purchase fewer garbage bags.
Currently Atlanta's pilot recycle incentive program gives you bonus points toward the purchase of products and Decatur's incentive program saves you money on the required purchase of PAYT garbage bags the more you recycle.
For more information on recycling in your city, click on www.OurEarth.org then click on recycling, curbside and local programs, type in your state and your community.
(END/2010)
About the author:
Gloria Tatum is a Staff Writer for The Atlanta Progressive News and is reachable at gloria@atlantaprogressivenews.com.
Revised syndication policy:
Our syndication policy was updated June 2007. For more information on how to syndicate Atlanta Progressive News content, please visit: http://www.atlantaprogressivenews.com/extras/syndicate.html